Interview: Alison Pill of 'To Rome with Love'
'I...have no concept of whether I succeeded or not, but it was fun.'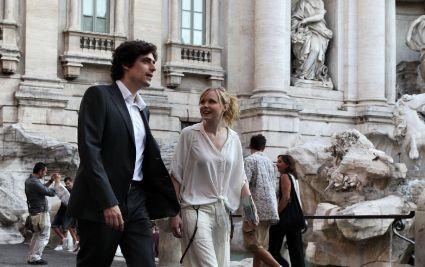 In "Midnight in Paris," Alison Pill was a daffy, dotty Jazz-age Zelda Fitzgerald; in "To Rome with Love," she's a young American falling in love in the eternal city. In both, she's directed by Woody Allen --putting her what some would call actor heaven. She also had a great turn in the winning, smart, "Goon" earlier this year --  and has been filming Aaron Sorkin's "The Newsroom" for HBO as well.  In other words, a heck of a year. We spoke with Pill in Los Angeles about working with Allen, "The Newsroom" and the best meal she had in Italy ...
MSN Movies: How delightful is it to be asked twice to join what may be the most lauded actors club, which is people who have worked with Woody Allen?
Alison Pill: It is completely unbelievable. I could wake up, if you slap me and be like, "Yeah, none of that happened," and I would believe you more than I would that I have been in two Woody Allen movies.
So you think you're somewhere in a coma?
Yes. I am, and I'm having a great time while I'm in that coma.
Let's be honest, you're not just in two Woody Allen films, you're in two Woody Allen films in Paris and Rome.
I know.
I'm interested in the difference between the two films. Primarily in that, in "Midnight in Paris," you were doing Zelda Fitzgerald, and in this, it's way more of a character, nuanced, real thing. Was that part of the pleasure to know that you weren't just showing up to play dress up and do another historical personage?
I would put a crazy wig on and drink fake champagne and run around a car throughout Paris with Owen Wilson any old time. If there's a sequel, I'm in. it was really fun to try and I guess sort of accomplish that more contemporary Woody Allen dialogue that wasn't so mannered I suppose. I had actually just gotten engaged, and to do a movie about being engaged and introducing parents, I was like, "Man, I wish my parents were Woody Allen and Judy Davis." I don't. I mean, I have great parents. It was pretty fun to pretend this fake engagement.
You were imagining your own engagement, with slightly snappier dialogue.
Exactly. I was like, "Man, dad, why don't you just be a little more neurotic?"

When you're working with Woody Allen, because he's directing and he's acting in this film, and he's juggling many hats, and he's got an incredibly coherent sense of the look and the feel and the tone of the film, the lighting, sound, everything, but when he's working do you occasionally just sit back and enjoy listening to Woody Allen talk?
Well, here's the thing is that for most of his stuff we would shoot our stuff and he would do something, and then it would turn around to his close up. It would just be this transition from Woody Allen the man to Woody Allen the physical comedian, the stand-up comedian, the funniest man that you've ever seen live, and a subtly that you can't even believe. The scene where he sang, "No, I won't bring it up anymore," when he's talking to the father at the table. He keeps bringing it up, and he keeps bringing it up. Well luckily it's a clean shot of him and Judy, because I am actually on the other side of the table trying to hold back, just totally dying, because I couldn't handle it. It's so funny, and you don't really know why. Its funny, and then its not funny, and you're kind of like "Is he going to stop? He's not going to stop. He's going to do it one more time, and then he's going to do it again." Its that again where you go, "You have studied comedy, and what makes people laugh in terms of pattern and the methodical nature of it, in the way that most people don't have any concept of."
I have this vinyl copy of "Woody Allen, Stand-Up Comedian" that I throw on; even back then, the key is just the timing, the timing, the timing. Is it tough to get that cadence in your head when you're doing the dialogue?
It is. It is tough. We also have this discussion, and I think it would be amazing, and I think he should do it. Its just Woody Allen playing every character, because that's what it is in his head. Its just like, if everybody could do as funny a thing as he does, I think he would be so happy. To try and master that, I'm not anything remotely like that. My verbiage is totally different than his, so to try and like -- everybody kind of has to channel their inner Woody whenever they're in these films. It's an exciting amazing challenge. I will have no concept of whether I succeeded or not, but it was fun.
As you said, every character is an iteration of him. Does that occasionally, not to ask you to find fault, but occasionally do you go, "You know this is not a line that a woman of my age and class and gender would say. This is you talking." Does that ever come up or do you just have too much respect for the text as is?
There were moments in this where there were some lines that -- he just sort of said, "Can you do this and this?" and I was like, "Okay." I am not a writer, nor an improv artist, but there were a couple of things that we just needed to clarity-wise and story-wise finagle a little bit more, like "Can you add this in to make it a little bit clearer?" I'd be like "Okay. Yes." To have that pressure and to have that trust, was incredible, but also the most nerve racking experience of my life.
Because you were worried about the tempo and tenor and tone of your voice, inner and outer, showing up against his work, like a denim patch on the Bayeux tapestry?
Exactly. Not even denim, some weird sack burlap.
You're having a great year. "Goon" was remarkably well received by whoever saw it, and it had a great life out beyond what you might expect for what looked like a hockey film. You've got this. You've got all of the lingering goodwill from "Midnight in Paris." What's been the biggest change in the past year?
Well, I did a TV show. I did "In Treatment" and I did one other show, but we didn't really last too long. This was the first time that'd I'd really been going to a set in Hollywood and going to work everyday.
What show was this?
This was "The Newsroom" for HBO. That was sort of what my year was, was having a day job in an office. We really do work in an office, and we really are there every single day. It's all shot in one room. It's all shot in the bullpen. No matter if you're in your f**king scene or not, you're at your desk pretending to work. I've done so much fake phone work of "We need to get the information now. Stat." Click.
Is that a liberating working process, or is it claustrophobic?
I feel like, I have grown up on Sorkin. I want everybody to speak like they're in a Sorkin something. I would feel much more comfortable. I usually do just walking and talking and papers and so much business, love my props on this show: notebooks and blackberries, all over the map. I feel like I have been in Sorkin School. The first four seasons on the "West Wing" I think are perfect. Unbelievable drama, real people, flawed people, interesting folks who are also incredibly smart. Sorkin is also obsessed with the idea of work families. I couldn't ask for a better one in my work environment. Tommy Sadoski is my big brother. John Gallagher I've known for ten years. Jeff and I did a two-person play together that almost killed us a few years ago.
You and Mr. Daniels? Which play was it?
It was called "Blackbird." It was all about the fact that we'd had an affair when I was twelve and he was older, and I come back to meet him fifteen years after the fact and we hash it out. It was super fun time, and everybody loved to meet us after it. Nobody every came backstage, because they were like, "Ewwwww." Everybody just needed a shower. We've been to hell and back together. The cast and Emily Mortimer is a genius, and Sam Waterston is one of the greatest gentlemen out there. I asked him once during shooting when something was banged up or something, "Sam why aren't men all gentlemen like you?" I like leaning on him sometimes just when I need to lean, because he's very tall and very strong.
A Sam Waterston dream Uncle perhaps?
Yes I need to go to Uncle Sam with my issues. Uncle Sam wants me.
Its interesting because we're both Canadian, but I saw at the Cannes Market a poster for "The Rebel Kind," which you a nd colaborator/fiancee Jay Baruchel are looking for financing for.
Yes. We're still trying to figure out timing and financing in between.
But it's a story of The Modernettes, led by a gentleman named Buck Cherry, and you'd be playing their bassist, Mary Jo Kopechne. She was not an insubstantial young lady. Are you prepared to do that? She had some sway to her.
I haven't looked into it at all, because I've just been focusing on a girl from Indiana moving to New York and Working in a news oom or being on a post apocalyptic train and being a school teacher teaching kids songs. I don't even know what I would do with it.
Will you be playing the bass for yourself?
No idea.
Essentially, it's one of those movies that exists as a script, a good idea, and a poster?
Yes, and I have no idea what's up with it.
Last night was the LAFF premiere of "To Rome With Love." It's a big room. It's a room full of people. How do you feel it went over?
I have no idea. It was the first time I'd ever seen it, so I didn't give a f**k what anyone else was thinking. I was busy laughing and having a joyful time in the midst of this Roman delicacy. It's just like bubbly Proseco and delicious pizza.
What was the best meal you ate while in Italy?
Well Flavio, who plays my fiancé, and his girlfriend Leonora took me for an hour to find it in the midst of different Roman alleyways. It was a Neapolitan pizza joint. I would have just worn it as a mask for the rest of my life, and just eaten through various pizzas for all time, because it was so delicious. I think that would be great. Who needs a beer helmet when you can have a pizza mask?
Obviously you would leap to the possibility if Mr. Allen ever called you up again and said, "I have a perfect part." Do you think that's likely or do you think that would just be too much good luck for a lifetime?
I mean, who the heck knows? I don't know. I won't pretend to know what that mans plans are. He just gets inspired by things and writes a script, and they're genius and does them. If at some point there's something remotely close to something I could do, I will do anything I can to be a part of it.
(
"To Rome with Love" opens in limited release this Friday.
)