Get to Know the Family with New 'Brave' Character Posters
More than just Princess Merida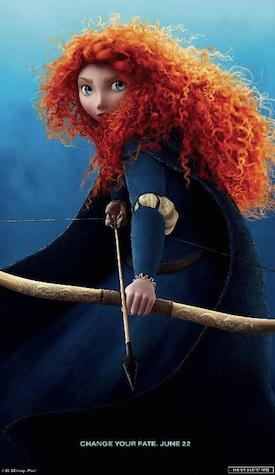 Anticipation is ramping up for Pixar's next film, "Brave," a change-up for the successful studio in many ways. Set much farther in the past than the usual Pixar fare, "Brave" also focuses principally on a female protagonist, a first for the animation house. The look of "Brave" also hedges much closer to the feel of traditional hand-drawn animation. By all accounts, the film will be another hit for Pixar
and
a direction change for their work.
The film's official synopsis tells us: "since ancient times, stories of epic battles and mystical legends have been passed through the generations across the rugged and mysterious Highlands of Scotland. In 'Brave,' a new tale joins the lore when the courageous Merida (voice of Kelly Macdonald) confronts tradition, destiny and the fiercest of beasts. Merida is a skilled archer and impetuous daughter of King Fergus (voice of Billy Connolly) and Queen Elinor (voice of Emma Thompson). Determined to carve her own path in life, Merida defies an age-old custom sacred to the uproarious lords of the land: massive Lord MacGuffin (voice of Kevin McKidd), surly Lord Macintosh (voice of Craig Ferguson) and cantankerous Lord Dingwall (voice of Robbie Coltrane). Merida's actions inadvertently unleash chaos and fury in the kingdom, and when she turns to an eccentric old Wise Woman (voice of Julie Walters) for help, she is granted an ill-fated wish. The ensuing peril forces Merida to discover the meaning of true bravery in order to undo a beastly curse before it's too late."
A wonderful spin on the traditional fairy tale, "Brave" will likely be one of the major hits of the summer, so it's high time we get to know some of Merida's family - at least by way of some new character posters. Merida is, of course, up top - with more family to come. Check out the rest of the posters after the break, thanks to
IMP Awards
. "Brave" opens on June 22.