Interview: John Goodman and Alan Arkin of 'Argo'
On lightly gnawing the hand that feeds you …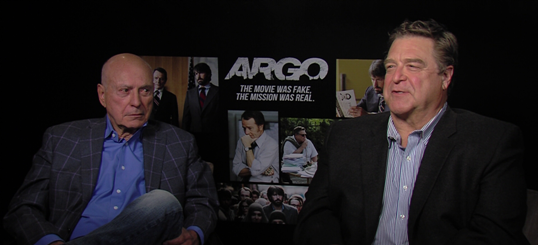 Of all the many pleasures in Ben Affleck's "Argo" -- fictionalizing a real-life CIA operation where a fake movie scouting trip for a movie that would never be was used to spirit six American Embassy staffers out of Iran at the height of the Iran Hostage Crisis -- many come thanks to old pro actors John Goodman and Alan Arkin, who play the Hollywood insiders recruited by Affleck's CIA man for his plan with an outside chance. We spoke with Arkin and Goodman in Los Angeles about mocking Hollywood, early '80s style and working with Affleck …

MSN Movies: Was this film … where you, Mr. Goodman play  real-life makeup artist John Chambers and you, Mr Arkin, play composite/fabricated​ producer Lester Siegel … was it a nice chance to not bite but lightly gnaw on the hand that feeds you?
John Goodman: Oh, everybody does it. I mean, I didn't even look at it that way. It's just … if you're in this business, you bitch about this business. It's the same with everything else. It's just that everybody who goes to movies thinks they know how they're made, so there's a lot of insider laughter.
And you're playing the real John Chambers who did the makeup for "Planet of the Apes," for "Star Trek," for "Lost in Space" … did you delve into his career and find out all of the things he did for the CIA?
                                                                  BING: John Chambers | Jack Warner
Goodman: No, I didn't. That was pretty much a closed book. I spoke with Tony Mendez later, a few weeks ago actually. He just outlined all the things that Mr. Chambers did for the agency. Apparently he was a real patriot. He had a real love of his country and he served the best way he could. But I just read a couple of articles on him. I know people that were influenced by him strongly. And around that time in the 60s, makeup was really coming into its own, and he spearheaded that.
Mr. Arkin, were there any specific people you've worked with you based Mr. Siegel on or was it more a matter of generally "Speak loudly and carry a big Rolodex?"
Alan Arkin: (Laughs) I based him to a certain extent on Jack Warner who introduced himself to me at a big party in one of the lots. It was a big party at one of … I forget which lot it was, but a little tiny man walks over and he says, "Hi I'm Jack. I'm the guy that owns this building." And we talked for about two minutes and I looked up to this man who was three feet tall and it was kind of like…
Undersized body, outsized personality?
Arkin: Yeah.
What's it like working with Mr. Affleck as a director because, you know, he's the star of a film and he's got that ludicrous beard, but when you sit down actually do scene work with him…
Arkin: That wasn't a ludicrous … how … it wasn't a ludicrous beard.
I think he could've smuggled the six hostages out inside that beard.
Arkin: Yeah. In that case, there were beards like that all over America.
That's very true. But I mean as a director, is it nice to work with someone who's also an actor so you can do all the performance stuff?
Arkin: It doesn't matter to me. As long as they have a sense of them, have  intelligence, and not a hysteric is very high on my list of things I like somebody not to be. And he's very much not hysteric. He's very comfortable with all aspects of making the film, and from the first moment it was just easy and comfortable.
Sensitive, intelligent, not a hysteric -- that's the dream working list?
Arkin: 'Talented' needs to be in there.
And that also helps immeasurably. Mr. Goodman I'm wondering -- you, like me, were around for this chronologically, which many of the audience, just by virtue of time's movement, may not have been.
Arkin: Thanks for picking him in this little measure.
(Laughs) More importantly, do you recall it? Do you recall seeing the story at the time? Were you just sort of overwhelmed by…
Goodman: I never, I didn't hear the story until I got the script. I mean, I remember very well when this was happening. I was living in New York and having a high ol' time, but I just remember the pressure every night that ABC had this…
Ominous countdown.
Goodman: It was, yeah. America held hostage day four, day five, and it went on until it was over, which evolved into "Nightline." But it was every night and I was glued to that set every night just wondering what was going on because it was just, it was a seismic shift.
("Argo" is in theaters Friday; for more on film, be sure to follow MSN Movies Facebook and follow MSN Movies Twitter.)