Interview: Henry Winkler of 'Here Comes the Boom'
Kindness, television, music and blows to the head without hate ...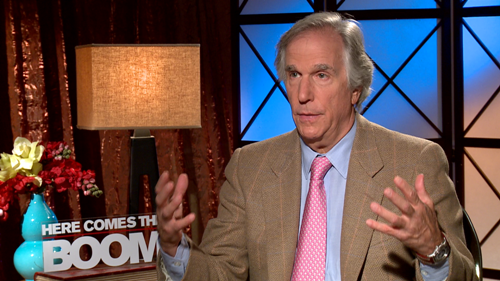 After playing one of the most recognized TV characters of the past century, Henry Winkler is aging like a fine wine -- the comedic timing is still there, with a warm demeanor that makes interviewing Winkler feel like you're sitting down to talk with a much-beloved uncle. In "Here Comes the Boom," Winkler plays the music teacher  whose program -- and job -- Kevin James goes into the MMA ring to save. We spoke with Mr. Winkler in Los Angeles about music, movie making and his return as one of TVs best characters.
MSN Movies: How great is it, in the scenes you're conducting the band, that the physicality of it, the joy of it really comes out.
Henry Winkler: Because you know why? We heard the music in the room, and those kids are a real orchestra in a high school outside of Boston. Some of them still tweet me now. You know, they tweet me like, "I can't wait for the movie." Three years ago, four years ago I was invited to Cape Cod to conduct the Boston Philharmonic. I've never done it before. I love music. What a joy to be able to do those scenes. I loved the take after take after take conducting those kids.
And when you learn how to do that ... I mean you can do the whole Danny Kaye (comedy-conducting) thing and…
Danny Kaye was real. He was a real musician. His wife wrote most of his material, you know that?
"The Court Jester," when I was young, was the best film ever made.
(Agreeing) Oh, my goodness.
                                                                         BING: Henry Winkler l 'The Court Jester'
But we can talk about "The Court Jester" all day long.
But I'd rather talk about "Here Comes the Boom."
Exactly, so…
You know what? It's 2012's "Court Jester."
I'll ... take it?
Okay.
When you're playing the character of Marty, is it hard to play decency in a where there's still comedy? A lot of the times good and decent characters…
No, because that is Kevin James' underpinning overall thought. There was a scene, now I play a music teacher, my program is being cut as it is all across America…
... Your family is about to have a new child.
Right.
You're ... older.
Right.
The character's older …
So nice of you to say. So, okay…
Your character…
Absolutely, thank you. I play older on screen... So my program is being cut and Kevin James becomes a mixed martial artist in order to raise money to save my program. The money is stolen, that he has earned, at one point in the movie, and he tells me. And I told him, I said to him, I turn to him and I ad-libbed a line said, "I hate that man." And Kevin said, "Will you do me a favor? Would you not say the word 'hate'? I do not want hate in this movie."
It's a heartwarming film about getting kicked in the head, in many ways.
Well, it's a heartwarming film about you don't know what you're able to accomplish until you get off the mat and you try.
At one point, Mr. James' character as part of, his training is hauling you up and down the stairs.
Yes he is.
Are you not used to working that closely with your costar?
I have never been…
Lifted?
… lifted like that over somebody's shoulder walking up and down the stairs. Now, how many takes? We did that 10 times, 15 times. He doesn't complain, he doesn't ask for water, he didn't put me down, I got nauseous, but we did it.
You of course played one of the most iconic best-loved TV characters of the century. How often do people mention Barry Zuckerkorn to you?
You know what? I just finished shooting the next generation of Barry Zuckerkorn three, five days ago.
For all of the new "Arrested Development" stuff?
Yes.
I look forward to it without reservation ...
Thank you.
("Here Comes the Boom" is in theaters this Friday; you can find more information about the world of film on the Facebook page of MSN Movies and MSN Movies Twitter.)