Videodrone Foreign Affairs: 'The Thieves' from South Korea
It's 'Ocean's Korea' with a double-crossing crew of Asian superstars
By 
SeanAx
 Feb 13, 2013 10:54AM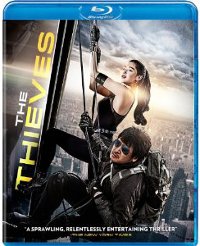 "The Thieves" (Well Go) is Korea's answer to the "Ocean's" films, a sleek, snappy heist movie with plenty of working parts, eccentric personalities, and convoluted plotlines confused even more by confusing flashback structure more entertaining than elucidating and more twists than you can easily track.
The basic premise brings together two separate crack crews, one from South Korea and one from Hong Kong, and sends them to Macau to steal a priceless (and ostensibly nonexistent) diamond necklace from a brutal crime boss. The mysterious mastermind of this heist (Kim Yun-seok) who has his own agenda, but then who doesn't? Half the crew is out to rip off the other half, which is already just out for themselves.
As a fan of the Hong Kong New Wave, I have a soft spot for Simon Yam, an elder statesman of Chinese pop movie stardom given a genuinely romantic / tragic heroism, just one of the many boxes the film checks off in its everything-plus-the-​​kitchen sink conglomeration of heist movie conventions. It's also got romance, pulp crime tragedy, reversals of sympathy, and some pretty thrillingly staged and executed action scenes. Mostly, it just hurtles ahead and sweeps us up in the silliness. Because it's no sillier than American examples of the genre. We may not recognize the Korean stars playing the high-tech heist games, but a slick, bouncy star vehicle works the same in any language.
Blu-ray and DVD, Korean with English subtitles, with two featurettes.

More foreign films on disc at Videodrone
For more releases, see Hot Tips and Top Picks: DVDs, Blu-rays and streaming video for week of February 12