'John Carter' Fans Petition Disney For Sequel
Be sure to add your name to the 1,800+ others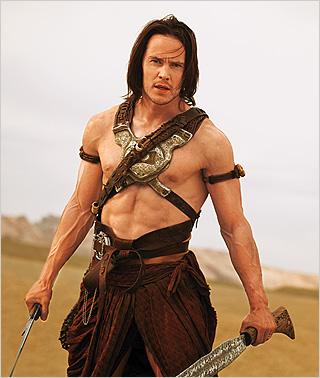 According to
MTV News
, fans of the recently released, summarily forgotten "John Carter" are already petitioning Disney to make a sequel. Normally studios wait to see if a film will be successful or not to decide such things, but whatever.
So far, the movement's
Facebook page
 has garnered over 1,800 members, seemingly signifying that a potential "John Carter II" could make
at least
 $23,600. (Note: said figure is based on our completely unfounded assumption that the average theater ticket costs $12.50.) Will Disney be able to ignore such staggering, monumental profits? Only time will tell.
Meanwhile, "John Carter I"—as it presumably will come be called the future—has collected a meager $35 million domestically, and $106 million (and counting) around the world. Which puts it only $150 million in the red, at least as of right now. However, those figures leave out the countless millions Disney spent marketing the cinematic disaster. So the film has probably lost a lot more than that. Anyway, has any unprofitable movie ever garnered a sequel? We suppose if the producers of "Atlas Shrugged, Part I" can go forward with their plans for that franchise, anything is possible.