Interview: Jessica Biel of 'Playing For Keeps'
On soccer, kid co-stars and mixing laughs with drama ...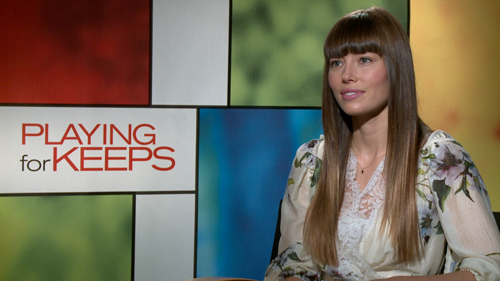 Her renowned chestnut hair carefully designed to look casual, Jessica Biel is more than glad to talk about her new romantic comedy "Playing for Keeps," where she plays the ex-wife of Gerard Butler's ex-soccer pro, with both of them trying to provide love to their son Noah Lomax as they reconnect. We spoke with Biel in Los Angeles about how the film changed in production, why she loves soccer and her talented co-stars ...

MSN Movies: When you read the script, were you surprised at the deeper emotional waters your character has to go through in what looks like a romantic comedy?
Jessica Biel: Well, interestingly enough the script was very different from what the actual outcome of the film was. And as we were moving through the film, it was changing a lot. It began as a drama and as we shot it and as Gabriele (Muccini, director) edited it, it just took on another life. And it really became this combination of playful and real and complicated and dark. So it was actually kind of a surprise when I saw it because it was very complicated on the page. And Gabriele has this amazing ability to marry the two -- complicated, dark, traumatic, and irreverent, and funny, and real, and silly, and he was able to just create this balance throughout the whole film.
At the same time, life is like that: When you're in deep trouble, that's when you find yourself laughing the most hysterically to cut the tension of it.
It's true. I mean what else are you going to do besides laugh? (Laughs)
BING: Jessica Biel l Mondrian
Can we talk briefly about how great Noah Lomax is?
Let's do that.
Yeah, I mean…
He's brilliant.
He's really a cornerstone of the film…
I know.
…and it seems you completely believe him. Were you surprised a little bit by how good he was?
I was surprised actually. Working with him, you're seeing it happen, and you're watching him, and I was immediately impressed with him. But it's when you're able to watch the whole film as a whole, as an audience member not in the scene but watching him and seeing the stuff that he did in the scenes that I wasn't in, he is filled with such a depth. I don't know where it comes from. I literally don't know. I don't understand. He's just one of those kids that has so much soul. I feel like he's lived many lifetimes or something, and he had all of this like bubbling underneath him. And the funny thing is his home life and his family life is lovely. He's got the greatest parents and the coolest sister. So I don't know where it's from. He's just one of those kids that just found it and knows how to dig it up.
When you were shooting, did you sort of realize with gratitude that you only had to do one little bit of soccer playing, that you weren't running around all day like everyone else?
No, it was actually the one thing I was so sad about because I grew up playing soccer. It's my sport, and I just so badly wanted to get in there and play with the kids and be on the team and go to the practices and go to the training sessions.  And I didn't do any of it.
But it's an exhausting sport.
Oh yeah.
It's aerobic activity. You're just running around constantly.
For sure. Constantly, you're just running.
So just when you're watching Mr. Butler get exhausted you were jealous of that?
Well, I don't know about jealous of the exhaustion.
Right.
But you know, when it's something that you grew up doing you just feel like, "Oh, I just want to kick that ball so bad. I just want try. I just want to see if I can kick it in the goal again."
A lot of the film is about the importance of play, or the importance of doing what you enjoy. What do you do to just unwind physically? Like are you a volleyball person? Are you an elliptical person?
I like to be outside as much as possible so, I mean I enjoy the gym of course, but any kind of outdoor hiking. I love volleyball, kayaking, swimming. Something like that would be something I would love to just do to unwind.
The most exercise I do is holding grudges.
(Laughs)

Working with Mr. Butler, I mean he's a producer on the film, but I mean what's it like doing scenes with him? He's got that charisma certainly, but there's something more behind that that informs it. How did you find your scene work with him?
Well, he's a fantastic scene partner. Yes, he's very charismatic and fun and playful, and that really comes across I think on screen, of course. But he's incredibly intelligent and a very, very complicated person, as we all are. And I think it's just that combination of elements that allows him to bring a depth, so a very relatable and very just playful kind of nature.
For more on "Playing for Keeps," watch our video interview with Biel and Butler:
Want more Movies? Be sure to like MSN Movies Facebook and follow MSN Movies Twitter.
Are you sure you want to delete this comment?