'Star Wars Day': May the Fourth Be With You!
What will you be doing to get your Wookie on for this fan-created holiday?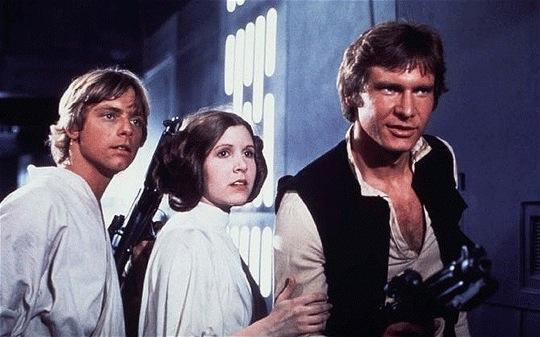 In what is perhaps the first holiday ever created by obsessive movie fans, May the Fourth is being observed as "Star Wars Day" by legions of Yoda-lovers. When I first heard of this holiday, it took me a second to get the joke. May the 4th, as in "May the fourth be with you," a twist on the phrase that aficionados of George Lucas's fertile imagination have been greeting each other with since the first Star Wars movie opened 35 years ago this month. Leaving aside a galaxy of crushed hopes over the dreaded prequel trilogy, there remain millions of us who still fantasize about Princess Leia, think of Obi-Wan Kenobi as a father figure, and get misty-eyed whenever we catch a glimpse of a Tatooine sunset.

What will you be doing to mark this day? Working on your scale model of the Millennium Falcon? Turning your old Teddy bears into Ewoks? Having a Jabba the Hutt pig-out? Spray-painting yourself with C3PO gold? Sticking bagels on either side of your head while reading Carrie Fisher's latest book? Fashioning a lightsaber out of an old paper towel tube? Trying not to hyperventilate during your breathy Darth Vader impersonation?
While Lucasfilm doesn't officially endorse the holiday, their Star Wars site is only too happy to help you celebrate. Click here to send commemorative Star Wars Day cards to your favorite nerds…um, I mean friends. To mark the occasion, the site is also hosting a marathon of all 22 episodes of Season 4 of "Star Wars: The Clone Wars" (with a sneak peek at Season 5). You can download special Star Wars-themed Facebook profile pics that your own photo can interact with. (Hey, it's the closest you're ever going to get to being in a Star Wars movie, so enjoy!) And finally, you can pilot Anakin Skywalker's Jedi starfighter in the new online Republic Ace Game and do battle with the Separatist fleet.
So what are you waiting for, a personal invitation from Emperor Palpatine? (Cue John Williams music…)