New Trailer for 'G.I. Joe: Retaliation' Pits The Rock and Bruce Willis Against the Mighty Cobra
London falling!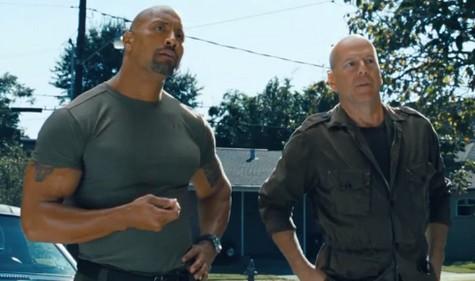 Let me level with you: there's not a whole lot that gets me pumped about this summer at the movies. "Prometheus"? Sure. "The Dark Knight Rises"? Well, duh. "The Bourne Legacy"? I'm down. But "Men in Black 3"? "Battleship"? A fourth "Ice Age"
and
"Step Up"? It doesn't seem like the majority of tentpole offerings are quite that enticing this year, which is what makes the prospect of Dumb Fun™ in the vein of "G.I. Joe: Retaliation" a bit more welcome in my mind.
Machinima
has the new trailer -- which we've included below -- in which the Joes are forced to pull a Ghost Protocol after their forces are ambushed by Cobra at the orders of their Presidential doppelganger (Jonathan Pryce), leaving it to Roadblock (Dwayne "The Rock" Johnson), Lady Jaye (Adrianne Palicki), Snake Eyes (Ray Park), and the original Joe (Bruce Willis) to save the day. (Given his limited appearance in the promotional trailers to date, I'm going to go out on a limb and guess that Channing Tatum doesn't do much role-reprising here. After all,
Magic Mike
is a busy guy...)
Also starring Ray Stevenson, RZA, Walton Goggins, Arnold Vosloo, and the complete annihilation of London, "G.I. Joe: Retaliation" opens on June 29th.

The only redeeming quality about this movie is that the seem to kill off Channing Tat....uh, Duke...I mean.  Glad to see Ray Park is back as Snake Eyes.  He is so bad @ss (Ray Park AND Snake Eyes).  This is still not following the GI Joe mythology but I guess at this point it's too late to fix it.
Are you sure you want to delete this comment?