Interview: Jeremy Renner of 'The Bourne Legacy'
'It's an easy 'No' if they want me to play Jason Bourne; that's just not happening.'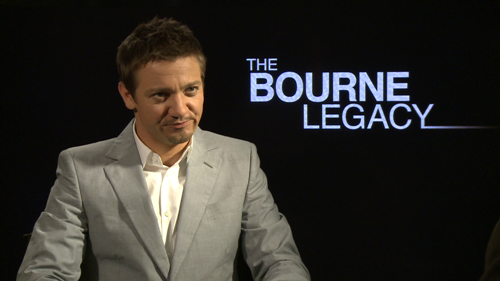 Ushered in to talk to Jeremy Renner, who stars as super-agent Aaron Cross in "The Bourne Legacy," he looks up, eyes widening slightly as he tries and succeeds in placing your face. He laughs, more at himself than anything else. "I guess that's when you know you've 'made it,'" he muses as you sit. "You start to recognize pretty much every journalist who comes to talk to you." Renner sounds more amused than smug; he's been on a tear of work, lately, but it's all the kind of stuff you show up and earn, not the sort of thing you win in a lottery. We spoke with Renner in L.A. about why he came on board, handling his own stunts and what was at risk.

MSN Movies: I'm wondering about making this film -- once you signed on with writer-director Tony Gilroy, who of course was as a writer involved with the first three films. What were your conversations like even thinking about doing it? How long was that process?
Jeremy Renner: I think it was all of maybe ... three days. It happened very quickly.  Look, don't get me wrong, it's an easy thing to think about. It's an easy "no" if they want me to play Jason Bourne ... that's just not happening, I'm not interested. But then I got very curious because they started talking about, "You've got to see the script and the thing" and I'm like "Okay, obviously I'd love to be a part of something like this." Once I got the creative information and the script and all that sort of stuff and who's going to be in, I'm like, "How do you say 'no?'"
You have a great reputation as a physical actor as people know if they've ever seen from "The Hurt Locker" to "Mission: Impossible" but were there moments in this where you said, "No, I'm not doing that"?
(Laughs). No. Probably in my head, yeah, but I probably wouldn't say no to anything unless I felt like I was going to be in danger or endanger somebody else.
But when somebody says to you, "Here's the good news, you get to go to Manila but the bad news is you have to take part in an incredibly dangerous motorcycle chase," do you set a contrast for those two things?
Yeah ...  no.  I just think you don't really know what it's going to be until -- 'cause it's so fragmented in shooting an action sequence like that. It's just moment by moment, you know. Moment by moment, you have to look at it. 
One thing about this film is that there are maybe more moments of humor in it than prior films. Where did that help you make that decision -- not a lightness, but a warmth to it, because your character's not an amnesiac…
Right, right. We weren't trapped into that, so we had a new palette to kind of go.  Not that we were pushing for any comedic moments or anything, it's just that it's a different part of, it's different character, different program so there were moments that came up that were a little lighter, little just more -- any moment you can have in these movies not to just be gunning and running? We have these great little character moments which I think are really great and rich.
Were you surprised by how much silence there is in a film? I don't think you say a word the first 10-15 minutes.
(Laughs) I love it. I've always wanted to do a silent film, actually.
Yeah.
Yeah, yeah. It's a challenge to be able to communicate without saying anything.
Your costar, Rachel Weisz, was she up for it? I mean she's known for a slightly more high-tone dramas and this is more of a period piece.
Yes, yes.
Was she up for the running, the looting, the shooting?
She's up for anything. She's a gal you want at your side and on your team. She's game for anything.
 ("The Bourne Legacy" is in theaters tomorrow.)