Interview: Matthew Heineman, Director of 'Escape Fire,' Says We Have a Disease-care System, Not a Healthcare System
Check out an exclusive video clip from this powerful documentary that aims to change the conversation we're having about healthcare in this country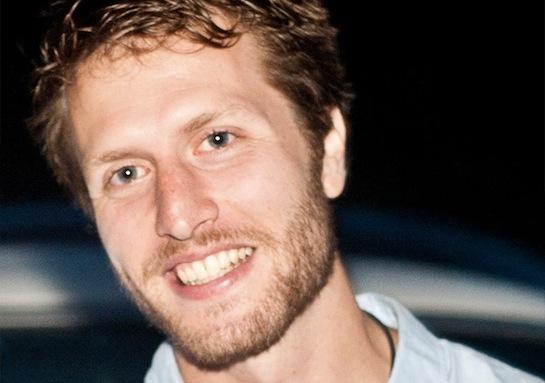 The word "Obamacare" is never uttered in the must-see new documentary "Escape Fire: The Fight to Rescue American Healthcare." And that's a relief. Walking into the film, I assumed it would be focused on the polarizing Affordable Care Act that has dominated most discussions of our country's healthcare system lately, particularly during this tense election season. But the whole reason that filmmakers Matthew Heineman and Susan Froemke made the film to begin with is that they and many experts present in the award-winning documentary believe that we're having the wrong conversation.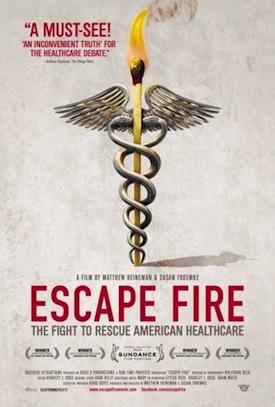 American healthcare costs are rising so rapidly that within 10 years they could reach $4.2 trillion annually, roughly 20 percent of our gross domestic product. We spend $300 billion a year on pharmaceutical drugs—almost as much as the rest of the world combined. We pay a lot more, yet our health outcomes are much worse than other countries. And almost 75 percent of healthcare spending goes to preventable diseases that are the major causes of disability and death in our society.
But there is reason to hope. The "escape fire" of the title refers to a phenomenon where, in the middle of a raging inferno, a swatch of land is intentionally ignited to provide shelter for people caught in the larger blaze. In this documentary, Heinemann and Froemke weave dramatic personal stories of patients and physicians with stories of innovative leaders who are trying to transform healthcare at the highest levels of medicine, industry, government, and even the U.S. military. Powerful forces exist to maintain the status quo, but we can all create "escape fires" to find our way to a more sane system.
I sat down with Matthew Heineman in Los Angeles to discuss his remarkable film which opens today in select cities and is available on iTunes and VOD. The director had just come from enthusiastic screenings of the film in over 50 medical schools across the country.
MSN Movies: I think it's so great that medical schools are open to screenings of this film. Doctors coming up in the system so need to think about these issues.
Matthew Heineman: We want everyone to see the film, of course, but to get people who are in the system, who are the idealistic young doctors of the future to get behind it—the energy in the room at those screenings was amazing. As you know, healthcare has become such a polarizing topic.
When you were thinking of doing this film, how did you avoid becoming overwhelmed by the sheer scope of the topic?
There were two major hurdles we had to face when we started making the film three years ago. One was that the topic is so polarizing and difficult to understand. Every administration for the past hundred years has been trying to address it, but it's so complex. So we had to think a) how do we make sense of it and make the real issues tangible for people, and b) how do we make it entertaining so people will watch it—
And c) how do you wrench it out of the crazy political maelstrom?
Exactly, that was definitely another hurdle. You know I've seen so many of these very partisan films that present a "cause" and I always think they're just preaching to the choir. We believe that to create lasting change you have to bring all sides to the table and try to talk about these issues in a rational way. I'm excited that we're releasing the film a month before the election. I would love for our film to help inject some much-needed sanity into the discussion about healthcare in our country.
Did you have to fight to prevent the film from becoming a treatise on the pros and cons of "Obamacare?"
That just wasn't the film we wanted to do. We didn't want to make a film tied to a piece of legislation, we wanted to make a film that looks at how this perverse system we now have came to be and why it's so hard to change. We spent six to eight months doing research before we even turned on our cameras and one thing became very clear to us early on—that in this country we have a disease-care system, not a healthcare system, a system that profits on sickness, not on health. How do we even begin to change that? How can we start to create a true healthcare system?
One of the most surprising things for me in the film was finding out that the U.S. military, of all organizations, was in some ways leading the pack in terms of healthcare innovation, trying, for example, to address the chronic problem of overmedication with things like acupuncture, yoga, and meditation. Who knew?
I think the military is a really interesting example because they're one of the largest healthcare systems in America but they're also a single-payer system. So because of their wildly escalating costs they're almost forced to innovate! They recognize there's a huge problem among their ranks with overmedication, which, of course, is a microcosm for the rest of our society, and suicide rates in the military are at epidemic levels, so they're forced to think outside the box and look at new alternatives. I think they're really in a time of transition. I'm very excited that we're screening the film next week at the Pentagon and that the U.S. Army Surgeon General has invited people from all across the Department of Defense with the idea that these are problems we can fix so let's start to address them.
Your expose of lobbyists in the film, both for the big pharmaceutical companies as well as insurance providers, is horrifying. The influence they wield in Washington is just outrageous. Are you worried that with all that money at stake these corporations will work to discredit the ideas in your film?
To be honest, we haven't gotten too much pushback so far—I guess we'll see. It's clear that the status quo doesn't want to change the system. As Andrew Weil says in the film, "there are rivers of money flowing to very few pockets and the owners of those pockets don't want to see anything change." That's clear. But what's also clear is that we seem to be at a tipping point in our country where it's just not sustainable.We spend twice as much as other developed countries per person and yet we're 50th in lifespan. So we're paying way more and getting way less. I think people everywhere are starting to realize that it just has to change, whether it starts with the military or progressive corporate programs like the one Safeway is involved with, or the work at places like the Cleveland Clinic who are trying to change the way healthcare is given. I hope that's a message that comes across in the film—that there are these major institutions that are being forced to innovate, being forced to change and come up with their own "escape fires."
The Safeway story was another surprise and really inspiring.
Yes, that was a surprise to us, too, and such a wonderful story that shows that what's good for your bottom line can also be good for people. It's also a great example that change doesn't have to come from Washington but can start anywhere.
The most moving parts of the film for me are the stories of Erin Martin, the idealistic doctor who gets dragged down by the system, and Robert Yates, the soldier trying to recover from his combat injuries after returning from Afghanistan. The arc of Yates' story is just amazing. How on earth were you able to get on that Medevac plane to follow the heavily medicated sergeant?
Oh, it took us forever to get permission to get on that flight. When I finally got over to Germany I had no idea what to expect. But when Sergeant Yates rolled over in his wheelchair with his hoodie on, I instantly knew that despite the monsoon of drugs he was on at the time, this was someone we wanted to follow, he had such a spark, such humanity.
Of course his story could have gone any number of ways.
Absolutely! I had no idea what would happen, even on that plane, but you could sense that he had something special. So we made the connection and stayed with that story throughout his recovery and it ended up being terribly moving and inspiring.
That scene were he empties all of the pill bottles onto the floor was extremely powerful.
That was such a shocking moment. We talk about the problem of overmedication in the film but to see that visual representation of it was just incredible—I had no idea that he was going to do that. When we met him he was taking 32 different pharmaceutical drugs.
What else do you want people to take away from the film?
That we not only have to take greater ownership of our health, we have to become much better consumers of our healthcare. As Dean Ornish says, awareness is the first part of the healing process. We want to provoke a paradigm shift in our thinking about healthcare in this country and that shift needs to happen at all levels, not just in Washington. I hope the film generates a sane discussion on how to create a sustainable system for the future. One thing that I really learned from this film is that many people think of healthcare as something that happens TO them—they take a pill, they go see a doctor—but we're all in this together and to really alter the paradigm, we all need to change.
Here is an exclusive clip from "Escape Fire: The Fight to Rescue American Healthcare" by Matthew Heineman and Susan Froemke.
"Escape Fire" is in theaters in select cities and is available on iTunes and on VOD.  Click here to see how you can work on the issues brought up in the film. 


Since President Nixon and Kaiser brought HMO's into your world for the sole profit of their corporate stockholders, healthcare was abandoned for profits and their bottomline at the cost of the health and lives of the consumers.  Greedy, grumpy old white men who want us to worship them and rule the world is also the bottomline for these "masters and commanders and captains of industry.  They are the two percenters that own everything and don't realize that their very financial existence is in the hands of the 98% of the populations.  If we would stop participating in the madness that is this healthcare system like the Chinese who prefer apothecaries, it would make their control obsolete.  Homeopathic solutions that exist on the Internet far exceeds the care nad results that we are getting in their system so wake up America because the world is healthy than you with less care.
Are you sure you want to delete this comment?