'MythBusters' Solves Lingering 'Titanic' Mystery
Did Jack really have to die?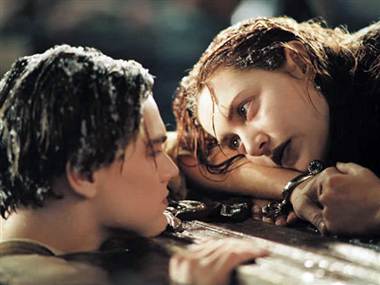 Fifteen years after it came out, fans, critics—and shiftless losers on the Internet with nothing better to do—still love to argue over whether Leonardo DiCaprio's character, Jack Dawson, really had to die at the end of "Titanic." Could the door/raft that kept Rose from suffering hypothermia been shared by both of them?
As it turns out, it all depends upon whom you ask. The good folks at
Discovery's "MythBusters"
decided to find out definitively, however, devoting an entire episode to trying to solve that riddle once and for all. Their conclusions? Well, for one thing, the film has it right in that spending an hour in freezing cold saltwater would have killed just about anybody. It's not that hypothermia alone would kill you, it's that the hypothermia would have led to loss of motor functions, and, thus, drowning. As for whether Jack and Rose could have stayed atop their makeshift raft long enough to survive till rescue, the answers are a little less clear. As per the "MythBusters," the wooden wreckage on which they were perched didn't have enough buoyancy on its own to support both their body weights. However, if they had improvised inventively with Rose's life jacket... Well, we'll let the video below, posted after the break, speak for itself...