'Harry Potter' Secrets with Producers David Heyman and David Barron
The Men Behind the Magic Tell All ...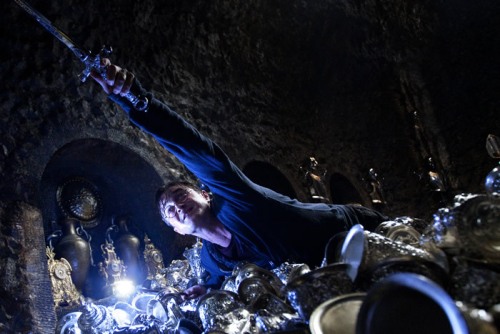 While the child actors of Harry Potter have been with us for every film, there's an equally important group of people behind-the-scenes from the very start. Producer David Heyman was the man who first saw some potential in a book by a first-time author; David Barron, who came on board with "Chamber of Secrets," was the more experienced of the two. Speaking in New York, the two gave plenty of insight into the secrets of the films -- and the pains and pleasures of wrapping the series.
On what things kept the "Potter" leads level-headed during 10 years of fame and filming:
Heyman: I think first I count their parents; I think that's key. Also, we had the privilege of making these films in Leavesden Studios, which were a little ... dank. It certainly wasn't a grand place, so it was a little isolated. We had a lot of the same crew working on the films from 2000 right up until 2010, when we finished shooting the films. There was a great consistency in terms of the people, so nobody could get away with anything. If anybody got high on their horse, we'd sure as hell hear about it. It's a great atmosphere; it's a film of great pride but no ego. I think that encouraged a sense of humility on their part, which is one of the qualities I really respect they've retained. They're also surrounded by actors who are at the top of their game who they could learn from, but also saw how they behaved. You had Michael Gambon and Gary Oldman and Imelda Staunton and Ralph Fiennes. They're regular people; they're not a**holes -- excuse my language. They're really lovely, and I think they saw that and they learned from that and they retained their humility and their decency.
Barron: When we started, they were very, very young. The environment had to be one that we could all look at ourselves in the mirror in the morning and feel we were doing the very best we could for children. They weren't some actors, they weren't adults -- they were literally children. They set the tone for the rest of the proceedings. It was a safe place, a friendly place, and there was no ego, as David said.
Heyman: I also think that we tried to keep it fun. Nobody treated anybody like a star. Sure, they each had their dresser and things that you and I may not have on a daily basis, though I probably could use one. They were treated as they were Dan and Rupert and Emma, and everybody's treated with respect, but not fawned over.
On the last day on set:
Barron:  We actually had several last days on set. We had the main unit last day, and then we had inserts and things, but the main unit day was incredibly emotional. We scheduled something very easy for the cast. It was not at all dramatic: It was from the previous film, from 'Part I,' where they were diving into the fireplace and making their escape from the Ministry of Magic. They were on the green stage diving onto a green mattress, so it's not too demanding in terms of their emotional acting range. We were finishing at lunch time because Dan was coming to New York to present a Tony the following day, and we did it: we finished
Heyman: (First Assistant Director Jamie Christopher) got one of the assistant directors to go around the set, go around the offices and (film) everybody wave goodbye, which were intercut with Robbie Coltrane playing air guitar --
Barron: In his Hagrid costume.
Heyman: In his Hagrid costume, as Hagrid would. Then it ended with this shot of going through the offices with everybody waving goodbye and ending with David Yates getting in his car and driving off. At the end of that, let me tell you ...
Barron:  There wasn't a dry eye in the house.
Heyman: We were all sobbing. Myself, David, (Director) David Yates and Dan (Radcliffe) gave short grief speeches. Then we had a little wrap party, which was really quite humble: It was a barbeque. ... Rupert brought his ice cream truck.
Barron: He served ice cream to the crew once they'd eaten their lunch. It was fun; it was really warm, very emotional. A lot of people were there who some were even older than me, who'd been around even longer than me, and actually had seen everything you could probably wish to see on the film set -- they were in tears, too. It was extraordinary.
On the challenges of adapting the books:
Heyman: Each book posed its own challenge. We knew we were always making the film ahead, so when we were making the first, we knew we were going to make the second; when we were making the second, we knew we were going to be making the third. Each time, they were treated in a way as self-contained units, as books that we wanted to adapt and make it the best that we could. Inevitably, with each coming director, there was a certain competitiveness, wanting to make the best film yet with each other and with themselves. David Yates wanted to make each film better than the one before.
On shooting the films' epilogue -- twice:
Heyman: First things first, we got our pictures of the parents of Dan, Rupert and Emma. What you realize is that one, it's much more difficult to age someone who's 17, 18, 19 than it is to age someone who's 40. To damage their soft, perfect skin is much harder to age. Frankly, we messed up the first time -- we did it twice. We didn't get it right.
Barron: We set out to do prosthetic makeup to see if we could avoid any digital retouching, because it's not always successful. Prosthetic makeup is much more successful, and we tested extensively. When we shot the first time, we shot at King's Cross Station, and it has a particular peculiar light that we tried to match in our tests back at the studio. Something didn't work: They didn't look half as convincing when we were out on location as they did when we were testing.
Heyman: Also filming it at King's Cross with the noise and trains leaving the station and the clacks and 'the 336 from Lincoln to Liverpool ...' -- it's very distracting to little kids who have never been in front of the camera, knowing that they are filming the last scene of 'Harry Potter.' We ultimately took it back to Leavesden and redid the scene. It works immeasurably better than it did. The amazing thing is that there isn't a big difference, obviously, between someone of 17, 18 and 37, 36. You're not really, really wrinkly.
On the relationship with author J.K. Rowling:
Heyman: I've known Jo since 1997, and she has rarely expressed concern. Once she handed over the book to be adapted into film, she's been nothing but a support. She was not one who said this or that; that's not her approach. She understands the different medium. By the very fact that she's taken a producer credit on these last two films, she's really proud of the films, and I think one of the reasons she wanted to take credit -- she's not on set every day -- (is that) she's always there if we need her. If we have a question, if we're uncertain about something, if we want to talk something through, we call her up or we have a meeting with her, and if we want to get the answer to this, we end up with this. Her knowledge of this world and her generosity with which she shares it is incredible. One of the reasons for her site, Pottermore, is that she has these endless notebooks filled with information. She was always there to support us, never there to criticize.
Barron: She completely supported the splitting of the book into two films, even though we set off with the notion that the DNA of the series was one book, one film. Previously, even in the very thick books like the fourth book, there's plenty of color and character and a brilliant job on action, certainly enough for two films, but there never was enough story for two films, and I think they would have felt thin. Steve Kloves, when he spent a little time trying to get under the skin of the adaptation, said, 'It's too much for one film.' Jo was very happy with that, because it meant we wouldn't be trying to expunge anything from the final book where everything really is important.
On discovering the unpublished "Potter" manuscript in 1997:
Heyman: I moved back to London in 1996 from New York, and I have what's called a first-look deal with Warner Bros. I persuaded them I spoke both languages -- English and American -- and they fell for it. I decided to make books the foundation of my business. I love to read, and in terms of development to films, books are amongst the most successful. Also, England, London, UK is still that island off the coast of Europe; it's not thought of as a source of incredible materials, so you need something concrete to send the executives in California -- so books. On Monday morning, we had our meeting -- We started talking about what we read that weekend. (My secretary) Nisha said, 'I read this book.' I said, 'What's it called?' She said, ''Harry Potter and the Philosopher's Stone.'' I said, 'That's a terrible title. What's it about?' She said, 'It's about a young boy who goes to wizard school.' I said, 'That's a really good idea.' I took it home that night and I began to read, and I couldn't stop. Around 3:30, 4:00 in the morning, I finished it, and I'd fallen in love. I had no idea what the next 14 years would hold. I loved it. I thought of (it as) something that I could share with my younger half-brother and -sister who are 24 and 28 now, who are 22 and 26 years younger than me. I loved it and thought it'd be fun, something I could share with them. One of the things I love about the books and hopefully the films is that they didn't patronize. They were books that the parents could share with their children that they could enjoy, too. I think that therein lies one of their great pleasures.