Gerard Butler To Star In 'Manhunt'
Which is probably just what you imagine it to be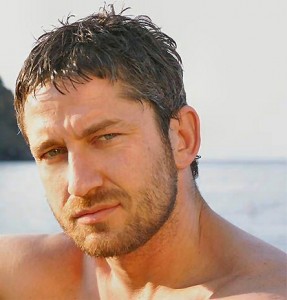 According to
Deadline
, Gerard Butler is in talks to join "Manhunt," a thriller about an FBI agent tracking down a ruthless criminal in the... *Sigh* Oh, who cares. 
Why, Gerard Butler? You used to have fire, and spirit! Not to mention a conscience, and some actual restraint as far as what you'd deign to appear in. We loved you in "300," and probably would've liked you in "Coriolanus," too, except we didn't see that. But why do you subject yourself to this? Granted, 
somebody
 has to star in this crap—we suppose—but does it have to be you? (Also, is this the line of reasoning you took when you agreed to star in "Law Abiding Citizen," and that awful Katherine Heigl movie? For shame!)
Anyway. Why are we complaining about an original film, that's not a remake or sequel, and isn't based upon any existing property or franchise? Maybe it's because the film's synopsis fills us with dread, ennui, apathy... A generalized depression about the state of the human spirit. We wonder how was the film pitched. Was it described as being like "Silence of the Lambs" meets "Deliverance?" Actually, probably not. That sounds way too interesting.
What do you think, Hitlisters? Does "Manhunt," aka "Generic FBI Movie 2012," sound too
rote/boring/unintere​sting
for a man of Butler's talents? Should we start a letter-writing campaign to have him boycott the project? Or is all this in vain? Let us know in the comments...

The man has lost money producing the films he made last year. They were critically acclaimed, but not big draw. Perhaps he is signing on to a formulary, achetypical hero type movie to make some dough this year! Law Abiding Citizen raked in money, as did the Ugly truth...can't blame a guy for keeping an eye on the bank account as well as the creative. Considering we went to see Bounty Hunter (yuck) Butler's got to be pretty confident we'll give his latest effort a try!

Okay, have to disagree about Law Abiding Citizen (that movie was awesome).  The Katherine Heigel movie...yeah, that was total crap.  And you left out the one with Jennifer Aniston (crap as well).  I agree that Gerard Butler has gone slumming in quite a few films.  It seems like only yesterday he was the loin cloth wearing Attila the Hun (loved him in that).  Well, I'll wait until the previews come out before I judge this new one.
Are you sure you want to delete this comment?