Get Addicted With a Brand New 'Dredd' TV Spot
Now available on the Internet, too!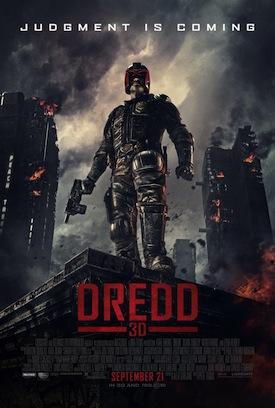 Was the recent Colin Farrell-starring "Total Recall" remake just not good enough for you? Then perhaps Pete Travis' version of "Judge Dredd," just called "Dredd," might make Hollywood's love of remaking beloved nineties-era actionfests go down a bit smoother. Maybe.
Starring Karl Urban, Olivia Thirlby, and Lena Headey, "Dredd" is (like the original) set in a sprawling future city overrun by criminals and drugs. Cops are now just known as "judges," and they also serve as jury and executioner - making swift justice of the ever-growing pile of baddies the are filling what's left of a ruined planet. Yet unlike the Sylvester Stallone-starring 1995 film, this "Dredd" doesn't focus on the eponymous judge on trial, instead Urban's Judge Dredd takes on the city's worst crime lord - Headey's Ma-Ma - who rules a giant apartment building and its inhabitants with an iron fist. It looks like the resulting film is an all-out, majorly stylized brawl that looks more like "The Raid" than "Judge Dredd."
The film's latest television spot, titled "Addicted," gives us a better taste of that nefarious drug (called Slo-Mo for obvious reasons) and some of the action we can expect from the film. There's also quite a bit of snarling, snapping, and near-mugging by Urban. A fun, unexpected movie spectacle? Quite possibly. 
Check out the latest clip from "Dredd," thanks to Lionsgate, after the break. The film opens on September 21.