Interview: Bryan Cranston of 'Argo'
'These people are not James Bond. They're not sliding off the hood of a car ...'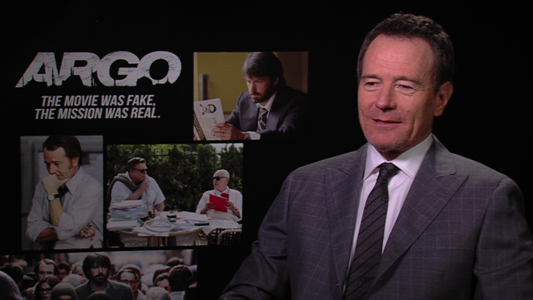 Known for his Emmy-winning portrait of Walter White in "Breaking Bad," Bryan Cranston is elegant in a single-breasted suit, talking about his acting process, interviewing CIA staff for research purposes -- and relishing the chance, it seems, to play someone other than his sneering bad guy from 'Total Recall" or his meth-making cancer-riddled teacher. Cranston plays Jack O'Donnell, a fictional CIA higher-up who backs the plan created by Ben Affleck's Tony Mendez to go into Iran -- after it's people and politicians had seized the American Embassy and had another  50 hostages at gunpoint -- to get 6 American Embassy workers who were secreted in the Canadian Embassy out of Iran by claiming they're a Canadian film crew scouting for a sci-fi cheapie called "Argo."  We spoke with Cranston in Los Angeles about the realities of intelligence, how an actor prepares and what brought him to the role.

MSN Movies: You play a CIA higher-up who's in charge of the operation. First off, after "Breaking Bad" and "Total Recall" this summer, is it just a pleasure to play a decent human being?
Bryan Cranston: (Laughs) I like to mix it up, yeah. When I read this, I thought this is a terrifically written story, and it has the potential to make a terrific movie. And then I related to the character. I thought a relationship between Jack and Ben's character Tony is almost like Jack Warden and Paul Newman in "The Verdict," you know, the older statesmen; he's protecting the guy. But I think overall I thought my character was probably very lonely. You see back there (indicating "Argo" poster) he's got a rosary in his hand. He's a very private man, very religious, twice-divorced kind of guy -- not a very good husband but a good man and a good CIA officer.
And all of that background character stuff helps you get in the mode of being someone who works in a secret world, being responsible for people's lives and responsible if that goes wrong.
Yeah. I mean this is what I do with all the characters I play. I write my own back-story; whether or not it ever comes out, it's not as important. I asked for different articles on my desk to center me and ground me. For actors, the more that you can know about your character the more you develop a foundation and the more comfortable you feel, just like a house, in building a character from that.
                                                                                      BING: The CIA l 'Breaking Bad'
I'm asking semi-facetiously but which helps you get in character more, all of that dedicated, insidious, intelligent preparation or the block-rocking sideburns you get to wear?
(Laughs)
I mean, how weird are '70s fashion and styles to a newer generation?
I was very much into that fashion when I was in the '70s. I was graduating from high school going to college and prancing around trying to pick up girls. It was the time.
I'm just pausing to imagine you prancing.
Yeah.
A little problematic.
That's why I had problems picking up girls. 'Cause they're going, "You know what? You're prancing. It's not going to work."
Not a good prancer?
Yeah.
I mean, you were around for this historically, which a lot of the audience may not have been just by virtue of…

Thank you for that, thank you for that.
I was around for it historically. But do you remember this story at the time? Do you remember being amazed by Canada's daring , which we now know was a collaboration between them and the CIA?
I do. I remember the story very well. I remember Ted Koppel going on "Nightline" saying, "The silver lining in this horrible situation would be the hostages thanks to our neighbors from the North. They managed to smuggle out six Americans." And I remember the placards of the hometowns of the Americans, thank you Canada, and it was like wow, some good news. That's good. But then it quickly focused to the 50 Americans who were still in the embassy.
As it rightfully should have, of course, but the idea of getting some people out of harm's way is a good thing ...
Right, exactly right. But it soon was forgotten because it was "The Canadians figured that out and that was great and terrific." It wasn't until the declassification of the file and the Clinton administration that we found out what the true story was.
You were talking about your character Jack -- how on some of the promotional material he's got a rosary sort of lightly held in his left fist while he's at work, while he's in his '70s vest and tie, and  the kind of character work that goes into making a living character for you. Can you expand on that a little bit?
Well, I think it's a natural expression and desire for anyone to be more and more comfortable with their environs, so when I first showed up on the first day of work at the underutilized L.A. Times building in downtown Los Angeles in the basement, I wanted to go there. And they said, "Well, we're not shooting there for quite a while." I said, "I know. Let me go there." And they said, "Well, we're shooting in the conference room." "I know, but I want to see this first." So I was guided toward where this was and I went into my office, I sat in my chair, I looked at the desk, I moved things around, I wanted to get comfortable with it. And if it wasn't comfortable I would just take the liberty of adjusting things, you know, where I would have my lamp, where the phone would be, where things, and I would ask for, I wanted some crucifix and religious artifacts around me 'cause I started to write a backstory. And whenever I take on a character that has considerable involvement in the plot, I want to know as much as I can about him. So if it's based on a real person, which Jack wasn't, it was a composite of people, I wanted to create who Jack was, and so I did that. So I write a back-story on everything, his marital status, his religious influences, education, where he lives, if he has any pets, I mean all like that. And it was helpful for me, and I just did it. I didn't tell anybody, I didn't say to Ben, "Look, I have a rosary in my hand. You want to shoot that?" I just had it for me, and if it's seen it is. If it's not it didn't matter to me.
I mean I also have to ask you this flat-out question. What's it like for you and Mr. Arkin for example -- you play composite characters. Mr. Affleck, Mr. Goodman, they do not. Is it different acting task creating a composite as opposed to creating somebody who lives from real life?
It is in a sense that there's less sense of an image or responsibly ... I don't want to say less responsible because you need to be responsible for developing an honest and believable character regardless, but if you're playing someone who is a real person, which I have in the past, it puts a little more (onus) on you to do that person justice and not from a standpoint of "I hope he appreciates this," but my whole point is that "I hope he feels it's fair and honest, a depiction of what he was thinking and feeling at the time."
Isn't it also fair to suggest that squeezing a real person with reality into the temporal and physical confines of a movie screen is very different from inflating a created person out of imagination into the flesh?
I think that's fair to say. Yet, whatever -- if it's a composite character or a real person, they still have to be believably portrayed in order for the effectiveness of the story to be carried out.
How was the audition process? I mean certainly, you're at that point where more people come to you with things they would like you to do than you can probably do, so what does it take for a piece of work to catch your eye and ear?
There are a couple of hurdles. I heard that Ben would like to see me for this role, a CIA officer in this movie called "Argo," and that's always a delight to hear that-- it didn't say "He's offering it to you." He said he would like to talk to you about it and that is the audition process. For me though, I had to audition the story and the script. So the hurdles are if Ben, even if he said, "I'd like to offer you the role," and I read the script and I didn't like it I would say, "Thank you. It's very kind of you to offer me it. I'm not interested in this particular role at this time," or "I can't do it. I wish you the best of luck," and I'd go on my way. So I know and he knows that it's all about the story. So it had to past muster from a story aspect first, and I read the "Wired" magazine article, got a sense of the story, which was just phenomenally fantastic and fantastical in its scope ...and now that in and of itself is not enough because you could take a fantastic idea or story and botch it completely with a less than accurate or compelling screen play. So I read the script and it was terrific. Chris Terrio is just a master being able to artfully craft this in a three-act structure. So by the time I met Ben on this, I was already prepared. I had read the script, I've taken notes, I read the article, I thought about the character and developed him in my mind because that's the audition. I may not actually be going in and reading lines of dialogue. I went in and I said, "I think Jack is this. I think Jack, if we want to look in a context of movies, I think Jack is Jack Warden and you're Paul Newman. I think there's a paternal figure there. I think he probably took you under his wing and guided you through. There's a definite appreciation and respect and concern for your well being, and that's why it works." When Tony Mendez says, "Jack, I promise these people. I looked them in the face and I said, 'You trust me. I will get you out.' I can't go back to them now and say I can't do it. I can't do that. I'm taking them through." And he hangs up the phone. And even though he put (my character) in that unfair position, there was only one thing for me to do.
Which is back your guy.
Yeah, use my guy. I've got to go to the mat for him. And if that means risking my career, that means risking my career. It's because there's a larger picture at stake and that is the lives of six human beings.
It's funny you mention Jack Warden and Paul Newman in "The Verdict," because I was thinking of course of "All the President's Men"…
Right.
Which has Mr. Warden, which has Jason Robards ... but "All the President's Men," that relationship between Warden and Robards and Redford and Hoffman is great because they love them, they support them, and if they mess up they will kill them. Is it fair to say there's a little touch of that there with your character and Tony Mendez?
Yes. When I tell him the mission is off…
Right.
…which really did happen because they were planning the much bigger picture mission of rescuing all 56 or 50 from the Embassy…
And in hindsight we certainly know how that turned out historically ...
Yes, very unfortunate. But when they said it's off and he says we have a responsibility to these people and there's a moment I wanted to have, and it did. It came through; I'm very proud of that. There's just a beat where Jack knows he's right, and yet that doesn't matter 'cause what we're supposed to do here is follow orders. That's our responsibility. We follow orders, and there's a reason for that decorum because chaos ensues if there aren't protocols in place. We need to follow that.
It's also strange because it's a sector of public service where you can't really say -- this story was declassified by Clinton in 1997 -- you can't really go home and say, "Well, I did this tremendous work."
Nope, which is what I found so fascinating about these men and women. I did some research at Langley prior to shooting ,with CIA officers, and at first they were very reticent to talk to this stranger who they may have known from a TV show, some actor coming in and he's not going to get into my world.
Right.
They're so used to not talking that they didn't talk. And I would ask a question and their monosyllabic answers, you know, "Yes, no, possibly, somewhat dangerous," you know, that sort of thing. And then after awhile it kind of loosened up and I was actually more interested when I was developing my sensibility of who Jack was and how it manifests personally. I wanted to find out how can you maintain a marriage if you can never talk about what you do for a living?
You come home and somebody says, "Hi honey. How was work?" And you have to say, "Redacted."
Yeah. (Laughs) "Redacted. That's fine. Just move on."
But eventually they did open up.
Yeah, they did open up, and what I found was that there was a need to have, a lot of them have a desire -- whether it actually follows through -- but a lot of them have a desire to write a book of one of their more important missions or something. Because of the fact, I think, they have to swallow it for their entire career. And one guy had already written a book and then he and his publisher are waiting for the declassification of this main story.
Wow.
But he can't publish it until it declassifies, and that may be another six, seven years.
And it may be something from decades which in…
Exactly.
… the timeline of American intelligence is simultaneously a lifetime and a second.
That's right.
A lot of the movie feels like this kind of strange office comedy with a lot of shrugging and "What are you going to do?" Is it fun to portray the normalcy of something like the CIA where you have to kick things upstairs for approval, and the coffee's still bad, and the company picnic is still going to be kind of boring even though it's intelligence?
I think that's the joy of depicting something like this is that you demystify the sexiness of it. These people are not James Bond. They're not sliding off the hood of a car and drawing their gun at the same time and killing the bad guy.
They're mostly paper pushers.
They're paper pushers, they're accountants, they're administrative, they're people who focus on minutia of things, and yet I don't what to diminish their importance or the fact that they've dedicated their lives to service. It may appear to be naïve, but they have really given over themselves to what they hope is a greater good. And in many cases it is. There are so many things that happen that CIA is successful at, and as we show in the end of "Argo," we didn't know if this was ever going to be declassified. We don't know that for sure; it takes a Presidential position on it. And so at the end when (the CIA agents in 'Argo) say "We were never involved, c'mon, they're the good guys, it was Canada, it was Canada that did this, thank you Canada." And that's it. And that has to be enough just to know personally that you're involved in something that saved lives, that made a difference. That has to be enough, personally.
("Argo" is in theaters tomorrow; you can find more information about the world of film on the Facebook page of MSN Movies and at the feed for MSN Movies Twitter.)