It Wasn't Always a Wonderful Life for Little Zuzu Bailey
The actress who played Jimmy Stewart's daughter in the classic film faced many challenges growing up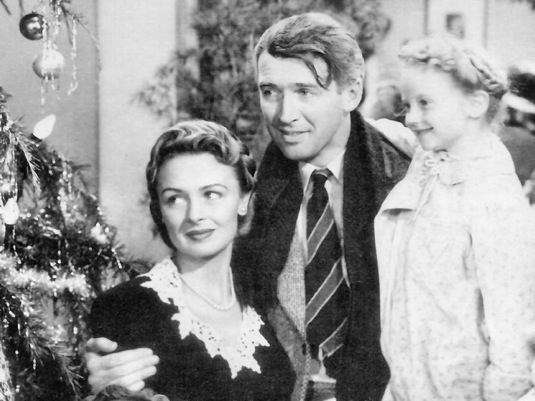 Despite its mixed reviews when it first came out in 1946, Frank Capra's "It's a Wonderful Life" has become one of the most beloved classics in the history of the movies. It's shown on TV every year at Christmas time and I remain incapable of switching the channel (or stopping the tears) if I happen to come upon Jimmy Stewart's desperate George Bailey struggling to get through hard times and find a reason not to end it all. When a bumbling guardian angel named Clarence, trying to earn his wings, shows George all the lives he has touched without realizing it and how the people in his town would have fared if George had never been born, George is finally able to put his problems in perspective and return to his adoring wife Mary (Donna Reed) and their four children.
The youngest girl in the Bailey brood, little Zuzu, was played by six-year-old Karolyn Grimes. It was Zuzu who gets the last word, uttering one of the film's most memorable lines. Cradled in Jimmy Stewart's arms next to the Baileys Christmas tree, surrounded by all the townspeople who had arrived in the nick of time to save the family from financial ruin, Zuzu hears a bell and remarks, "Teacher says every time a bell rings, an angel gets his wings!"
Sadly for Karolyn Grimes, after completing "It's a Wonderful Life," she did not experience the loving community that surrounded her movie family. As reported in The Washington Post, Grimes' life seemed more like something out of scary Potterville (what the Baileys' town of Bedford Falls would have become had George never been born). The little girl's ill mother died when she was 14 and her father died in a car crash the following year. A court ruling sent her from Los Angeles to Osceola, Missouri, to live with an aunt and uncle she later described as "nutso religious fanatics." Grimes' new caregivers were mean, dour people who had zero interest in supporting her acting career.
Bad luck seemed to follow Karolyn. Although she married and had seven children of her own, her first husband died in a hunting accident and one of her sons committed suicide when he was 18. After her second husband died of cancer, Grimes found herself in as bad a shape financially as her movie father had been in "It's a Wonderful Life." It was only then that she fully understood the message of the film.
Although she never even saw "It's a Wonderful Life" until she was in her 30s (her relatives told her it would be too "prideful" to watch her own films!), these days Grimes travels the country to introduce it at screenings, sign autographs, and meet with fans.  She thinks the film is just as relevant now as it's ever been. "Think of all the people out of work, losing their homes, hungry kids worried about their parents," she said earlier this week.
To honor the film's 65th anniversary, the Los Angeles City Council officially declared December 3 "It's a Wonderful Life" Day. Tom LaBonge, the sponsoring city council member noted how the evil banker in the film, Mr. Potter, is a fitting metaphor for our times. "Look, we've got 'Occupy Wall Street' demonstrators right here in front of city hall," LaBonge said, "we need more George Baileys in our world!"
The Academy of Motion Picture Arts and Sciences will present a newly struck print of the film at its Linwood Dunn Theater in Hollywood on December 9 and three days later at its Academy Theater at Lighthouse International in New York City. Karolyn Grimes will be present at that screening, along with the Oscar winning visual effects supervisor and sound designer, Craig Barron and Ben Burtt. In Seneca Falls, NY, the small town on which Capra based the fictional Bedford Falls, there will be an "It's a Wonderful Life" festival from December 9-11.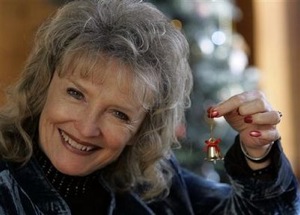 After those celebrations, Grimes will fly to London to promote the film. Karolyn will talk about her career as a child actress. In all, she made 16 films including "The Bishop's Wife" with Loretta Young, Cary Grant, and David Niven, and "Rio Grande" with John Wayne and Maureen O'Hara. The money she earned at the studios was important to her family. Her father didn't earn much as a manager at Safeway and her mom suffered from early-onset Alzheimer's. After she was sent to live in Missouri, she was cut off from all her friends and movie acquaintances.
"My life has never been wonderful," she noted. "And maybe that's what makes the film so important for me and a lot of other people. Jimmy Stewart's George is suffering terribly in the movie—you can just see it. He's in Martini's café and saying to himself, 'God, I'm not a praying man, but please show me the way.' Gosh, it makes me cry."
The film continues to inspire new generations. Let's take another look at Zuzu's big moment.