New Release: 'The Adventures of Tintin' – The Odyssey Begins
Steven Spielberg brings the globe-trotting boy adventurer of countless comic adventures to the big screen
By 
SeanAx
 Mar 12, 2012 10:33PM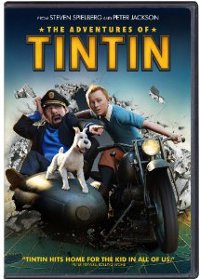 "The Adventures of Tintin" (Paramount), Steven Spielberg's first foray into motion capture filmmaking, turns the legendary boy journalist and globe-trotting adventurer from the early graphic novels of Herge into a big screen hero, complete with trademark cowlick and best friend canine Snowy watching his back.
See an exclusive clip from the Blu-ray documentary at Videodrone
Spielberg and his collaborators (notably co-producer Peter Jackson, who is directing the second film in the series) chose to split the difference between cartoon simplicity and photorealism to create a world where hand-drawn characters become the models for 3D recreations and the possibilities of comic strip storytelling inspire his creative choices. Coming from the man who made the original "Indiana Jones" movies such rollercoaster entertainment, perhaps I expected more muscular storytelling here. Spielberg doesn't have the deftness of Pixar's best filmmakers, but he does have a good time letting his creativity play in the new technology, and he has the good sense to cast Andy Serkis as Captain Haddock in support of boy hero Tintin (performed and voiced by Jamie Bell).
"In fairness to "The Adventures of Tintin," I have to say that the set pieces themselves, often Rube Goldberg-inspired contrivances/constru​​ctions that involve Tintin and the aforementioned drunk, Capt. Haddock, staying one breathless step ahead of a series of rapidly falling metaphorical dominoes, are all good ones, evoking the stop-motion cartoon follies of Wallace and Gromit almost as much as the Indy films," offers MSN film critic Glenn Kenny. "In every other respect, the film is sufficiently generic as to only be offensive if you're looking to be offended."
No supplements on the single-disc DVD. The Blu-ray, however, is filled with short featurettes on the production, characters, design, and technology of the film, which can be accessed individually or watched straight through as a 97-minute documentary. MSN has an exclusive clip from the "Tintin: In the Volume" chapter, a behind-the-scenes look with Andy Serkis and Jamie Bell talking about the challenge and art of motion capture performance.
Continue on to Videodrone for the MSN exclusive clip and more