Interview: Terry Crews of 'The Expendables 2'
'There are times my agent has had conniptions ...'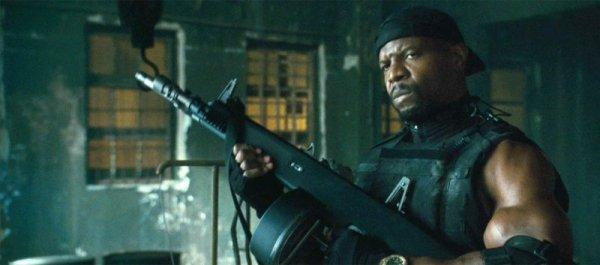 In perfectly-pressed shirt and trousers with a subtle silver clip holding a jet-black tie, Terry Crews looks the picture of style as we meet to talk about his return as "Hale Caesar" in "The Expendables 2." An ex-NFL player who shifted to acting, Crews has a massive and imposing demeanor, but it's soon forgotten as the actor laughs about his "Expendables" co-stars, the action star social order on-set, why he takes the roles he does and his distinctive, gigantic shotgun in the film.  

MSN Movies: In the billing of the film, Chuck Norris, the new guy, is billed over you. What the heck?
Terry Crews: No, Chuck Norris, he's our dude, he fought Bruce Lee,  wait a minute…
I know he fought Bruce Lee…
He fought Bruce Lee. Wait -- "Good Guys Wear Black," man. You remember when he kicked, jumped into the car in the front windshield? I was sitting in there, as a little kid, eating cereal going, "Holy cow!" He deserves it.
He protected us during "Invasion U.S.A.", no doubt of that.
Yeah, I just saw him on "Walker" a minute ago, okay?
Right. Well, there he is. "Walker" is now ubiquitous.
(Laughs)
As merely somebody who loves movies, how great is it to go, "Oh, Chuck Norris is showing up today"?
Yeah, that was, dude. Well first of all the plane you see, he's got his own jet, he flies in, then you see all these limos, then there's the smoke, there's a like smoke cloud and you're like, "What in the world?" then you get a tap on your shoulder, "Hey, how're you doing?" "It's Chuck Norris!" All the jokes are real. It's almost like you realize someone who's been here that long …
... and who kept a big chunk of what he made.
…  not to mention the Total Gym money, not to mention that.
I didn't give a thought about that.
I'm just telling you.
I don't have cable anymore.
I'm just telling you.
You can tell by my general level (of interest and belief that I believe you).
(Laughs)
Okay, seriously, you are 44…
Yes.
… earned an art scholarship to university…
That's right.
…wound up playing in the NFL. How amazing is it? What is parallel universe of you doing? Like, picking up tires in Flint?
Well, you know, when I was a kid I just realized ... Do what you love, period. And it doesn't matter what people think. My father always used to tell me, (in lower voice)  "Ride on your own train. Go your own path." And it was the whole thing…
And your father... sounded like Redd Foxx?
(Laughs) That's what he did! He would come to me like that and he would say that and you realize, I noticed there was a lot of people ... It's funny because the school, society, they try to make bricks. Everybody's a brick because if you're a brick you can put them anywhere. You can slide everybody. My thing was to be a stone. A stone, you can't put it -- you have to place it and once it's there if you try to take it out, everything falls apart.
Or as part of a mosaic you have other with similar freaky stones. 
Yeah, exactly.
So which of the actors in "The Expendables" did you find yourself just like hanging out with, talking trash, trading mileage tips?
Well it's funny because there's a different tier of  -- there was Arnold, Bruce, Sly, Chuck, Jean-Claude... and then Dolph, Randy, and I kind of hung together. You know what I mean? It was kind of like those three.
Did you ever say, "Hey, (Scott) Adkins, get me a sandwich"?
No, no, no, never!
Just because you could? No, okay.
(Laughs) But we all understand, you've got to understand there's a pecking order. Everybody understands it. And when the forearms come in, Sly walks in, all of a sudden the conversation is like, "Shh." You realize what's going on, and everybody kind of fell in line. It's all good.
I just talked to Mr. Lundgren, which was a unique pleasure in and of itself, but he was saying that he saw a difference between Mr. Stallone as the director and Mr. West, and I'm curious as to what you picked up as that difference or what your perception of it was.
My big thing was Sly ... you know he almost killed himself doing the first one, he was writing it, directing it, acting in it, getting injured on it. He bust up his shoulder, broke his neck, the whole thing. And he had his own "Hearts of Darkness."
It's a good thing he's in such good shape, right?
Well the thing is, it's same stuff Coppola went through doing "Apocalypse Now," he was at wit's end doing "Expendables." People don't know. There was all kinds of restrictions, financially, schedule-wise, and he had to get it all in time…
Getting a bunch of effects delivered that normally you wouldn't think of because he's a guy doing digital blood spurts to make it look more real.
There were a lot of issues, a lot of issues.
Did I miss the part in "The Expendables" where somebody kills a cow with a machete…
(Laughs).
Did I miss that?
I think you missed that.
Did I step out to the bathroom when Randy Couture kills a cow?
(Laughs) Right, so not that much like" Apocalypse Now."
You have this kind of weird surrealism in your work. You did "Idiocracy" as President Camacho; you worked with Tim Heidecker and Eric Wareheim, both of them are crazy. Does your agent just have a constant headache as you look for these weird projects that take with you and that you make work?
Yeah, I also worked with David Lynch in "Inland Empire" and that was a weird experience. But my agent figured out that I need to do what satisfies me. And there are times when he's had conniptions. (Laughs)
Right.
And times when he's like, "Oh boy, I hope this… Oh god it worked out!" He really, you have to ride with me. Anytime I put my wife through it she's like, "You're going to do what?" I did rappelling, we were jumping out of helicopters, we were doing all this stuff to do with special ops missions, but I do what I love. I only have one rule, I don't do anything for money, that's my rule.
You just talked about your boom-stick in this movie, the AA-12; it's this ridiculous automatic shotgun that can fire something like 300 rounds a second…
It's crazy.
It's got a cylindrical drum. If I fired a real one of those, it would just vaporize me into powder right?
(Laughs)
It would leave this cloud of white dust while I fall to the ground. How terrifying is it?
Well this is the thing, there could not be one ounce of timidity in you when you grab that gun because it's pure power, and it's blatant, ostentatious power. You can't really be humble with it. You come through like everybody hears you, everybody sees you, and get the hell out of the way.
This is not some Jet Li, "I'm going to in go through the air duct and cut your throat" nonsense.
Not at all.
This is "Shock and Awe."
(Laughing) "SHOCK AND AWE."
Have you fired one for real?
Oh, yeah.
("The Expendables 2" is in theaters now.)