Weekend Box Office: The 'Men in Black' Take Memorial Day
The federal space agents finally succeed in neuralyzing "The Avengers"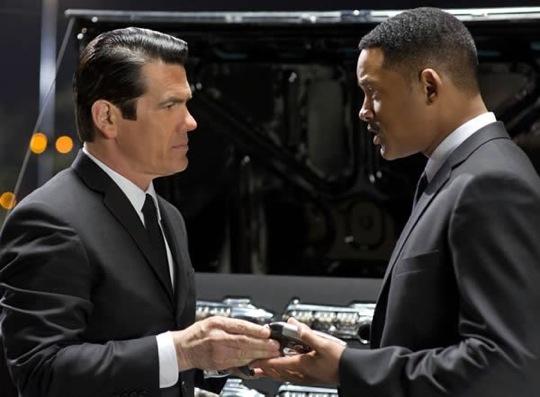 The third installment in the "Men in Black" series, while not setting any records over the holiday weekend, managed to entice enough moviegoers to knock the month-old "The Avengers" off its #1 perch. Most critics agreed that the time-traveling gimmick and the presence of a perfectly-cast Josh Brolin made this outing light years ahead of the previous entry in the franchise. Still, it wasn't a banner weekend for the movie industry. The only other new film to make the Top Ten, "Chernobyl Diaries," sank faster than a lead-encased reactor.


Sony/Columbia's "Men in Back 3D" finally managed to wrench the #1 position at the North American box office from everybody's favorite superheroes. The film earned $55M over the three-day weekend (at 4,248 theaters) with another $15M estimated for the Monday holiday. Now at #2, "The Avengers" racked up another $36.7M (at 3,918 theaters), bringing its domestic total to well over the half-billion mark. Starting its second week, "Battleship" moved to #3, with $10.9M in ticket sales (at 3,702 theaters) and just $2.6M projected for Memorial Day moviegoers. Sacha Baron Cohen's "The Dictator" slipped to #4, with a $9.2M weekend (at 3,014 theaters) while the #5 film, Alcon/Warner Bros.' "Chernobyl Diaries" only managed to pull in $7.9M on its opening weekend (at 2,433 theaters).

In its third week, the #6 film, "Dark Shadows," pulled in $7.4M (at 3,404 theaters) followed by "What to Expect When You're Expecting" at #7, with $7.1 in weekend receipts (at 3,021 theaters). The Beautifully Acted Ensemble Piece That Could, "The Best Exotic Marigold Hotel," the #8 film, brought in $6.3M (at 1,233 theaters) while last season's juggernaut, "The Hunger Games," continued to make its way down the list to #9, adding just $2.2M (at 1,421 theaters) to its $396M domestic total. Finally, at #10, the surprise hit "Think Like a Man" earned $1.4M (at only 786 theaters).

Bidding farewell over the holiday weekend were "The Lucky One" and "Pirates! Band of Misfits." And what's on tap for the first week of June? The year's second take on the fairest of them all, Universal's "Snow White and the Huntsman" starring Kristen Stewart and Charlize Theron, along with Adrien Brody as a pyscho drug dealer in the Anchor Bay comedy, "High School," and Dimension's long-delayed visit with some deadly fish in "Piranha 3DD." (Um, no, that second D isn't a typo—this is the sequel to 2010's "Piranha 3D"). Oh well, at least we have a strong candidate for the film that is sure to garner next week's worst reviews. Get out of the water and stay tuned!