Interview: Seamus McGarvey, cinematographer for Joe Wright's 'Anna Karenina'
"It was one of the most exhilarating rides I've ever had on a film because we felt that we were being pushed to our creative limits."
Like many of the talented behind-the-scenes artists involved in Joe Wright's stunning re-imagination of Leo Tolstoy's "Anna Karenina" (which stars Keira Knightley, Jude Law, and Aaron Taylor-Johnson), cinematographer Seamus McGarvey has worked with Wright before. Perhaps his most notable collaboration was as the Director of Photography on "Atonement" for which he received an Academy Award nomination. But McGarvey has been involved in quite a range of films during his impressive career, from "Map of the World" and "High Fidelity" to "World Trade Center" and "We Need to Talk About Kevin." McGarvey shot this year's Joss Whedon blockbuster, "The Avengers," and is about to start work on a new big-budget remake of "Godzilla."

Born in Northern Ireland, Seamus (pronounced Shay-mus for those of you not familiar with Irish names) was amused when Oliver Stone subtitled him in the DVD extras for "World Trade Center." I had no trouble understanding his charming Irish brogue when we spoke by phone about his work on "Anna Karenina."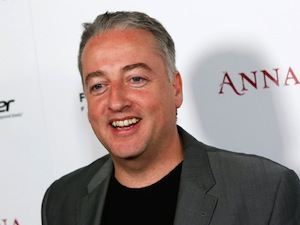 MSN Movies: It must be a lot of fun to get back together with Joe Wright and his team periodically since you all seem to work so well together.
Seamus McGarvey: Joe is a great friend of mine. We get on so well and have this wonderful creative dialogue. The great thing about working with a friend—who's also a director I respect tremendously—is that I feel I can be a bit braver than I might be in other situations. I'm less timid about my ideas for the cinematography and Joe is always ready to listen to them. And even when he decides to go a different way, I never feel like my ideas have been snubbed. There's a real democracy of ideas when you're part of Joe's cinematic troupe! It's very exciting because we all embellish each other's work, we feed off each other. It almost feels like we're in a band together!
So you go back and forth with ideas—some coming from you and some from him?
Yes, it works both ways. But Joe is a visionary director, so almost always the concept starts with him. He's really incredible to watch. For instance, with "Anna Karenina," as you know, there was a complete switch in the direction the film took. It was written and conceived as a period film in the "normal" mode, but the budget kept getting slimmed down and Joe was kind of forced into re-imagining the film in a different way. He hit on this idea to shoot a lot of it in this theater, a decision that ultimately honed all of our cinematic senses.
Had you already started shooting when that decision was made?
I was just about to arrive. I was still on "The Avengers" at the time, we were just wrapping that up. The decision was made not long before we started shooting so I really had to hit the ground running. I remember that I finished "The Avengers" in New York on a Saturday night and by Monday morning I was in some field looking for locations for the Russian steppes! (Laughs.) It was what you might call a "jump cut" rather than a "dissolve!"
I'm amazed that Wright's decision to use the theater was made initially for budgetary reasons. The idea certainly lent itself to the story and led to a lot of creativity on your part!
It streamlined the ideas somehow. The studio was a little afraid at the beginning that the ornateness and artifice might distance the audience, but I think the opposite was achieved. And it allowed me to adopt a completely different lighting style, one that was self-consciously theatrical and bolder in terms of the use of light. We had to  somehow enhance the architectural space with light since we had a sparer approach to the production design which Sarah Greenwood did so brilliantly. The change forced us all to exercise our muscles in our respective departments from design to costumes and so on. Nothing was left to chance in this film because everything was created. Sometimes when you go on location in period movies like "Atonement," you're at the mercy of the look and the feel of these great palaces or other places. You can't really interfere with that much, so you absorb the ghosts and the looks of these places. But this was something entirely different. We created something from the ground up that had a real visual cohesion.
I was surprised to hear after I saw the film that the decrepit theater wasn't a real building that you found.
Yeah, everything was built by Sarah and Katie Spencer, it was a beautiful set that had incredible color and the age and the textures were all there. We occupied a number of stages at Shepperton Studios and sort of leapfrogged from stage to stage. From the moment I landed in London to shoot the film, the work was incessant. Every day when we'd wrap I'd start storyboarding the next day, including on the weekends—it was one of those films that was absolutely all-consuming, it had to be! But it was thoroughly enjoyable, actually one of the most exhilarating rides I've ever had on a film because we felt that we were being pushed to our creative limits.
I talked to Sarah Greenwood and Katie Spencer and they mentioned that you were all constantly consulting with each other about everything.
All the time. That's the way Joe likes to work, and Sarah, too. She and Katie are very articulate, intelligent artists, which is just wonderful, you see it in the work. Nothing was on that set for its own sake, everything was carefully chosen for a reason. Which makes my job so much easier because everything has such resonance. Collaboration is absolutely a prerequisite of being on Joe's team, and it just makes everything better. He's the ultimate guardian but we're all in constant dialogue until the very last frame of the film.
When you're shooting something like this, do you have certain classic films, certain cinematographers you admire in your head?
I did lean on a lot of references including films that I really admire like Max Ophus' "The Earrings of Madame de…" And Visconti's "The Leopard" was obviously a major influence in terms of the mise-en-scene of the dance scenes and how we would film that opulence but with a very visceral story couched within. Closer to home I'd have to mention my mentor, Jack Cardiff, who did the Powell and Pressburger films. If I was to cite any major influence, it would be Jack's work on "The Red Shoes" and "Black Narcissus" because of the way he dealt with color. He had such artistry—such intelligent work and beautiful cinematography.
Is it wildly different working on a film like "Anna Karenina" compared to films like "The Avengers" and "Godzilla?"
Yes, it really is! I've never had an experience like I did on "Anna Karenina" and I probably never will again. It was a total joy and I learned so much from it. I think this is a film for the ages.
"Anna Karenina" is currently in theaters.