Interview: Alden Ehrenreich and Alice Englert, 'Beautiful Creatures'
The uncool power of love, and the ways of magic ...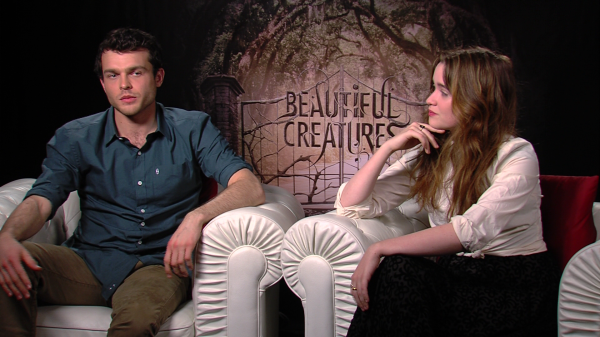 In Richard LaGravenes' "Beautiful Creatures," Alice Englert is Lena, a girl with a secret history of conjuring and conspiracy; Alden Ehrenreich is Ethan, the bookish boy whose affection for her pulls him into a world of peril and power. We spoke with the two in Los Angeles about keeping teen characters real, the work of magic and on keeping a nerd likable ...
One of the great things in this films is that the teen-agers talk like teen-agers ...
Alice Englert: (Laughs)
... they're sassy, they're smart, they're ill-tempered or good-humored depending on the moment ...
Alden Erenreich: Right ...
How much of a pleasure was it, reading the script, to have a film where the teen characters were people?
Ehrenreich: Exactly. That's it; you took our answer. I knew I wanted to do this film ... I was initially reluctant when I just heard the breakdown for it. And when I actually read the script, within two or three pages, I knew I wanted to do it for that reason; it was so ... clear that this wasn't a story that was just "Throw some characters into this story so we can get to the special effects." They were these wonderful, rich ... so many times you read a teen script and it's all about slang and lingo and skater and skeeter and scooter ...
Englert: It's like the writers are afraid that they'll be too cheesy, so they try and be cool instead ... which I think is actually much less interesting than just being honest ...
Ehrenreich: It dates a lot faster.
Also, isn't romance, whether a teen or an adult, all about not being cool?
Englert: It's not cool! Being in love is not cool!
Ehrenreich: Yeah! You make silly voices no one would want to hear ...
Nicknames ...
Ehrenreich: Nicknames.
Devoid of dignity.
Ehrenreich: Yeah. (Laughs)
When you're playing a character who's going to be closing their eyes and moving their hands when a lot of special effects happen, how exactly do you squint your mind's eye to envision that on-set ...
Englert (Laughs): Actually, I think I'm part of the last generation to grow up believing in magic and fairies and believing I had powers -- you know, lying on the ground and trying to have my spirit leave my body -- which never happened; still working on that bit. But I was very familiar with that idea, and what I had manifested in myself as to 'magic' and 'powers' and 'spirituality' ... it was easy for me; I actually didn't think that much about it. It seemed natural.
It's a little disingenuous to suggest all acting is just kid's make-believe with more lights around it, but is that what you were doing, recalling ...
Englert: Well, I didn't believe I was acting when I did all that as a kid, in the same way that I've grown up to now, I've often found that in the imitation of reality there is more truth than when we're actually in it.
Mr. Erenreich, you get to play a bookish, decent, kind-hearted, good-looking nerd -- which in nature is more rare than a unicorn. Did you start with a reading list? Did you get to pick out your glasses? and was it fun to play a character whose brain is at least as important as their brawn?
Ehrenreich: (Laughs) I wish I'd described my character in those terms ... The glasses were based on my real reading glasses; Richard (LaGravenese, director) saw them and said "Let's get ..." So we got a pair based on my reading glasses. The casting director said that they were seeing all these cold, aloof hunks, and they wanted a guy that could be goofy and smart and literate and charming and polite and courteous -- and I love that I got to play a character that is actually a mensch ...
That may not be the term they use in the South, but ...
(Laughs)
 For more on "Beautiful Creatures," watch our video interview with the cast: 
Want more Movies? Be sure to like MSN Movies Facebook and follow MSN Movies Twitter.