Sundance Review: 'Newlyweeds'
They feel the need. The need for weed. That won't be enough.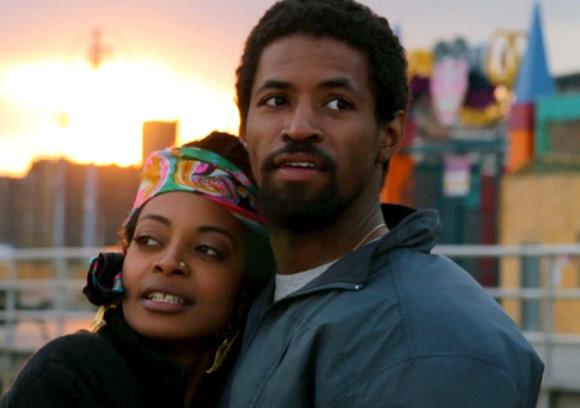 Rating: 4/5 
Premiering in the low-budget "Next" section -- which was recently added to the Sundance program in part to give micro-budget filmmakers the shot they need and, perhaps less nobly, in part to dilute the not-inaccurate perception that Sundance, in recent years, was turning into Hollywood with parkas on -- writer-director Shaka King's "Newlyweeds" takes a familiar form, the substance-abuse cautionary romance. Unlike, say, "The Days of Wine and Roses" (alcohol) or "The Boost" (cocaine) or other love-and-the-drugs worst-case tales, "Newlyweeds" sees its twosome of Lyle (Amari Cheatom) and Nina (Trae Harris) caught up in a cycle of co-dependent fun-abling over marijuana. Of course, I flashed back to Bob Saget's quotable-yet-unrepea​table dialogue from the end of "Half Baked," and remembered every half-blazed lecture on how weed is not, in fact, that bad that I endured in college. But one of the great things about King's film -- and there are many great things to recommend in it -- is how clearly it establishes that weed is a problem for Lyle and Nina, but it's far from their only problem.
BING: Sundance Film Festival l Sundance Next 
Nina and Lyle live in New York, working low-income, low-outcome jobs -- he's a furniture repo man for a low-rent rent-to-own company, she's a pretty decent docent at a museum -- that make it easy to pretty much be high all the time. They have dreams but no plans, trapped in a stasis born of comfort and wreathed in smoke that at times feels like the iron bars of a cage. They have all the challenges of a long-term relationship -- money problems, mis-communications, gaps in expectation -- and try, and fail, to manage them by being stoned all the time.
You cannot make a "Requiem for a Dream" style film about the perils of weed, but King's deft and nicely-tuned screenplay understands that, and makes drama happen in small-but-real ways. Lyle has to -- horror of horrors -- endure the indignity of trying to buy his stuff on the street when he can't reach his regular guy, which goes horribly. Nina has a simple mistake go out-of-control in a terrible comedy of errors that lands her in water as hot as it is grimly hilarious. And what King also makes clear is that no matter how gentle a slope it may seem towards rock bottom, you still eventually wind up at the bottom.
Cheatom and Harris are both excellent, and when they are at their best, you find it easy to understand why Lyle and Nina are in love, and when they are at their worst, you find it easy to understand that, too. Nina isn't some reluctant tagalong passenger -- as Lyle notes, buying an extra half-ounce, "She smokes weed like a dude" -- and Harris and King manage to have Nina be a human being with flaws and failures, not some cardboard saint or two-dimensional scold. The supporting cast is also great -- this film had to be a labor of love -- and there are even a few familiar faces in among the players to surprise you.
"Newlyweeds" tries hard to get to its bitter end -- Lyle starts drinking one night while high and that's when his life truly implodes -- and now and then near the finale you can feel it straining for dramatic energy in circumstances where it might not be completely earned. But the camerawork is sterling and inventive, the mood never gets druggy or draggy, the characters are real and the occasional flight of fancy funny. King understands social embarrassment, and he can also delicately parse the etiquette of drug use and retail. (At one point, Lyle's pot dealer tells him to straighten out -- which, all things considered, has to sting.) With impressive direction, a heartfelt-but-humoro​us take on the funny-and-sad things marijuana abuse can do to people, and a rich portrait of a relationship just a few puffs from being all used up, "Newlyweds" is a striking debut from a strong talent who can find the true feelings hiding behind bloodshot eyes.
Want more Movies? Be sure to like MSN Movies Facebook and follow MSN Movies Twitter.