These three new posters from 'The Host' really want you to choose
Is this the next big hit from Stephenie Meyer?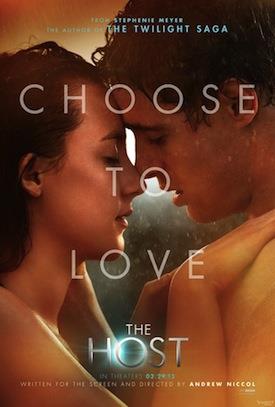 Now that the final entry into the massively successful "The Twilight Saga" has hit theaters, fans of Stephenie Meyer's vampire-human love-mess are in need of a new Meyer property to enjoy with their eyeballs. While there are plenty of other options for them to explore (including a number we've talked about here before, including
"Beautiful Creatures" and "The Mortal Instruments"
and, of course, "The Hunger Games"), fans of Meyer don't need to totally jump ship just yet, as the author has another adaptation hitting theaters this year.
Released just before her final "Twilight" book, "The Host" took Meyer and her skills in a different direction. Sort of. A sci-fi novel aimed at slightly older readers, the book still found its focus within the confines of its own very twisted love triangle. Sort of. Let's explain.
Set on a future Earth, "The Host" picks up years after a parasitic alien race has taken over the bodies of just about every human on the planet. While the "Souls" that inhabit the human bodies are not necessarily nefarious in their aims (hitting new planets, taking over new beings, and having new experiences is just what they do), they are still horrific monsters to the few true humans left - humans like Melanie Stryder (Saoirse Ronan) and her boyfriend Jared (Max Irons). So that's why it's so awful when even Melanie, who has proven herself adept at escaping capture, is taken and implanted with a Soul. But Melanie isn't a regular girl, and the Soul she receives isn't a regular alien, and neither of them is willing to back down from possessing their "own" body. 
And that's just the first hundred or so pages of the book. Trust us, there are a lot of surprises within Meyer's book, and it will be interesting to see just how all that is transferred to the big screen. While the film's provenance might turn off moviegoers who are not big fans of Meyer's other works, "The Host" does come with a sci-fi pedigree that could lure in even big skeptics - it's directed by Andrew Niccol, who first helmed the still-impressive "Gattaca." While Niccol's latest film, "In Time," wasn't exactly well-received, the filmmaker does know what it takes to create immersive future worlds, a trait that can only help "The Host" make a smooth transition to the screen.
Let's just hope that these three new (kind of pushy!) posters aren't representative of the film as a whole, because they're not so hot. Check out larger versions of all three posters, thanks to
Yahoo! Movies
, after the break.