Videodrone Cult Watch: 'Batman: The Dark Night Returns' concludes
The animated adaptation of Frank Miller's graphic ends with an apocalyptic showdown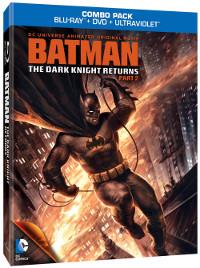 "Batman: The Dark Knight Returns Part 2" (Warner) completes the DC Universe Animated Original adaptation of Frank Miller's landmark graphic novel, with Peter Weller voicing old man Bat with the cold edge of an angry survivor and Michael Emerson taking on The Joker with a perfectly underplayed glee for chaos.
Like the first half (released in 2012), this adaptation (directed by Jay Oliva) manages to capture the best and the worst of Frank Miller: along with the savage deconstruction of superhero fantasy is a glib satire of social liberalism as blind hysteria and criminal enabling that makes Ayn Rand look measured. Miller's heroes, however, are vigilantes and old soldiers beholden only to justice in a world where the figures of authority are more interested in self-image than public good. Which makes Batman the great libertarian hero: the maverick loner more interested in protecting individuals than institutions and making sure the most savage criminals are duly punished (there is a real streak of Old Testament retribution in Miller's take). The Miller philosophy is pared down to the bone in the inevitable showdown between Superman (voiced by Mark Valley), the patriotic good soldier dedicated to protecting the country, and Batman, beholden to nothing but his conscience.
While any direct-to-disc animated adaptation is doomed to fall short of Miller's sensibility, this is as good as we could hope for. Oliva takes some shots right out of Miller's graphic novel, and though the clean line-drawing animation is very different from the heavy wood-cut slashes that look carved in to the graphic novel, the big, blocky, heavy character designs of Bats and Supes are preserved, as is the gruesomeness of the smiling dead left behind by the Joker. And not only does this have a body count appropriate to the savagery of the world gone wild violence, but some of it is shockingly cold-blooded. Oliva creates an eerie atmosphere for the last act showdown, which occurs under the gentle fall of nuclear fallout looking like ashy snow, and makes blindly-aggressive Cold Warrior Ronald Reagan look even more like the walking dead than Miller did in the original graphic novel.
Continue reading at Videodrone
For more releases, see Hot Tips and Top Picks: DVDs, Blu-rays and streaming video for the week of January 29