Interview: Colin Farrell of 'Total Recall'
On fighting, the future, stepping into Arnold's shoes and hitting vs. hitting on the director's wife ...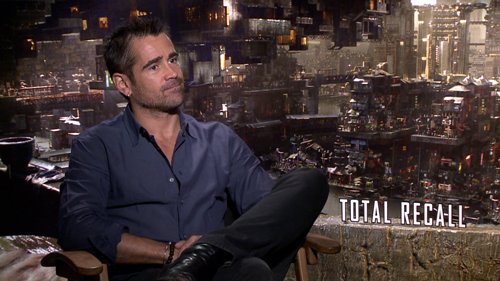 After a few lost years, Colin Farrell's finally back on middle -- not quite getting the kind of projects he used to, to be sure, but headlining remakes and working with strong ensemble casts in both "Fright Night" and "Total Recall." We spoke with the actor in L.A. about stepping into Arnold's big shoes, kissing your director's wife, fighting your director's wife, other dangers, and what made this film worth doing to him.

MSN Movies: Did any of your friends give you any hassle about stepping into a role made famous by Arnold Schwarzenegger?
Colin Farrell: No, I don't come from fans of the film world.
Really?


All my friends back home in -- I think of when you say all my friends I've got a few friends in Los Angeles through the years, but I think the guys back home in Dublin, and they don't really ... they like films, they go to the cinema, but they're more into football and drinking and stuff. So nobody did, nobody here did.  I was reticent myself.
Did you ever look in the mirror and say, "Considdah Dis a Dhivorce?"
(Laughs) No, but just because I didn't look in the mirror doesn't mean I didn't say it.
Right, exactly.
But no, I read the script and bottom line it felt unique enough, that we were honoring the same plot points in many ways, and yet different a little from the original, some of the lines were the same, character names the same, all that. It felt tonally different enough for me to think that I could go and do it and have an experience where I didn't think I was reiterating or copying something that was already done, you know?
Exactly. The other question -- and that you guys went back more to the original short story in certain ways in the script…
Do you think?
I think so, yeah. But more importantly, what is it like fighting with your costar Ms. Beckinsale who A) has incredible moves and B) happens to be the director's wife?
Awkward.
Yeah.
Awkward.
Particularly because as a result of the last bit, the director's wife bit.
Right.
Fighting is fine.
Right.
But tugging Ms. Beckinsale's shirt up a little bit during a smoochy bit in this movie?
Not so fine.
Awkward, yeah.
Lip to lip?
Yeah?
Not great.
Are you prepared for the psychic effects all summer of having every warm-blooded heterosexual man in North America…
Hating me?
Hating you.
(Laughs) Yeah.
You're in this film with the two, Jessica Biel and Kate Beckinsale…
I dealt with a decent cross section of red-blooded heterosexual males hating me for a while so it's fine.
Yeah, more importantly seriously, there's one fight scene in this -- the first time that we see you use the skills to pay the bills, as the kids say, how complicated was that fight scene? That shot, it's this 360 pan that requires 3 different cameras set up all computer controlled…
Mhmm.
You rehearsed it for a month? But what was that day like? Is it adrenaline or intellect or a mix of the two?
It is habit at that stage.  Hopefully the moves are locked in, placed so tightly and so deeply that your muscle memory is kicking in because we really did ... I drilled that action sequence tirelessly with the crew. So by the time you get into it, you're just doing what you've programmed yourself to do. So intellect? I don't know. I mean you want to be aware as well because these cameras, they were moving 25 or 30 miles an hour and they were big, heavy pieces of equipment and they were coming close to the head.  You know they had triangulated me, so I was in the middle of this kind of vortex of electronic movement.
But if you go 2-1 instead of 1-2, you get a camera upside your head …
Yeah, yeah, absolutely. So there was a particular kind of metronomic quality to it as well so maybe that takes some slight shot of intellect.
And in the world of CGI, is it nice to know there's nothing like a good old-fashioned fist to the face to make an action scene come alive?
(Laughs) Yeah man, you can't beat the real things on those. 
("Total Recall" is in theaters.)