Interview: Ice-T of "Something from Nothing: The Art of Rap"
'Every single frame has to be something that no one's seen before.'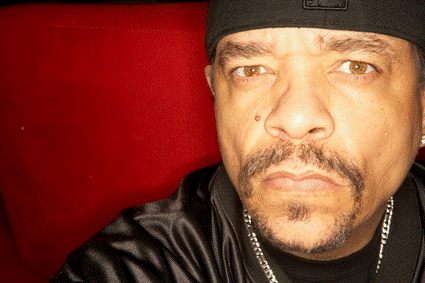 There have been plenty of documentaries about rap, from the good to the bad to the empty, but "Something from Nothing: The Art of Rap" isn't just beautifully shot, insightful and somehow both honest and joyous. It also has a secret weapon -- its co-director Ice-T, who produced the project, serves as a charming interviewer and has the advantage of having been there when it was all happening. Co-directed by Andy Baybutt, "Something from Nothing" features gorgeous cinematography, interviews that balance humility and hype, and a soundtrack taken from the best of the best of the past 30-plus years of rap. We spoke with Ice-T in Park City, Utah.
You go through the important distinction between hip-hop and rap in the film. …
Ice-T: That was important, because if you do hip-hop there are so many elements. You have graffiti artists, you have break-dancers, you have the DJ, and the knowledge, so to do a movie on just the rappers was difficult in the time allotted.
Did you ever have a moment of questioning yourself going, "I know I'm talking to these people, who I know I like. Do I need to talk to people who I don't know and don't like to get the fuller picture?"
Ice-T: No, because the thing was, I wanted to interview people who were comfortable with me, so we could have conversations. I didn't want to interview a stranger that thought he was being interviewed, because that's the problem with interviews. Even as an interviewer, like yourself, the more knowledgeable you are about me, the easier the conversation will go. When I know Ice Cube or I know Dre, we're going to have a nice conversation. This movie isn't interviews as much as conversations with Ice and his friends. The story can be told quickly with five rappers. We started off with ten, then twenty, then we had forty-two, then we got to fifty-four. When we wrapped the movie, I had twenty-five people waiting to be filmed, so everybody was trying to get into the movie.
Every one of them arguing that they should be person fifty-five?
Ice-T: No, no one argued. Everybody was just like, "Hey Ice, when are you going to film me?" Then when we got the green light for Sundance, the movie was at that moment three hours.
I'm curious about shooting a documentary. It's kind of like shooting a nature film. How many hours of film did you have?
Ice-T: We have at least two hours of film on every artist. No telling where this thing is going to go, but it's got legs. Somebody told me, "Yo, this movie is the teaser."
You have people, like Immortal Technique, busting out great stuff in the middle of nowhere, but I can barely say five words without tripping them up. Do you have anybody going, "Screw it, I've got to do it again?" Is there going to be a blooper reel?
Ice-T: No--  if you listen to the raps (in the film), like if you listen to Kanye, you'll hear little bits of flubs as they transform from one line to the next, but we kept it, because I wanted people to know we weren't doing takes. The thing about it was when I shot these guys, I never told them to come with a rap. I'd say, "Hey man do you know anybody's rhymes that come to your head?" and they'd spit. I'm like, "You got anything new that nobody's heard?" Sometimes they'd go, "Hold on. Hold on. D**n, Ice."
But that's the great thing, because you can see them going through their mental database.
Ice-T: And then they just spit it, and if you flub it, then you flubbed it. It's not a record; it's not like you've got a hundred takes to get it precise. Even with a flub it's impossible to do. Even last night after we finished showing the show, a guy goes, "Ice, pick a rhyme that you remember," and you saw me pause, and then bam -- I'm saying (one of the verses from some of) Rakim's rap.
The cinematography is beautiful. How important was it for you as a first time director to go, "I have to hire talented human beings?"
Ice-T: Well, the way that happened was initially I was going to make this movie by sending out video cameras to the artists and have them film themselves. It was going to be really grimy. Then my manager knew Paul Toogood, and they do a show in Britain called "Songbook." They do artists, and they do one song. So they jump on board, and they go, "No, we got to do this. We got to do this good." With that comes Andy Baybutt, who's just a phenomenal cinematographer. He showed up with two cameras, a super eight camera, and everybody on this shoot was just like so hip-hop, like so gung-ho. We finally had a conversation and I told him, "This is what we want. We want everything. When the guys in the room, we want the room, we want the floor, we want the ceiling. We want something as stupid as the phone if it rings. We want people to feel like they're right there," and they got it. Now, we shot the helicopter shots, because I said, "If we just shoot talking heads it will get claustrophobic," so to me the helicopter shots are letting the film breathe.
Also, isn't a lot of rap related to the territory and terrain it springs from, on a poetic and cultural level?
Ice-T: Absolutely, and that's what Mos Def said, but it also lets the film open big, and then you go inside to the studio and stuff. If you stay there for two hours it'll get kind of claustrophobic, so at some point it will breathe again, and you get out doors, and you see the city, and then you go back in. That was a conscious decision, but I wasn't holding the camera. I didn't go on the helicopter shoots in New York, and these guys would come back and be like, "Ice, man, we got some of the best s**t." One of the main things of the film though, we made a decision we didn't want any stock footage, any stock pictures. This is a film and every single frame has to be something that no one's seen before. That was part of the work plan, the work motto. We didn't even know how we were going to lay the film out. Then we said it started in New York, so we have to start there. You can't shoot Dr. Dre and then Bambaataa, so it started to talk to itself. Then we said, "Well then we'll just make it move geographically across the states." We didn't have that planned out -- that just happened.
There's this great line from George Orwell that "By age fifty everybody has a face they deserve." Do you find that, as these guys get older, as we all do, that they're not mellowing, but changing a little bit and adapting to new things artistically and personally Was it good to catch up?
Ice-T: The good thing about getting some of the guys later in their career is, when you're new you've got your guards up, you can't say you failed. You're so on point about being perfect, but when you've won and you've had your victory, you can talk about some of the problems along the way. You can bask in your humility and your mistakes. Come on, the story with Chuck D. saying Melle Mel was booing him, and then the final answer after, "So what'd you do?"(Chuck said)  "We got better."
Which is something that, as a long time fan, you don't expect to hear just listening to their music.
Ice-T: Who disses Chuck D.?
How much of rap  is performance? How much of it is making a character? How much of it is Ice-T versus Tracy Marrow?
Ice-T: It's fifty-fifty. If you say you're an R&B songwriter, you've got to do an album. One song is "Baby Don't Leave Me," the next song is "I Miss You," the next song is, "I'm Glad You're Gone." It's kind of like you have to hit life from so many different perspectives. So what Ice-T would do is you might walk up to me and say, "Ice you got to talk about this sub-prime s**t. I lost my house." Now my character will lose his house. What I did is I called my music faction. It's factual situations put into fictional scenarios. Some of the stuff is dead on true, but some of the stuff isn't. It's like when I do "Colors":  I'm not a gangbanger, but I was a gangbanger, so I can jump into that place. I also have the ability to listen to your story, and if I know it's real -- see that's the thing I never did fake. It had to be real. So if you told me, "Hey, man I came home, I was getting high, my mom was on the floor, she O.D.'d" and s**t like that … I can take that story and put it into music, and I can be you.
("Something from Nothing: The Art of Rap" is currently at the Sundance Film Festival.)