Interview: Gillian Jacobs and T.J. Miller of 'Seeking a Friend for the End of the World'
'They said, "It descends into an orgy … Go for it," and we did …'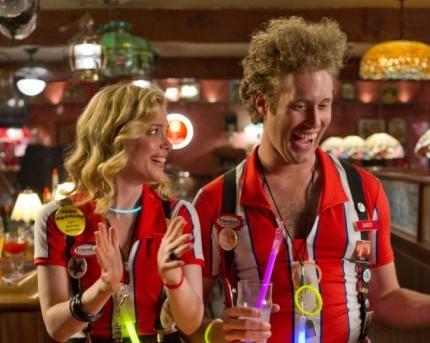 Now and then, all it takes to make your mark on a movie is one scene. In "Seeking a Friend for the End of the World," Steve Carell and Keira Knightley stop for a meal at "Friendsy's," where staff Gillian Jacobs ("Community") and T.J. Miller ("She's Out of My League") go from 'customer service' to 'the last days of Pompeii' with wide-eyed offers of booze, drugs and other pleasures, all clad in the clanking mass of buttons and badges that mark the wage-slave of the fun-time eatery. We spoke with Jacobs and Miller in L.A. about sarcasm, the end of days and how you play utter debauchery.
This film is about people who know the world is ending in a couple of weeks, and there's nothing they can do about it. You two are the staff of  Friendsy's, a T.G.I. Friday's-styled eatery that's kind of descending into hedonistic madness. How much of that was the director winding you up and letting you go to give that scene that right amount of anarchy?
Gillian Jacobs: My inners are not organs. They're actually mechanics, so I have a hole in my back, wind me up like the movie "Hugo" and then just say, "Act" you know?
T. J. Miller: And then she goes.
Mr. Miller, are you willing to be less sarcastic about my metaphor and actually answer the question?
Miller: I am not. I am going to be more sarcastic. You've got to really wind me up, and then I let somebody just take my arm, and then I go right into it. The set offered anarchy and we took full advantage of it.
Did you determine your own levels of flair, because you're kind of flaire-d out?
Miller: I did. Did you?
Jacobs: Yeah. There was a lot of discussion: Should it be a crop top, should it be a full top, short shorts, suspenders? I was doing a lot of hiking in preparation for this film. Then it was all for nothing, because they made it a full top, but I was in a lot of fear that my belly button would be shown.
Miller: I had that conversation from "Office Space" where I went up to Lorene and said, "What do you think? Is this enough buttons?" and she said, "I think you need a little bit more flair." I sort of had that moment that I think millions of people working at these restaurants have where I was like, "I think this is enough flair," and she said "It's not. Go add more buttons."
At a certain point, you need body flexibility to be able to move plates and not clank when you walk.
Miller: Yeah. You don't want to get into a situation where buttons are getting under your arms and starting to tickle you. Then you're dropping French fries all over.
I was talking to Mr. Carell and Ms. Knightley about the film, and I had two questions for them, which were: 1. Favorite end of the world film, because it's an established genre, which this film satirizes and 2. Last meal. You know you're going to die. We can say it's the global apocalypse or maybe you committed a crime in Texas. We don't know. Either way you're going to die. What do you choose to eat?
Miller: My favorite end of the world movie, although it's not imminent, you're sort of seeing the end of civilization in "Waterworld," the great Kevin Costner film. That is one of the all-times, and a real box office success.
You're not being ironic here at all.
Jacobs: You told us there was no irony allowed.
Miller: Full-on truth, love "Waterworld," and final meal would be a steak, I think, right? I would love to have a nice steak of rib eye at the end. It doesn't have to be something -- a lot of people say Baked Alaska, lobster thermidor …
Jacobs: What is Baked Alaska?
Baked Alaska is ice cream within a baked meringue shell, so the outside is warm and crisp, but the ice cream is frozen, and lobster thermidor is, I believe, a cream preparation.
Miller: This guy should have a Food Network (show) as well …
Do you think I look like this without knowing how to eat, my friend? More importantly: best memory you had working on this, the best moment on the best day.
Miller: I would say there was a moment where the two of us has been told, "Okay, you guys, it descends into an orgy," and we were a little trepidatious in the first couple of takes, and then there was this moment where they said, "Really go for it." I remember looking at you and being like, "I guess we're really going for it."
Jacobs: We're going to do it.
Miller: And then we really did it. That was a good moment for me.
Jacobs: Yeah. T.J.'s sister came to visit set, and I messed up a line and improv'ed something and I made her laugh off-camera. That made me very happy. She's a hard laugh, but a good laugh.
("Seeking a Friend for the End of the World" opens Friday.)