Interview: Dylan McDermott of 'The Campaign'
"I never get hired for comedy, so the fact I got hired for this is great ..."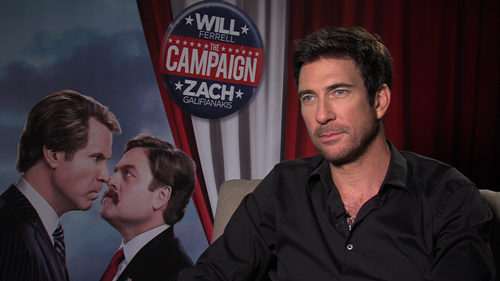 With his signature stubble and sharp eyes, Dylan McDermott's been a much-appreciated romantic lead, from "Three to Tango" to "American Horror Story." In "The Campaign," though, McDermott gets to bring the funny as a smooth, Satanic campaign operative with plenty to teach both Will Ferrell's idiot incumbent and Zack Galifianakis' chowderhead challenger.  We spoke with McDermott in New York about how hard it is to be funny when you're handsome, the realities of his character's world and more.

MSN Movies: You play political operative Tim Wattley, who's this kind of black-clad polling ninja who materializes out of nowhere. Where is the balance of reality and comedy in that character?
Dylan McDermott: Good question. I think it's ... there's a lot of reality to it and that was using mostly reality to inform who Tim was, because these guys doing this, they're out there everywhere and they're trying to get people elected and changing the perception of people, and certainly Tim is one of those guys.
But don't you find it's weird that a lot of the electoral process has been handed over to this class of professional salesmen?
Mhmm. Yeah, because everything is media. The world is media. Media runs the world, and it all changed, I think, when the debate between Kennedy and Nixon happened, and first of all we saw them on television, and that changed everything.
Because people who listened to it on the radio thought Nixon did a better job. People who watched it saw Nixon sweaty with stubble.
Exactly.
But we could talk about 50-year-old elections all day. How hard is it to not crack up doing scenes with Will Ferrell and Zach Galifianakis?
(Laughs). It's really -- it's impossible.
Yeah?
Impossible. You can't, I mean, I had a hard time doing it, and I can usually keep myself together, but with these two guys its ridiculous.
I mean, Mr. Galifianakis has the droopy dog mustache and Mr. Ferrell has the quarterback wig. Did you say to the director, "Why don't I get a hilarious wig or facial hair thing?"
(Laughs). No, because I left the hilarity to them. I wasn't trying to out-funny them in any way. I was just trying to play the best Tim Wattley I could.
I mean, your director Jay Roach just made two great HBO films about real life politics, "Recount" and "Game Change." Does he have a big list of reading materials or was it more, "Here's how you get the laughs?"
No, not at all. He's not that guy at all. He's one of those directors you can truly call a great director because he trusts you. The great directors will trust you and let you do, and he definitely directs, but at the same time offers up trust in a room. Once you have that, then you can create.
A lot of the time you bring a lot of the sizzle, but this is just a pure comedy part. It works better with you being ridiculously good looking, which you are. But do you enjoy doing the pure comedy stuff? Do you find you don't get hired for it as much as you'd like?
I never get hired for it so the fact that I got hired for this is a miracle. And I give all the credit to Will because it was really his idea from when I did Saturday Night Live with him and also I was in "Step Brothers" (for some) the table reads so it was Will and Adam McKay and Chris Henchy that really kind of rallied around the idea of me being in this movie because people didn't see it. There were people who said, "Dylan? No. Absolutely not." And I won't say who they are, but they were like, "No." And these guys stuck up for me and really made sure that I was in the movie.
What one thing in your past makes you unelectable by modern standards?
There's so many things that I could never… (Laughs).
And we only have so much time. I'll allow it, I'll allow it.
("The Campaign" opens on Friday.)