'Let Fury Have the Hour' trailer transforms anger into art and ideas
Documentary focuses on the new counter-culture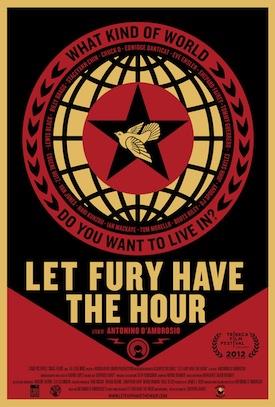 Documentarian Antonino D'Ambrosio's feature debut, "Let Fury Have the Hour," brings together all manner of American artists to talk about how "they transformed anger and angst into provocative art and ideas." The film centers on the rise and history of American counter-culture, from its roots during the political upheavals of the 1980's to its continued reach in 2012. Creative, vital, and inspiring, the new film is packed with stories, footage, and art that will speak to anyone - and everyone.
The film's impressive cast includes Eve Ensler, Lewis Black, John Sayles, Shepard Fairey (who created that brand new poster for the film that you can see on the left), Chuck D, Van Jones, Tom Morello, Wayne Kramer, Billy Bragg, Ian MacKaye, D.J. Spooky, Hari Kunzru, Tommy Guerrero, Edwidge Danticat, and Suheir Hammad.

Check out the newest trailer for "Let Fury Have the Hour," thanks to
Yahoo! Movies
, after the break.
"Let Fury Have the Hour" opens in New York City on December 14, Los Angeles on January 25, with further cities and dates to be announced soon.