The Pictures: 'Avengers' Dissemble, Pt. 2
A Few More Polite Criticisms of the Box-Office Super-Smash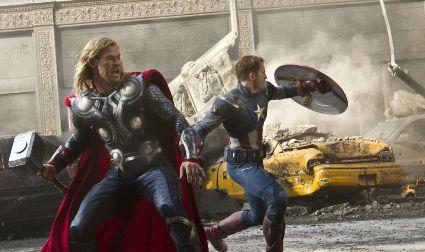 Yesterday, in Pt. 1 of this piece, I talked about a few reasons why I wasn't, in fact, among the many blown away by 'The Avengers," in the hope of turning some of the roar around the film ito a conversation; before I proceed, though, I will note that in yesterday's piece, I used the phrase "drinking the kool-aid," which made Twitter user @KKRMalro to note "I'm fine James didn't like it, but (his) 'kool-aid drinking' dismissal of those that enjoyed it is kind of insulting." And in fact, Mr. Marlo, I  want you to know that that was not the point at all -- and while 'kool-aid drinking' is a convenient metaphor, it's not a kind one, and I'm sorry if it was taken as a slight -- this was intended to be a conversation, again, and not an insult to the film's many fans.
But, with that said, numbers 3) and 4) on my questions about "The Avengers are below …
3) Structure and Sameness, or, Up on the Roof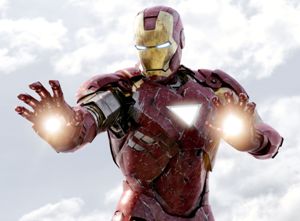 Comics are a crazy, inventive medium. One of my favorite bad guys in my comic-loving youth was M.O.D.O.K., a giant floating head with atrophied arms; another great Marvel memory is of a giant 400-foot tall robot "Celestial," with the word that would destroy the universe written on, yes, his thumb. And yes, some of that stuff works on-screen and some of it doesn't, but the point is that for a medium where anything can happen, comics have inspired plenty of films that end the same way. Why does "The Avengers" default to the same ending as every other blockbuster, with a machine that must be stopped on top of a building throwing a light into the sky? It's the same ending as "Transformers" One, Two
and
Three, as well as "X-Men" and "Men in Black" and too many more to mention. I know it's a cinematic finale -- technically, it's been good for thousands of years of myths about evil or change coming from a light in the sky -- but, this time, with the ambition of the attempt considered, it felt like assembling a group of would-be rockstars and just having them follow the old bass line to "Smoke on the Water."
4) Workplace Diversity
This is a tough one to talk about, because, bluntly, this stuff is tough to talk about. But The Avengers have -- if you count Nick Fury as a member -- one person of color in the squad*, and one woman in Scarlett Johansson's Black Widow. And both of them are reglar' gun-slinging humans, not demigods from space or irradiated or super-serum'd up to the gills like some of the rest of the team. True, "The Avengers" can feel crowded -- so would your cocktail party if the rules and cultural traditions of your cocktail party meant that all guest had to fight on first meeting -- but I found myself wishing for a few super-people to round out the representation. (Early in the film, I found myself wishing Cobie Smulders would, I don't know, get bitten by a radioactive opossum or fall into a nuclear reactor or some other bit of comics jiggery-pokery where she'd emerge unscathed and shooting energy bolts to balance out the power scale and the gender composition. (Also, I clearly mean Ms. Smulder's character, and not her.) 
And the comics fan I mentioned this to sniffed -- "Maria Hill doesn't have powers!" -- but that raises another meta-point about the Marvel films where I'm more interested in watching a single film that's entertaining me through bold storytelling than in a film that obsessively maintains fidelity to 40 years of crazy-make'em-up pop culture "history" -- if you can't go crazy with made-up stuff here, where could you? I know the prior Marvel films introduced these characters, but, you know, a new heroine or hero to add a little diversity to the team couldn't have been that hard to wedge in. (In fact, the second film could do a lot for itself and new audiences with a new viewpoint heroine or hero joining The Avengers, so we see what the initiative's become since the first film through their eyes ... just a thought.) In fact, I'd rather see "The Avengers" again more than a lot of things -- and it's tribute to the efforts involved that I feel like I'm articulating a few things that, done right, could have gotten me as on-board with the film as anyone else. And can't we all agree that since Disney is going to be smart and have a sequel, it might be time to start talking about what we'd like to see sooner as opposed to later? "The Avengers" is, in many places, very good -- but I'm sincerely hoping that, with better bad guys, more time to breathe, bolder ideas about the finale and a few fresh and different faces, the sequel could be even mightier.

*Gamma-altered Green is not, for purposes of this discussion, a 'color.'