Sundance Review: 'Kid-Thing'
The Zellner Brothers return with a cock-eyed look at childhood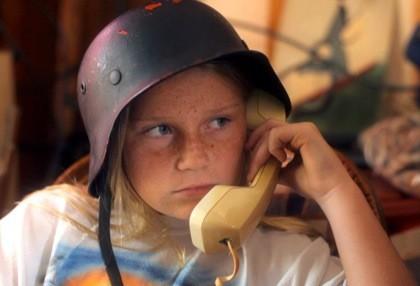 Rating: 3.5/5
If the work of the Zellner brothers is defined by anything, it's a deadpan, absurdist sensibility. More overtly outrageous are their shorts -- the proud, three-part nonsense that was "Fiddlestixx" starred a monkey of the same name, while "Sasquatch Birth Journal 2" was a painstakingly portrayed depiction of, well, a Sasquatch giving birth -- and first feature "Frontier," a historical document of sorts from a fictitious land, acted out entirely in an invented language.
Virtually mainstream in comparison was their follow-up, "Goliath," an oddball look at a man's missing cat and generally losing the things that we love. (In a typical scene, director David Zellner, also playing the lead, lets the signing of divorce papers unfold unfettered for several minutes.) The duo specializes in awkward slices of awkward lives, and to that end, "Kid-Thing" is no exception.
Annie (newcomer Sydney Aguirre) is a 10-year-old sociopath with no moral compass, hardly supervised by her dimwitted destruction derby driver of a father (played by producer Nathan Zellner) and already ostracized from the playground. Often clad in an oversized airbrushed T-shirt, Annie roves around the outskirts of Austin in a destruction derby of her own making: crank calls, shoplifting, firing paintballs at livestock, ruining backyard birthday parties for the handicapped. She's not an anarchist, though, just a rebel without a cause, and when she comes across Esther, a woman trapped in a well (and voiced by Oscar nominee turned cult darling Susan Tyrell), Annie tries to help in her own way... without, of course, actually notifying any adults of the situation.
Like "Days of Heaven" on paint fumes, "Kid-Thing" is very much a languid, occasionally hilarious, occasionally poetic coming-of-age story, all static shots and long takes over the course of its 83 minutes. It's the type of film where we watch patiently as Annie's father and his cackling friend (David, naturally) fervently work away at scratch-off tickets to no avail. It's the type of film which suggests that Esther is either a very real and very scared person, a figment of Annie's unbridled psyche (nothing dropped into the well ever seems to hit the bottom) or the Devil Herself. Frankly, it's the type of film that will test the patience of many who watch it.
And yet -- when it does work -- it's an intimate, unique fable anchored well throughout by the young Aguirre. Her pitch-perfect scowl and general amorality is countered by the occasional moment of doubt and concern, lest our protagonist's presence curdled into that of an entirely intolerable brat. Annie may not be the easiest kid to keep company with, but "Kid-Thing" makes the case that not every adolescence is the easiest to come to grips with.