Sundance Review: 'The Pact'
The only horror on screen is in the filmmaking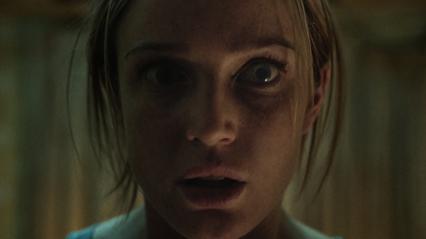 Rating: 0/5
One can only imagine the need and desire of the Sundance Film Festival to support and present returning talents, as filmmakers who presented shorts in earlier years return with features, often based around those same shorts. One can also only imagine the need and desire of the programmers of the festival's Midnight section to wade and work through a raft of submissions looking for films with enough punch, panache and strength to amuse (and keep awake) a late-night audience of film lovers. Both of those aims can be seen in the 2012 Sundance premiere of "The Pact," based on a short of the same name writer-director Nicholas McCarthy presented here in Park City only last year. At the same time, and I say this with no pleasure or smug mugging, that "The Pact" stands as, perhaps, the worst film I've seen at Sundance in 12 years, an unholy muddle of too many plot points and a series of directorial choices that require three separate characters being incredibly stupid just to move the lumbering bulk of the plot forward between its jump-scares. All the while, a pulsing and pounding score plays, so loudly that I did not feel like someone was playing a cello near my ear or in my ear but, rather, with my ear.
Caity Lotz stars as Annie, who's reluctantly come home to deal with her mother's funeral and the disappearance of her sister (and single mom) from the family home. Annie knows that her sister has run off before, and waits for her to return. But the house begins to act out -- bumps in the night, odd movements, a spectral force hurling Annie against the walls, leading her to find a secret room hidden on the ground floor. Annie finds local detective Creek (Casper Van Dien), who investigates the house's mysteries with her even as the spectral force in the house guides Annie to the story of the long lost, uncaught serial killer known only as Judas. ...
If you are intent on seeing "The Pact," let me advise you against that -- and then, please
allow me to suggest you stop reading this review, as discussing how bad the film is involves a detailed discussion of the film's plot points. The film's jump-scares and musical stings and nonsense -- including a ghost who can, I kid not, send spectral messages via bringing up the map app on Annie's smart-phone and Annie keeping a memento from a mother she despised for 22 years ---- are baffling. When Van Dien sees a weird otherworldly image in his photos of the home, it is not a smear of light or a wisp of fog but, rather, a 3D CGI hand that points accusingly. It turns out that Annie's mom's home is not only inhabited by a ghost, but is also the hiding place of the Judas killer, Annie's uncle (played by Mark Steger), who has been living in the under-house crawlspace since perhaps 1989; it's his last victim who haunts the place.
The film's need to lurch clumsily from plot point to plot point necessitates that Creek be the dumbest cop alive -- leaving Annie alone in perilous situations, working alone and never calling for back-up. It also requires Judas to be the dumbest serial killer who's ever lived, staying in his hiding place despite the death of his complicit sister-protector, which you think would make him concerned about increased traffic and interest in the home. And it also requires the ghost to be the dumbest ghost ever -- if the ghost can ping-pong Annie off the walls, why can't she do the same to the man who killed her, considering they've been co-residents for 22 years? (If I ever haunt the same house as my killer, I intend to whip him up and down the stairs like they were a xylophone morning, noon and night.) And when the ghost helps Annie in the climactic fight with Judas, all you can ask is why the ghost didn't do so earlier when he whomps her with a plank. As for the final hook before the credits, it's a desperate final tug on your nerves that makes even less sense than the rest of the film. And those of you now imagining the plot of "Zodiac" mixed with the scares of the 1974 made-for-TV cult classic "Bad Ronald" after hearing this are far better off revisiting both.
Lotz has a rough charm, but Van Dien is mostly here to demonstrate that yes, there are films Billy Zane or Ron Perlman won't do. (Creek's initial interrogation of Annie is a masterpiece of unintentional comedy, as they share ice cream and talk about family while there are two women missing.) "The Pact" is one of those Sundance films where halfway through you're more entertained imagining the movie that didn't fill that slot, whether hypothetical masterpiece or possible disaster. I'm sure that "The Pact" killed two birds with one stone -- supporting a returning filmmaker and supplying the Midnight section with a film to fill out its program -- but it's a rough and lumpy rock for the audience to endure.