Interview, Pt. 2: Director Steven Soderbergh of 'Magic Mike'
'I see it all the time in this business: Choices are being made that aren't helping ...'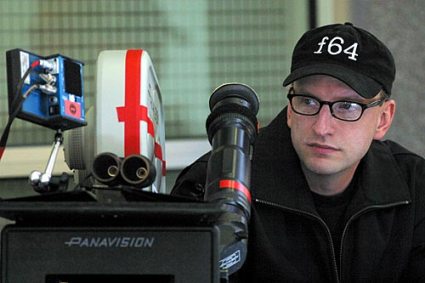 Part one of our interview with "Magic Mike" director Steven Soderbergh wandered far and wide with the director's interests and observations, from TV vs. movies to strip club decor. In the second part of our three-part interview, the director talks about how shooting digital can open up performances, the freedom of new technologies and making sure your strip-club choreography is just the right kind of wrong.
MSN Movies: When Mr. Tatum is introducing Mr. Pettyfer to the work environment in the club, there's this background little thing overheard about the philosophy of body lotion between Mr. Bomer and Mr. Rodriguez ...
Steven Soderbergh: (Laughing) If you can, watch the movie and dial into them, and Bomer going like, "You know, your skin is your biggest organ."
Is a lot of that a function of shooting video digitally and the two cameras you have set up?
Certainly. I wish I'd had this technology fifteen years ago. The sensitivity of it allows you to shoot with available light almost all the time, which gives you more freedom in terms of composition. In an available light situation, it's easier to find multiple angles that will work than it is in a situation where you're having to control the light and there's typically only one or two or there's one angle and then a bigger size of that angle. If we're in a situation like this and we're shooting available light, everything kind of looks good, because it's natural. I love that. Then, of course an hour and a half after we wrap, I've got the footage, I can cut that night, I can re-shoot the next day if I see something that I don't like. The ability to recalibrate as you're shooting is great. All of this technology for me has really been a benefit for the way I like to work.
I noticed the back seat shame-cam shots when Ms. Horn is taking Mr. Pettyfer home and he's just passed out in the back, and you've got a camera wedged in between the seats. You probably couldn't have done that with film.
It would've been really hard. There's a shot actually in "Bitter Pill" where we have a character who's stepping on a gas pedal. With the new Epic camera I took everything off the camera but the lens and I was able to put it behind the gas pedal. (Indicating the small space between the pedal and the bulkhead of the car behind it as a foot goes down.) With a film camera I would've had to have a car built that would allow me to get a lens there. That kind of simple stuff is really great.
Mr. Pettyfer has a great line early on of "I gave the college thing a college try." A lot of your films are kind of about plan B. Is that something you're interested in? What happens when plans go awry. or life doesn't work out the way people think it will?
Yeah, I think so. I think I'm really interested in what people do when they don't get what they want. I think that defines them, because that's the world. You better learn what to do, because that's the universe, man.
Do you rage? Do you settle? Do you pick yourself up, dust yourself off?
I'm one of those people that believe that the only thing between you and what you want is you. I see it all the time, especially in this business. Choices that are being made that aren't helping. I see people making choices that are self-destructive. There's a lot that you do get to decide. If it's the "Moneyball" situation, I take 36 hours to analyze what happened, who played what role, why did this go down this way, what was my role in it, what was their role in it, who else might have been at play here that I wasn't aware of to see what can be gleamed from this, so that it doesn't happen again. My next question is what am I doing tomorrow morning? What's the new thing? I get to choose to go, "Okay, find me something else. Let's go."
As opposed to spending a week in your bathrobe eating cereal?
Just being angry. That's not getting me anywhere. I don't know if I got that from my parents or from the people that I worked with when I was younger and started making films and mentored me who had that attitude. I think you're right. I think there is that element of "Alright, the thing that you were counting on didn't happen. Now what?"
I want to talk a little bit about the choreography. Was it important to keep it on the right side of wrong? There's one point where everyone jumps up in a synchronized fashion and Mr. Bomer is a half beat late. Was it important to keep it clunky like that?
Yeah. It was a funny line that had to be walked. Alison, the choreographer, was great about that. It had to be good enough so that if you were there watching it, you wouldn't be annoyed or disappointed, but it couldn't be so good that you just go, "They would never be able to do that." Chann is a dancer. I would have to counter his perfectionism as a dancer with what we were doing and go, "No, it actually can't be any better than that." You know what I mean? There has to be some "oops" in there or it's just not real. For him that's hard. He wants to get it right.
At one point you have Mr. McConaughey playing the bongo, you have Mr. Nash fighting people. Was this sort of the case of looking at people's resumes and going, "Okay, that's your special skill? We're using that."
Absolutely. Matthew impressed the s**t out of me. He came in, he had tons of ideas, they were all good. He knew how this guy would dress, talk, act, everything. He was the one who was like, "I think I should sing a song." I was like, "Well, if you're going to sing a song, you're going to have to strip." That wasn't in the script. He came up with his routine. He knew this guy cold. It was clear. I called him on the phone and just told him one sentence, and he said, "I'm in. I get it." He really did. That outfit he wears in the gym when he's trying to teach Alex? He just got it. He just totally got it. When we started showing the movie to friends to get feedback, eight times out of ten, the first things out of their mouth were like, "Wow. Matthew McConaughey. He's unbelievable." I go, "He's great."
There's one great throwaway line from Mr. McConaughey, who needs an act to fill the schedule, to Mr. Bomer of, "Do you have the S&M thing ready?" Bomer says, "I'm not putting that negative energy out there." Is the only way to talk about sex in a film is if you're already talking about it as a commodity?
I think it helps. It's an oblique way to get at it. That's a great example of Matt. Matt's understanding of his character resulting in a sort of improvised line that's hilarious. Matt came in and he goes, "Look, here's who my guy is. Nothing impure goes into his body. He's totally holistic. He's into all this stuff. He's into energy." All of his responses to anything come from that place. The first time we did that scene and he said that I just thought it was hilarious, because it was so true. Kevin Nash is hilarious. Kevin Nash should have his own sitcom. I would talk to him, and he's Kevin Nash, he flies around the world doing these wrestling shows, he's married, he has a teenage son, and the conversations that he described to me of the three of them at breakfast, I've never heard anything like this, and haven't seen anything like this. I kept telling him, "This has to be a TV show." He's got great timing. He's like really smart. He's got weird random "Jeopardy" knowledge. He knows a lot about a lot of things. He's really fun to talk to. He's a giant. He's a tree. Just that juxtaposition of elements I'm like "Someone needs to take advantage of this guy. He's funny."
I was a huge fan of "The Girlfriend Experience." You heard about that movie, and then you're like, "I'm sure it's going to be sexy. I'm sure it's going to be hot." Then it winds up being this really great movie about being a freelancer in a tanking economy. This movie, you have fun, but there's stuff about equity, there's stuff about where interest rates are. Is sex as a metaphor for capitalism the easy way to talk about sex, or an easy way to talk about it, or one you can get on screen?
I think it's more that I don't have much patience. Having starting my career this way, I came to a point pretty early on, I'm not that interested in the sort of emotional lives of my peers in the sense of people sitting around talking about their feelings all the time or what I would term "White people who feel empty" movies. I think that's why you see when people start talking about that stuff, I want it wound into something that has a larger meaning than the room they're in. Yeah. Even in this movie when at the very end (Channing Tatum's) about to talk about how he feels about (Cody Horn), but he doesn't really, he's still talking about what he wants to do with his life and what he's going to do now that he's thrown plan A out the window. The implication is that that may allow for them to explore a relationship, but they never really get to that. It's just sort of in there.
Or, more kindly, they've been talking around it for so long that they don't need to talk about it right there.
Look, the other issue is it's hard to find obstacles now. When you're making a relationship movie, it's all about obstacles, or at least it used to be. Back when movies started there were lots of obstacles. It's hard to find obstacles now. If somebody wants to get the other, why can't they? I was just thankful that we kind of found one, which is like "Well, he's got a job that freaks her out." That was one of my favorite scenes in the movie was (Cody Horn) watching (Tatum) perform and the kind of shifting feelings that she has while this is happening like, "Wow. He's a good dancer. Look at the way they're reacting," and then suddenly it just goes too far. She can't watch it ...
("Magic Mike" opens Friday.)