Weekend Box Office: Who's the Fairest of Them All?
The second Snow White film to be released this year opens at #1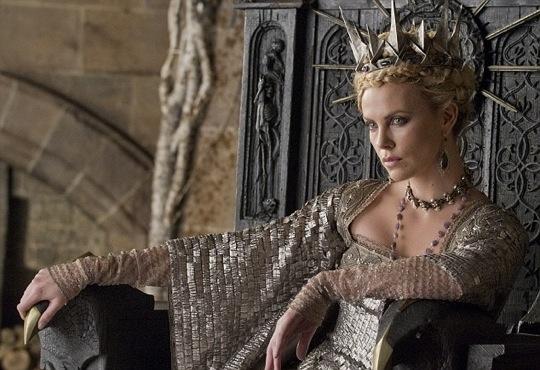 While the style and tone of the this year's two Snow White films couldn't be more different, I was still surprised to see "Snow White and the Huntsman" take such a stunning lead. "Mirror Mirror"  was released on March 30 but the Julia Roberts/Lily Collins vehicle only managed to cough up $18M during its opening weekend. The much darker Charlize Theron/Kristen Stewart version of the fairy tale raked in slightly more than three times that amount this weekend. How about a sequel, in the "Wicked" vein, that pits Theron and Roberts against each other? Unless you'd rather see Stewart and Collins in a fight to the death.


After its recent disappointment with "Battleship," Universal execs must be whistling while they work today after seeing "Snow White and the Huntsman" take the lead in the North American box office. The three-day domestic tally for the film was a better-than-expected​ $56.1M (at 3,773 theaters), double the take of the #2 film. In its second week, "Men in Black 3" lost some of its luster with sales down to $28M (at 4,248 theaters) while the #3 film, "The Avengers," officially became the third most successful film of all time. In its fifth week, the Marvel superheroes pulled in another $20.4M (at 3,670 theaters) for a cumulative domestic total of $541.5M. At #4, "Battleship" managed a $5M weekend (at 3,144 theaters) while the #5 film, "The Dictator," was close behind at $4.7M (at 2,649 theaters).

"The Best Exotic Marigold Hotel" moved up two slots this week to #6, with $4.4M in ticket sales (at 1,294 theaters) just above the $4.4M earned by "What to Expect While You're Expecting" which held on to the #7 position (at 2,907 theaters). "Dark Shadows" slipped to #8, earning only $3.7M on its fourth weekend (at 3,002 theaters) and "Chernobyl Diaries" continued its freefall, landing at #9 with $3.1M (at 2,433 theaters). Flying in under the radar, the new "For Greater Glory" made the list at #10, with a $1.8M opening weekend, even though it's only at 757 theaters. Focusing on religious oppression in Mexico in the 1920s, the historical drama no doubt benefitted from big sales to church groups.
We said good-bye to two heavy hitters this weekend: "The Hunger Games" and "Think Like a Man." But don't feel sorry for anyone involved in those films. Katniss and company have earned almost $400M to date ($645M worldwide) while "Think Like a Man," with a $12M budget and no big stars amassed a remarkable $90M. The big news next weekend will undoubtedly be "Prometheus," the Ridley Scott 3D sci-fi flick that's already doing killer business in Europe. Other films that will likely knock the low performers off the Top Ten are DreamWorks' "Madagascar 3" and the Sundance favorite, "Safety Not Guaranteed."