Mike Wallace Once the King of Movie Star Interviews
Long before "60 Minutes," the late broadcaster's hard-hitting style was focused on the film stars of the day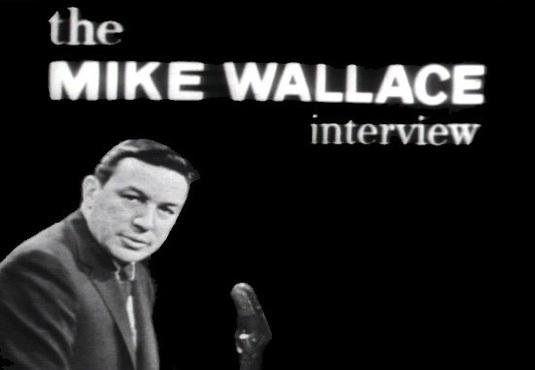 Following the death this weekend of veteran journalist Mike Wallace, the world is remembering his tough interviewing skills, mostly through clips from his ground-breaking "60 Minutes" segments. We're all familiar with how Wallace struck fear into the hearts of people who crossed his path on "60 Minutes" for over four decades—from world leaders to crooked lawyers to obtuse bureaucrats, but a young Mike Wallace cut his teeth years earlier on a TV show that aired in 1957 and 1958. Watching these amazing black-and-white broadcasts, we see that even then Mike never sucked up to his subjects or worried about keeping them comfortable. A few years ago, the University of Texas at Austin posted 65 unedited episodes of the show that you can watch here.
"The Mike Wallace Interview"  was far more incisive, authentic, and hard-hitting than anything on the air today, including "60 Minutes." After listening to decades of sycophantic talk-show hosts and attention-deficit-di​sorder-length sound bites, some of the exchanges between Wallace and his celebrity guests seem mind-boggling.
Wallace's very first guest was actress Gloria Swanson. "The Mike Wallace Interview" premiered on April 28, 1957, with the following words: 
Mike Wallace: Good evening. What you're about to witness is strictly personal. A direct, undiluted, unrehearsed, uncensored interview. My role is that of a reporter. Tonight we go after the story of a famous and controversial woman. We will discuss motives, opinions, and the record. I've asked my guest to express her true feelings. Her opinions are not necessarily mine, the stations, or my sponsors. Whether you agree or disagree with what you will hear, we feel that none will deny the right of these opinions to be broadcast. My name is Mike Wallace. The cigarette is Philip Morris.
Cigarette smoking was a big part of the show, thanks to Mike Wallace's and many of his guests' chain smoking and, of course, the fact that Philip Morris (and later Parliament cigarettes) sponsored the show. The inane commercials that Wallace reads during the breaks are preserved in the priceless kinescopes of the show and are a marked contrast to the sophisticated repartee between Mike and his guests. From the start, Wallace seemed to revel in his role as provocateur. Here's how he began his interview with the 58-year-old Swanson: 
Wallace: The thing that I'm after, Gloria, is this: what I'm after is why you're out of pictures. Now we've had other maturing actresses who have maintained their popularity, perhaps even increased it despite their age—Katharine Hepburn, Barbara Stanwyck, Joan Crawford—could it be that they have made up for their loss of youthful glamour with their acting ability, while you were unable to do that?
Ouch. In the first minute of watching his show, I was ready to hate Mike Wallace for his distorted characterization of Gloria Swanson's talents and his lack of gallantry. But Swanson held her own and it certainly made for riveting television. One common feature to the shows was the awkward moment when Mike would pull out some unflattering remarks about his subject and ask for a response: 
Wallace: I'd like to read you a criticism of your acting during your hey-day, by columnist John Rosenfield who says: "Emphatically, Gloria Swanson was not the best-dressed woman on the screen, nor was she the most beautiful, nor the best actress. She tackled her big dramatic scenes with all the nuance of Betty Hutton singing "You Can't Get a Man With a Gun." For pique she shoved out her long under-lip, for grief she threw an arm over her face and buried both in a pillow." What about that?
 
Gloria Swanson: Well, I suppose that comes from the silent technique in which one had to express their feelings and thoughts with their face, rather than with lines and it's quite possible that's true. I never read all of my notices, let's put it that way. Perhaps I should have—it might have helped me a great deal. I think I was more known for personality, perhaps. I don't mean my own personality, but the things that I did than for my acting. It was one of the thorns in my side because I felt even when I was at the top of my career that I'd never done anything to deserve acclaim.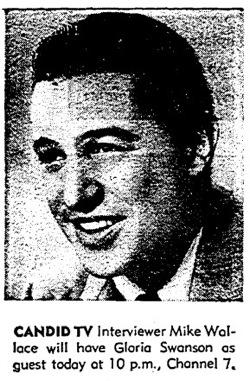 I couldn't have been more impressed by the way Swanson dealt with Wallace's cringe-producing questions. She was candid about her life, marriages, and career, and watching their very real interplay made me realize how watered-down every such interaction is today. Swanson refused to budge when Wallace tried to make her say that Hollywood was a den of iniquity in the 1920s. When Mike read a quote that he got by phone that morning from her former co-star, silent screen star Francis X. Bushman who said that he'd take Marilyn Monroe over Swanson in her prime any day of the week, Gloria let out with a spontaneous and hurt, "Did he say that?" But Wallace also allowed Swanson to talk freely about many of her passions and even solicit donations to help spread the word about an alleged cancer cure she was touting.

Although actors by no means made up the majority of his interview subjects, Wallace seemed to delight in putting them on the hot seat. Here is how Mike introduced Diana Barrymore, the actress daughter of screen legend John Barrymore, who was struggling with alcoholism just like her famous dad. Try to imagine Jay Leno introducing a guest in this way with the camera fixed on that person's reaction to every word: 
Wallace: Diana Barrymore was the child of an extraordinary couple, actor John Barrymore and Michael Strange, a society woman turned actress and writer. But after a promising start on Broadway and in Hollywood, Miss Barrymore swapped her birthright for alcoholism, three tempestuous marriages, and professional failure. Now, though, she is attempting a stage comeback following the publication of her controversial autobiography, "Too Much, Too Soon." Diana, first of all, I'd like to know why you wrote a book that reveals intimate and sometimes shocking things about yourself, your family, and your friends. Time Magazine, back on April 15th, suggests one possible reason for your writing the book. They said, quote: "If a former glamour girl is down about, shaken by the DTs, and degraded by three nightmare marriages plus numerous vulgar affairs, how can she rehabilitate herself? She simply writes a book about it all." What about that, Diana?
Yikes! Diana Barrymore's interview is one of my favorites. I had barely heard of her before I saw this show but found her to be honest, sad, sweet, and tough at the same time. The poignancy of this interview was ratcheted up by the knowledge that a few years later she would fall off the wagon and take her own life. But here, Wallace's tough questioning did not seemed to phase the troubled actress one bit, and she refused to allow the host to put words in her mouth, interrupting him when he stated that she was blaming everyone but herself for her problems. At times during the half hour, I sensed an odd sexual vibe between the host and his subject. After Diana said that cooking was one of her favorite pastimes, she invited Wallace to come to her apartment for dinner. "May I bring my wife?" he asked, coyly? "You certainly may," she responded in a tone that implied a lot more was going on than a simple invitation.

This coming weekend the film "Bonjour Tristesse" will be screened as part of the TCM Classic Film Festival in Hollywood. It stars David Niven, Deborah Kerr, and the haunting Jean Seberg in her second film role following a disastrous debut in Otto Preminger's "Saint Joan." Here's how Mike Wallace introduced the 19-year-old actress on his show on January 4, 1958: 
Wallace: Jean Seberg was born in Marshalltown, Iowa, population approximately twenty-three thousand. Today, she stands on the threshold of a motion picture career that could make her an idol of millions, but Miss Seberg's Cinderella story is more than just grist for the movie magazines. It says something about America's dreams and values. Let's try to find out what. Jean, first of all, let me ask you this. Last spring, after a deluge of publicity, you were hailed as a bright new star, and then, after your picture "Saint Joan" was released, you were roundly panned by the critics in your very first film. You wait now for your second film "Bonjour Tristesse" to be released around the country and a lot rides on it for you. Obvious question: How does it feel?
 
Jean Seberg: Naturally, I want people to like the film. It would be abnormal if I didn't.
It's amazing to hear Seberg speak openly of her vulnerabilities, how hurt she was by the response to her first film, and how unprepared she was for a life of public scrutiny. But even at such a young age, she holds up amazingly well to Wallace's relentless pursuit: 
Wallace: You have no real professional background. You are a pretty girl, but not the prettiest girl in the world. Otto Preminger found you and in a sense played God with you. If you had it to do again, would you rather learn your job first, and become a star or celebrity second, or would you be perfectly content to do it the quick and the easy way that you've done it?
 
Seberg: Well, first I'll disagree with you if I may because it certainly hasn't been an "easy way" for me, because in a sense I've been taking my acting lessons in the most public possible way.
Again, Seberg's honest, vulnerable demeanor takes on added poignancy with the knowledge that her life would become increasingly more turbulent and troubled and that she would eventually take her own life at the age of 40. 
Wallace: I suppose that a good many of us, at one time or another in our lives, would rather envy Jean Seberg. She is young and attractive, she's already had sudden fame, some fortune, and the chance for great success. What she said tonight and the way that she said it would seem to indicate that Miss Seberg's Cinderella story will have a happy ending. In just a moment, I'll bring you a run-down on next week's interview with the winner of the Nobel Peace Prize for 1957.
Other Hollywood celebrities who were interviewed by Mike Wallace on the show included Kirk Douglas, Diana Dors, George Jessell, Rudy Vallee, Oscar Hammerstein, Tony Perkins, and Peter Ustinov. All great interviews but his participation with showbiz folk started to taper off as the show went on. As Los Angeles Times columnist Cecil Smith wrote on December 1, 1957: 
The average film and TV star of this celluloid city has no interest in facing Mike's lethal barrage of questions. Most of them see no reason to appear on his show, despite the publicity attendant to its high national rating. Why? "What'll it get me?" said one ranking star thoughtfully. "He'll dig back into stuff that's been dead for years and bring it up again. The basic commodity of his show is shock. Why should I get the Wallace hotfoot so he can titillate the public?"
 
Celeste Holm, who said she's been asked several times to do Mike's show, said: "Almost everyone has some foolish or unpleasant incident in his life he'd like to forget. These are the things Mike fastens onto. I'm not ashamed of anything in my past but there are private things that I wouldn't like to talk about today. Certainly, not in several million living rooms."
Too bad since the few stars that did appear with Wallace left a record that is so much more interesting than the tripe released by press agents. Ultimately, the show did prove too real, too controversial, and too dangerous for the network. In 1958, after ABC lost a libel suit and had to pay the Los Angeles Chief of Police $45,000 because of some derogatory remarks mobster Mickey Cohen uttered on Wallace's show, and following a controversy about some cuts made to an interview with John Foster Dulles, the network cancelled the show, making these prescient 1957 thoughts of New York Times television critic Jack Gould come true: 
It is because Mr. Wallace has made a notable contribution in widening television's horizons in the realm of forthright discussion that his conduct on the air is of considerable concern. If Mr. Wallace falters, the medium in all probability will shy away from vigorous interviewing and the set owner will be the ultimate loser.
But read Gould's further evaluation of the young Mike Wallace: 
There is a tension and a combativeness which have not shown Mr. Wallace at his best; he may disown any inclination to sensationalism but his approach may create the environment in which it thrives. Mr. Wallace perhaps should recall that his local success came slowly, not overnight. By building carefully on a sound journalistic foundation he could achieve a lasting place on national TV; his present risk is that by pushing too hard he may prove to be only a fleeting fad.
Fleeting fad? When 93-year-old Wallace died this weekend, he was one of the most respected TV journalists of all time.


I saw his interview with Bill OReilly. And I was shocked at what an elitist  pompous buffoon he came off as.. He was so politically slanted ! He Even pulled the old ..Bill Clinton ..Remember ..that bloated old bag of a President Could have done "Better Than Monica Lewinsky"!!! Now. This , at the time when she was a lovely young woman. Why is it never said by these elitist blowhards like him. "Bill could have done ..So Sooo much Better Than Hilary"?????That would be So Much More Truthful !!!!! I am Glad I saw the interview ..I might have never know kind of person he was...
Are you sure you want to delete this comment?