Meet Admiral General Aladeen in the Opening Scene from Sacha Baron Cohen's 'The Dictator'
Comedian continues to provoke and amuse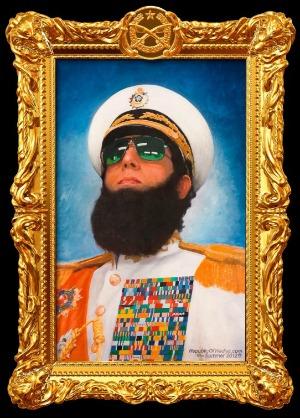 Sacha Baron Cohen is back with yet another unique and irrepressible character in Larry Charles' "The Dictator." This time around, Cohen isn't playing gangsta moron Ali G, or cultural idiot Borat, or even fabulous fashionista Bruno - he's playing someone much more controversial. In the film, Cohen plays faux dictator Admiral General Aladeen from the equally-as-fake country of "Wadiya." The film will "tell the story of a dictator who risked his life to ensure that democracy would never come to the country he so lovingly oppressed."
While many of the antics of Cohen's character feel predictably trumped up for laughs, as with most Cohen characters, there appears to be a large kernel of (unsettling) truth at the heart of the film. The film appears to mock, at the very least, such Middle Eastern leaders as deceased Iraqi leader Saddam Hussein, deceased Libyan leader Muammar Gaddafi, and Syrian President Bashar al-Assad. Surely, Cohen will skewer still more people in his film, but those three should be enough to get the ball rolling.
In support of the film, Paramount has released the first two minutes of it for Internet-based consumption. As an opening scene, these moments work frighteningly well - they're hilarious
and
packed with information. Buzz on "The Dictator" has been quite strong, so perhaps Cohen isn't done making us laugh (and groan) just yet.
However you may feel about Cohen and his special brand of comedy, these first two minutes of "The Dictator" succeed at painting a very clear picture of the film's central character, something some filmscan't even accomplish over their entire runtime. "The Dictator" opens on May 16. Check out the first two minutes of "The Dictator," thanks to Paramount, after the break.