Interview: David Cross Faces Down the Apocalypse in 'It's a Disaster'
The "Arrested Development" star shines in this hilarious look at how a group of L.A. hipsters cope with impending doom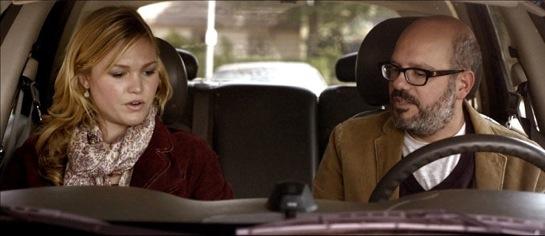 Let's get one thing out of the way: David Cross has not yet seen a script for the "Arrested Development" feature film (which was supposed to start shooting this month) and does not yet have a deal to appear in the film—although he's certainly willing to if it ever happens. Questions about "Arrested Development" dog Cross wherever he goes, including the world premiere of his new film, "It's a Disaster," at the Los Angeles Film Festival.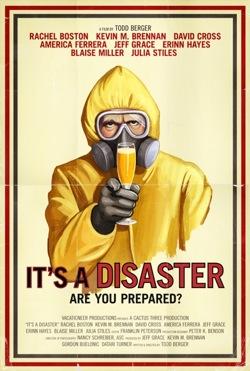 I enjoyed Todd Berger's doomsday comedy so much I saw it twice during the festival. "It's a Disaster" features four Los Angeles couples who meet for their regular Sunday brunch only to find themselves trapped in the house because of a major terrorist attack. When Tracy Scott (a perfectly cast Julia Stiles) decides to introduce her new boyfriend Glenn (David Cross) to her friends Hedy (a pitch-perfect America Ferrera), Emma, and Lexi and their significant others, her biggest fear is whether her friends will approve of her new relationship. When the self-absorbed couples find themselves in the midst of an apocalyptic disaster, they aren't going to let the probable end of the world get in the way of the relationship issues they all need to work out.
The day after the premiere, I sat down with David Cross and writer/director Todd Berger ("The Scenesters") to talk about the film.
MSN Movies: When I read the synopsis of the film, I thought it was going to be an over-the-top parody of a disaster movie. I was delighted to find instead that it was an insanely funny but dead-on look at a group of people not so different from couples we all know!
David Cross: Exactly, I think you hit the nail on the head. I had the same reaction to the synopsis but what makes this movie work is having really believable characters.  I saw the film last night for the first time and I hope this doesn't sound negative, but the reaction I kept hearing from everybody, including my girlfriend was "Hey, that was really good" with this surprised cadence to their voice! I think people hear "apocalypse" and they expect something really broad.
Todd Berger: Yeah, I think a lot of people thought it was going to be a parody—something like "Airplane." But there's a big difference between parody and satire.
David: Making this movie was such a great experience. You start with a great script and then bring on really good actors who are all on the same page. Sometimes you watch something and it seems like characters are in different movies. We all worked so well together in this movie—no one was trying to get their joke in. These are such down-to-earth friendly guys. There was no Hollywood pretense to anybody, including the "stars" who are in the movie. It sounds like such a cliché but it felt like we were one big happy family.
In addition to liking the script, do you have the sense when you agree to be in a smaller film, David, that you are helping out the filmmaker by attaching your name to the project?
I don't really look at it that way. If anybody should be asked that, it would be Julia. She was kind of instrumental in bringing attention to the film and to getting some of the more established actors involved. Julie brought America on and America brought me.
Todd: When you have no money to advertise, it's great to have well known actors involved since people will listen to what they have to say and become more aware of the film. I just wanted talented people in my movie and I'm thrilled to have them all. But it's true that when you're talking to distributors about a movie, their first question tends to be "Who's in it?" not "What's it about?"
When you're making a film about the potential end of the world, do you stop and think about what you'd do in that situation?
David: I was here for the Northridge earthquake and I was in New York for 9/11. I cried about as much as I thought I would! I didn't think about it much on the set but I remember in these traumatic situations in real life how people immediately band together and develop this sense of community. You realize how dependent you are on other people.
Todd, how much did you research the science of the story? Did you learn everything there is to know about dirty bombs and chemical warfare?
Todd: To be honest, I'm pretty sure they could have lasted for days if that really happened. But as Hitchcock used to say, "It's only a movie!"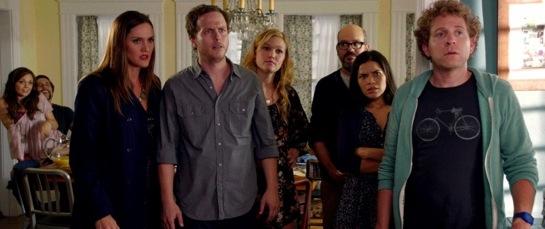 The dialogue sounds so real I wondered how much of it was improvised.

Todd: The movie was fully scripted but for the bigger scenes with whole groups of people I wanted it to seem like friendly banter so there was some improvisation there. When you're at a party people don't really wait for their turn to speak!
David: That's one thing I noticed from the very beginning and I loved it. When Julia and I first come in, everyone's talking at once. There's almost a rack focusing going on with the different conversations which I thought was very cool.
Very Robert Altmanesque!
Todd: Exactly! I was going for something like "Gosford Park" or "Nashville." I actually wrote things into the script that way—side-by-side conversations.
Which is so realistic and refreshing to see as opposed to those movies where everybody is sitting on one side of the dinner table and waiting for their turn to speak.
Todd: I call it the "Entourage" problem! When you watch that show you always see these friends waiting for their turn. Like, "I say this," and then "I say this," and then "I come in with the joke!" I don't know anybody who has conversations like that!
David, I won't mention the TV series and potential feature that must not be named, but I was wondering if you could comment on the negative things you said last year about your experience making the film "Chipwrecked." Did you mean for those statements to be so public?
David: Yes and no. I've never shied away from answering questions people ask me, but it's not like I held a press conference about the film! People asked me about it and I answered truthfully.
Do you regret anything you said?
David: That experience was awful in so many other ways than I mentioned. It was distressing for all sorts of reasons but nobody wants to hear an actor whine about shit like that. Did I regret saying what I did? Not for a second!
I have no one to blame for being part of that film but myself. When I signed up for the first "Alvin and the Chipmunks" film, there was a clause that said I was contractually obligated to do up to two sequels. I had no problem with the second film and I never had any issues with the cast or crew in any of the films. (Cross then talks at length about how horribly he was treated by the producers of the third film.)
How does making a film like "It's a Disaster" compare with the experience of making these mega-budget films like the Chipmunks movies?
David: It's quite literally the exact opposite! "Chipwrecked" was a $75 million-budgeted film that grossed over $300 million worldwide and for which I got my biggest payday ever. This was a tiny film with almost no budget for which I got my smallest paycheck ever. But I would happily do films like "It's a Disaster" for the rest of my career. Making this film took away the bad taste of that other experience. There's nothing like getting to work on a worthwhile project that you enjoy doing!
In addition to Cross, Stiles, and Ferrara, "It's a Disaster" stars Rachel Boston, Erinn Hayes, Kevin Brennan, Jeff Grace, and Blaise Miller.