Saoirse Ronan to Follow in Katharine Hepburn's Footsteps
The young Oscar-nominated actress will play Mary, Queen of Scots in an upcoming historical biopic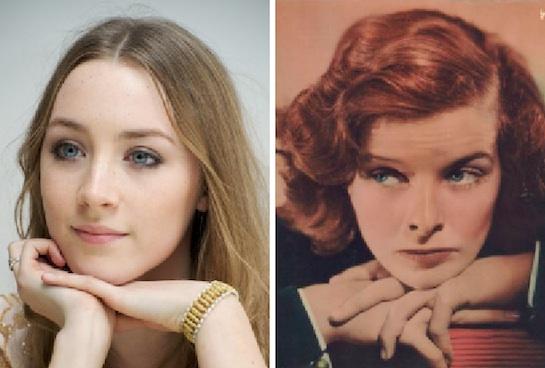 I'm a sucker for English history, so I was thrilled to hear this week that the talented young actress Saoirse Ronan has been tapped to star in a new film about Mary Stuart (aka Mary, Queen of Scots), who was crowned Queen of Scotland when she was less than a year old. It was not a happy reign, however, and Mary was forced to abdicate years later in favor of her one-year-old son. Now there's a family dynamic few of us can relate to! It gets worse. Mary's first cousin, Queen Elizabeth I, threatened by the Scottish queen's claim to the English throne, had her imprisoned, and ultimately, after 18 years of house arrest, tried and executed for an alleged plot to assassinate Elizabeth. But Mary had the last laugh—even if it was from the grave. When the childless Queen Elizabeth finally kicked the bucket in 1603, it was Mary's son, James, who took the English throne.
Mary's story is so full of drama it's a natural for the movies. The last actress to play the role of Mary Stuart on film was Samantha Morton in "Elizabeth: The Golden Age" (2007) in which she got to spar with a red-haired Cate Blanchett. There have been over a dozen movie depictions of Mary's story over the years. I have to admit that my personal favorite is far from the most historically accurate. In 1936, a somewhat reluctant John Ford directed Katharine Hepburn in "Mary of Scotland." Though Hepburn was actually a descendant of Mary's husband, James Hepburn, the Earl of Bothwell, it was not one of the actress's best-received performances and contributed to her unfortunate label as "box office poison" which she was saddled with until her huge success in "The Philadelphia Story" several years later. Ginger Rogers wanted to play Elizabeth in Hepburn's film but Ford was skeptical. Katharine Hepburn suggested that she herself could play both roles. At that remark, John Carradine, a supporting player in the film, reportedly said, "But if you play both queens, how will you know which one to upstage?" Florence Eldridge, the real-life wife of Fredric March (who played James Hepburn in the film) finally got the part.
According to Deadline, the new film, to be produced by Working Title Films, will begin production early next year. Saoirse Ronan, one of the youngest Oscar nominees ever for her role in "Atonement," recently completed filming "The Host" (based on the book by "Twilight" author Stephanie Meyer) and "Byzantium," a vampire drama directed by Neil Jordan. She is currently filming "How I Live Now," based on the book by Meg Rosoff about an American teenager who gets caught in England during the outbreak of World War III. 
Are you sure you want to delete this comment?