'Neighborhood Watch' Ads Pulled In Wake of Trayvon Martin Shooting
It wasn't funny before, now it's really not amusing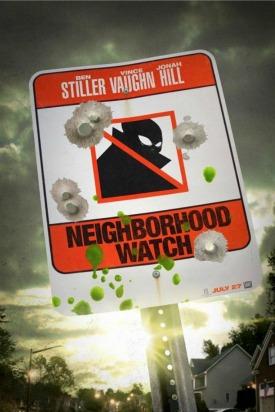 In light of recent events, it looks like Akiva Schaffer's "Neighborhood Watch" might have a problem that goes far deeper than the fact that film just doesn't look funny (remember
that teaser trailer
? bleh). In the wake of the Trayvon Martin shooting - the teen who was shot and killed by George Zimmerman, a neighborhood watch captain in Florida - marketing materials that feature Neighborhood Watch signs, bullet holes, and a group of "watchmen" cruising their neighborhood have been yanked.
THR
reports that Fox has pulled the film's "first teaser poster and teaser trailer...from Florida theaters last week, and Fox is quickly moving on to the second phase of its campaign for the star-studded comedy."
Though the studio is indeed correct and the film doesn't mirror the Martin case, it's a classy enough move by Fox. The film is still slated to open until July 27, hopefully enough time for any marketing material of a similar style to be tweaked. Hint, how about showing some aliens?

I find it interesting that so many whites are upset about the attention and media coverage of this case, keep in mind that when a white person comes up missing, they make a movie out of it, i.e. Natalie Holloway, as a matter of fact Lifetime Network makes a living off such cases.  I am yet to see one movie about a missing minority.  Furthermore, the issue here is a young boys life was taken, because he was unjustly profiled, stalked, and shot down in his parents neighborhood.  Profiling is wrong, no way around it! But you could make the agruement, if anyone should be profiled, it should be a White male, as the FBI profile for a rapist is a White male age 25-55, and the FBI profile for a serial killer is a White male age 25-55, as well as a serial arsonist, same age grouping.  But yet White males are not profiled walking home from 7-11 and shot down, and if so I must have missed the Lifetime special movie. Non of the above is ever mention though, but now what is being talked about is Trayvons so called checkered past, which is laughable because the kid had no criminal or arrest record, just some school issues.  But does that really count? If so, then I also have a checkered past, yet I wore hoodies, and graduated from the University of Washington...
Are you sure you want to delete this comment?