First Look: Bradley Cooper and Zoe Saldana in 'The Words'
In this upcoming thriller, a writer learns the price he must pay for stealing another man's work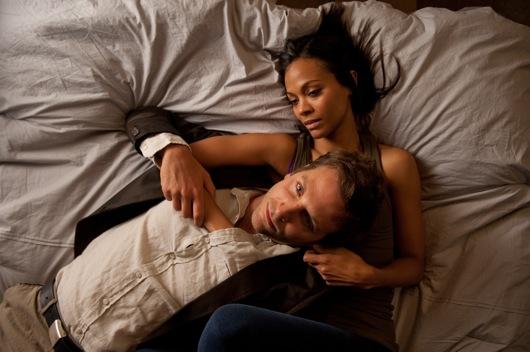 Above is the first image released for the film "The Words," written and directed by Brian Klugman and Lee Sternthal. The film, a cautionary tale on some unusual high-stakes risks of plagiarism, will be released in 2012. Bradley Cooper plays an aspiring writer who claims another man's long-lost work as his own. He thinks he's gotten away with the ruse but in the end the price he must pay is way more than he bargained for. Apart from the angst-ridden Cooper and Zoe Saldana, the impressive cast for "The Words" includes Jeremy Irons, Olivia Wilde, and Dennis Quaid.
Klugman and Sternthal received a story credit for last year's "Tron: Legacy" but we'll try not to hold that against them. (I'm sure the producers didn't. "Tron: Legacy" has grossed over $400 million worldwide.) Last spring it was announced that the duo will also write the screenplay for "Rex Mundi," a Warner Bros. film based on the comic book weries about the quest for the Holy Grail in an alternative 1933 Europe where the Protestant Reformation was crushed and magic exists.
If Klugman's name sounds familiar, it's because he is the nephew of actor Jack Klugman ("The Odd Couple"). He is also an actor and has appeared in films such as "Cloverfield" and many TV shows including "Frasier," "Without a Trace," and "Castle."
The producers of "The Words" are Michael Benaroya of Benaroya Pictures, Jim Young of Animus Films, and Tatiana Kelly of Serena Films. The executive producers are Laura Rister and Cassian Elwes of Waterfall Media.