Interview: Jason Schwartzman of 'Moonrise Kingdom'
'Getting your picture taken by all these people, and you're next to Bruce Willis … it's sort of like a dream.'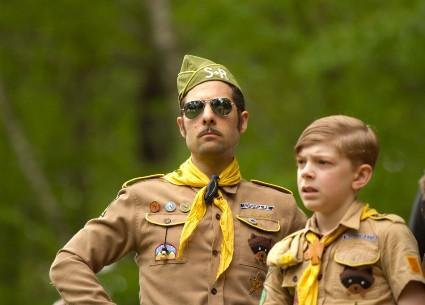 From his debut -- at age 17 -- in "Rushmore," Jason Schwartzman's career has been intertwined with that of director Wes Anderson -- and while Schwartzman's gone on to work with directors lsuch as Judd Apatow, Edgar Wright, Jake Kasdan and Sophia Coppola, he and Anderson remain close collaborators and friends. In Anderson's latest, "Moonrise Kingdom," Schwartzman plays Cousin Ben, a Khaki Scoutmaster who gets caught up in the search for the film's two young lovers. We spoke with Schwartzman in Cannes about collaborating with Anderson, being in Cannes and men's wear.

How great is it to bring the film here to Cannes?
Jason Schwartzman: It's wild to have the movie here. We were nervous and hoping that it could be in the festival some way or another. To find out that it was the opening night at the gala, that's a tremendous acknowledgement from this festival, which arguably is the center of film. It was a very big deal. It was great. I am very honored to be a part of the movie, and I'm happy for Wes, because I know how hard he worked on the movie and how much time went into it. I think that's very nice for him. I hope he can enjoy it. Then we have this big premiere, and this thick red carpet -- not thick like high, but that would be interesting too -- but a thick, wide red carpet, and all these photographers taking your picture. It was just a weird strange moment. I was just trying to say to myself, "Don't forget this." I don't know if it'll ever happen again or if it's just one of these surreal moments, you know? Getting your picture taken by all these people, and you're next to Bruce Willis, it's sort of like a dream.
Obviously "Rushmore" was the earliest thing you did with Mr. Anderson. When he is interested in you for a film, does he call you socially? Do you talk about it while you're golfing or do you go formally through your agents?
(Laughing) When we're golfing ... No. What happens is -- I am so fortunate to have worked with Wes, and then to have connected with him, and to have maintained this. From 17 till now, they are very big years in one's life. My marriage, babies, every big thing that can happen, he's been in my life for. We are very bonded, and we have a life that is completely separate from movies. We have our own real friendship, but he is also my mentor. Literally he is the definition of the mentor in my life, he's always telling me about things that I should look at, or movies to watch, or things to do. He's always there for me for advice, and inevitably at some point work stuff will come up. Things that you find funny, it's all sort of mixed, but it's not something that I ever expect. That's a true thing. I don't ever expect to be in his movies, I just expect that we'll be friends. I know that there are things he's going to do that I am never going to be a part of. There are things he's going to do that I am a part of. When I'm in one of his movies, like for instance "Moonrise Kingdom," he was writing these different scenes and sending them to me just to look at, to read, to get my input, which I'm so thankful for. He never mentioned that I would be in the movie, and then at some point many, many months later, a year later, he said, "Maybe I have this idea for this character you could play." It's so nice to hear, but it's never something I expect.
When you work with Mr. Anderson, as a director, which do you learn more about; art, life or quality of men's wear?
Art.
Because he's got that encyclopedic mind that contains everything from the New Wave to men's fashions, too?
He obviously is fashionable, and knows a lot about life, but he has a real skill for absorbing a lot of information, and he loves movies, and he sees a lot of movies. Our history is that he's always watched so many movies and told me about so many things. I always learn about some new art. Usually how it happens though is I'm in conversation with somebody else and I'm pretending to know what they're talking about, and I'm going, "I know. I know. I know." Secretly I'm writing down who they're talking about, and then I go home and research myself.
And keeping up with Wes Anderson requires Wikipedia?
Schwartzman: Yeah. I can't really hang out with Wes unless there's really good Wi-Fi.
("Moonrise Kingdom" opens this Friday in limited release.)