Movie Marketing You May Have Missed: Trailer for 'Nobody Walks'
A Sundance favorite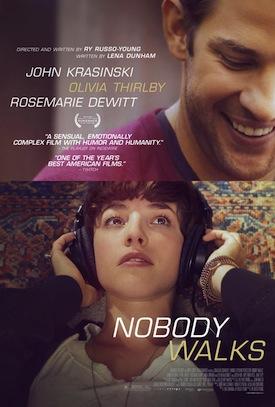 It takes about thirty seconds for the trailer for Ry Russo-Young's Sundance film, "Nobody Walks," to take a turn. There's something lurking in its first thirty seconds, to be sure, but the sudden reveal that the film is positively brimming with sexuality and a palatable sense of dread comes as a bit of a surprise. So too does Russo-Young's film, one that centers on the messily sliding doors of a group of people in Los Angeles.
The film finds its plot in the arrival of young filmmaker Martine (Olivia Thirlby), who comes to La-La Land from NYC to finish her student film. Martine has come to stay with Peter (John Krasinski), his wife Julie (Rosemarie DeWitt), and their two kids in order to complete her film with the assistance of sound professional Peter. Martine's arrival stirs up a new desire in Peter, the sort that ripples outward to envelope everyone else in the household. It's a nimble, gutsy film, and one that quickly and acutely renders both its characters and its sticky subject matter. Check out its trailer after the break to get a taste of "one of the year's best American films."
"Nobody Walks" is now available on VOD and will have a theatrical release on October 12.