Videodrone Cult: 'Twins of Evil' – Hammer Films in the Sexy Seventies
With Peter Cushing and centerfolds Madeleine and Mary Collinson as the titular twins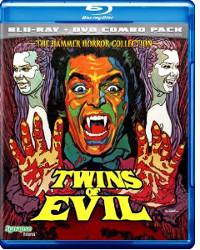 "
Twins of Evil
" (CAV), the third film in what has been called Hammer's "Karnstein Trilogy," shows Hammer Films struggling to find their place in the seventies after redefining horror films in the fifties and sixties. 
It's another twist on Sheridan Le Fanu's female vampire story "Carmilla," this one announced right in the title. Playboy centerfolds Madeleine and Mary Collinson play the titular twin orphans, beautiful young women who arrive from the cultural capital of Venice to the repressive, superstitious, northern European town of Karnstein. It's ruled by a debauched Count (Damien Thomas) and terrorized by a severe Puritan sect of witch hunters (led by a pious Peter Cushing) that calls themselves "The Brotherhood" and spend their nights burning beautiful young women at the stake. 
Directed by John Hough (who came from television, notably "The Avengers," where he learned sleek style and visual wit), this 1971 feature is in its own way provocative and daring, with its presentation of religious zealots as repressed, vindictive villains who differ from the Count only in the master they serve: the Brotherhood "purifies" sins for God (but just whose sins exactly?) and the Count sacrifices his victims for the Devil. The script, however, fails to follow this conflict to its conclusion, giving in to a conventional ending that lets the holy warriors off the hook for their crimes, and the Collinson twins are better models than actresses. 
Even with these problems, however, "Twins of Evil" earns its place in the Hammer canon of cult horrors.