Weekend Box Office: 'The Master' Reigns Over 'Resident Evil'
Though in limited release, the Paul Thomas Anderson film scored record-breaking per-screen numbers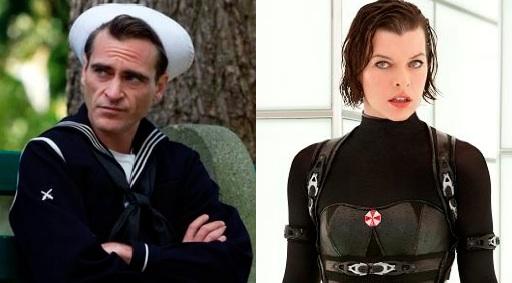 Though it didn't make this week's Top Ten list, "The Master," the powerful new film starring Philip Seymour Hoffman and Joaquin Phoenix, had an incredible opening weekend at the box office. Currently playing at only five theaters nationwide, the film's per-theater earnings were more than ten times that of the next contender. Compare "The Master's" $147,262 per screen average for the weekend with the $7,005 average for "Resident Evil: Retribution" which opened at 3,012 theaters. Is this just my way of feeling better about the fact that the critically panned sequel to the Series That Refuses to Die is the #1 film in the land? Or do I just want to make sure no one confuses "Resident Evil's" director, Paul W. S. Anderson, with "The Master's" Paul Thomas Anderson? Hey, at least no one can accuse the first Anderson of not giving his wife, Milla Jovovich, a lot of screen time! The other Anderson's wife, Maya Rudolph, doesn't even score a cameo in "The Master." Too bad, Maya—your hubby's brilliant film is a sure bet to sweep next year's Oscars.

Pulling in $21.1M over the three-day weekend (at 3,012 theaters), the #1 film, "Resident Evil: Retribution" helped end last week's box office doldrums. At #2, "Finding Nemo 3D" fished $17.5M about of family audiences (at 2,904 theaters). Not bad for the retooling of a film that is almost ten years old! "The Possession" slipped to #3 this weekend, with $5.8M in ticket sales (at 2,860 theaters) while the #4 film, "Lawless" earned $4.3M (at 3,063 theaters). At #5, "ParaNorman" added $3M (at 2,326 theaters) to its now $49.3M domestic total.


Falling to #6, "The Expendables 2" pulled in $3M (at 2,896 theaters) for a domestic total of $80.2M, while "The Words" sank to #7, writing up only $2.8M in ticket receipts (at 2,801 theaters). In its sixth week, "The Bourne Legacy," the #8 film, added $2.8M (at 2,170 theaters) to its $107.8M domestic total, while "The Odd Life of Timothy Green" moved to #9, earning $2.5M (at 2,415 theaters). Finally, at #10, there was still some life in "The Campaign," which added $2.4M to its coffers (at 2,002 bipartisan theaters).
Falling off the Top Ten this week? "The Dark Knight Rises" and "2016: Obama's America." Will "The Master" continue to be as strong when it opens in more cities? Time will tell, but it sure ain't going away with those numbers and critics falling over themselves to praise the film. Next week's contenders for the Top Ten include Karl Urban in "Dredd," a reboot of the 1995 post-apocalyptic Sylvester Stallone thriller, Jennifer Lawrence in the long-delayed horror film, "House at the End of the Street," and Clint Eastwood's "Trouble with the Curve," starring Eastwood, Amy Adams, and Justin Timberlake—with not an empty chair in sight!

My best friend just has announced her wedding with a millionaire .  They met via......
.....  ♥♥♥   wealthychat​ ♥♥♥it's the place where for meeting successful rich men & classy mature and beautiful women(CEOs, pro athletes, doctors, lawyers, beauty queens, fitness models, and Hollywood celebrities....), who are searching for their special someone. it's worth a try!
ble people who are pretending to be me or representing me on Facebook and charging people money to do a meet and greet on the tour... They are telling people that they are me or working for me and charging them $150 for a meet and greet after the play. DON'T FALL FOR THIS!! That's not me. This is so frustrating! Why are people so evil? Why
Are you sure you want to delete this comment?