Interview: Donald Sutherland of 'The Hunger Games'
'The script, when it came across my desk, was the most impressive piece of work I've seen in generations.'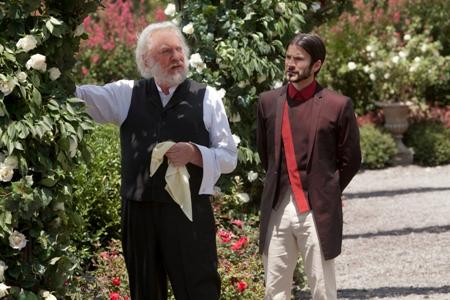 In "The Hunger Games," he's the silken and sanguine President Snow, dispensing cool cynical wisdom in a garden of roses fed by blood. In life, Donald Sutherland -- eye patch across his face thanks to a self-induced comedy-related injury -- sat down with us in Los Angeles to talk about politics, fame and power, his enthusiasm for Gary Ross's vision and his almost-Shakespearean​ take on Snow's bizarre symbiosis with Katniss Everdeen: " He relishes, he delights in the idea of a battle with her ..."
MSN Movies: I always imagine that knowing the tone of the piece is incredibly important. When you read this and you know that you're the villain of the piece. There's a lot of velvet cloak stuff, and posing and props. Does that give you a sense of how to shape a performance?
Doanld Sutherland: No, not at all. None of those exterior things come into play.
Even when you're doing stuff that's seemingly operatic? As this guy is standing in front of the trappings of power, you just play on this very personal, very intimate level?
Yeah, I play him on the level that a bureaucrat standing in front of that stuff ... would address the people.
There's no small irony in the fact that at the start of your career you played a lot of rule-breakers and now you seem to be playing a lot of rule-makers. Is that just a function of time?
I don't know. Maybe it's just a function of age. I play a lot of people who die. It's a function of age.
Now of course I'm having a flashback to the competitive beer drinking film that you did, where you die so horribly. ...
Yes, "Beerfest."
We'll get to that in a bit. Do you find that you're taking more risks in the scripts you sign up for, or that people are taking more risks in terms of the scripts they send you? You're not just getting the patriarch parts anymore. You're getting more comedy.
I do, and I'm getting parts for people of seventy-five years old, so I don't really think of them as anything other than scripts that fit into that category.
Are there good scripts out there for characters that are seventy-five years old?
Like I said about this script, when it came across my desk, it was the most impressive piece of work I've seen in generations. It was extraordinary. The possibility that it could catalyze people, motivate people was really wonderful.
Isn't that what we get out of our fantastic literature and popular cultural things, like "1984" and "Brave New World" and "Fahrenheit 911?" Ways to talk about the things that trouble us in a slightly more distant way, so they're not as scary?
Well certainly this is an allegory. I found "1984," when I read it, pretty scary. I was astounded when 1984 passed and what Eric Blair and George Orwell had anticipated hadn't really come to pass. I guess probably people wont find this film scary per se, but I hope it makes them think. I hope the thoughts that come out of it will be scary.
A lot of this film is about the whole idea of the culture of celebrity, and this weird idea of people looking up to watch other people live. You've worked in film for decades --how does the sort of celebrity-industrial​ complex part of it ramp up at an ever-increasing rate since when you started in the business?
Oh gosh, I think it was bigger before I started in the business with how it was in Hollywood with those stars, and how extraordinarily important they were in the community and in the society. In the middle of the Depression, there were billboards that said, "Get out of your miserable life. Go to a movie." That's not pat of what we think today.
When you're doing a part like this, is it true that clothes make a man? Do you get a certain sense of movement out of the costuming?
I kind of think you always do as an actor. You are helped by people saying, "Oh, isn't he bad" or whatever, "Oh, look at the king," but the costume also helps all of it. The key is the director. The key is Gary Ross. That's what it's all about.
I find it interesting that Mr. Ross, who wrote "Dave," one of the most interesting optimistic --
Sutherland: God, I loved it.
Whenever I'm sick, that movie goes on.
Sutherland: God, I got to tell you, it's so wonderful.
That's in many ways one of the most optimistic films imaginable about politics, whereas this one of the most pessimistic films ever imaginable about politics. Is it not surprising those are both coming from the same person?
Sutherland: No. It's a cauldron, that brain of his. He's got everything in it. No he's brilliant. He's brilliant. He's brilliant. He's not defined by optimism or pessimism. He's defined by exquisite intelligence. 
Just out of general curiosity, what was the last film you saw that really got you excited intellectually, where you went "Oh!" and really started the grey matter turning over?
Sutherland: I thought "A Separation" was absolutely extraordinary.
Is that what you look for first off? The script has to be well written?
Sutherland: Yeah -- one hopes its well written ... then they go and change it. But you don't find a script like this very often. I can't remember finding a piece of work that so enthused me, that so stimulated my imagination.
Are you prepared for the karmic debt of having every young person who sees this film simply hate you just because of a performance, just because of a role?
Sutherland: Oh God, what an interesting idea. I never thought of it like that. We'll see. I don't know. I don't know how I'll deal with that. I'll have to talk to my kids.
What are some great works on film, science fiction or speculative fiction, that you've enjoyed? You were making movies during some of the most exciting eras of movie making, so I'm curious. Do you remember when you first saw "2001," and what you thought of it?
Sutherland: You know something, I've never seen "2001." I've never seen "2001." I was up for it. It's too long a story.
You never saw "2001?"
Sutherland: No, the kind of work that got my gut going, there were loads and loads of pictures that were really wonderful -- "Paths of Glory," Gillo Pontecorvo's "The Battler of Algiers," "Spartacus." Those were pictures that made me stand up. Not so much "Spartacus," but nonetheless those were pictures that took my heart.
These days who's making movies that you're really excited by? Do you have a favorite director that's working right now?
Sutherland: Gary Ross. No question, Gary Ross. He's obliterated everyone else to my imagination. Quite extraordinary.
I thought it was quite telling of Mr. Ross that he could get Mr. Soderbergh to shoot a day for him.
Sutherland: You know George Stevens, when he was shooting "The Greatest Story Ever Told," he would shoot here, there, here, here, there, there. He got David Lean to come in and shoot second unit.
Are you ready for the next two films? Are you going to be watching the box office returns to see if you have to assume your Presidential responsibilities again?
Sutherland: You have to be joking. I'll tell you what I do anticipate, what I do look forward to is, because he knows that some "Spartacus" is going to come out of the woodwork. He's waiting. Now she's come out. I said to someone earlier, I have a friend who has breast cancer. My dear friend, and were sitting in the car in Paris, and it was the first day, and people were phoning her from all over. She's a great athlete, and part of the team she worked with forty years earlier -- she was a gold Olympic champion -- and one of the women called and said, "Well you're lucky." She started to weep and said, "What do you mean I'm lucky," "Because every single one of us is terrified of the thought of having breast cancer and we worry about it everyday. Now you know, so you don't need to worry anymore." That's kind of what the appearance of Katniss Everdeen is, because he knows that somebody's coming sometime, maybe not in his lifetime, but somebody, and suddenly she's there. He relishes, he delights in the idea of a battle with her, because he knows the genius that she is, and he's playing a game of chess with her. Oh, God, I can just taste it.
("The Hunger Games" opens this Friday.)