Interview: Tim League, Creative Director Fantastic Fest and CEO Drafthouse Cinema
On film, fun, showmanship and madness ...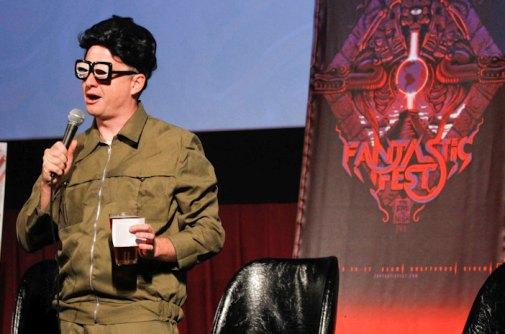 Tim League spends most of his workday juggling real estate, renovations and the realities of the movie-showing business and the challenges of a solid roadhouse-style eatery; his Drafthouse Cinema empire, known as a place where moviegoers can feast and drink -- but not talk or text -- during a film has made him a maverick legend in the indie-distribution world. As the Creative Director of Fantastic Fest -- a festival devoted to horror, sci-fi, action and comedy, or, as it's been called, "A film festival with the boring stuff cut out," -- Fantastic Fest combines extracurriculars like shooting ranges and BBQ trips with sneak previews of Hollywood hits like, this year, "Cloud Atlas" and "Red Dawn" alongside foreign delights and scrappy indies like "Here Comes the Devil" and "American Mary" looking for fans, love and distribution. And along the way, League will, to introduce a film, dress like Kim Il-Jong. We spoke with League in Texas about his P.T. Barnum-like ways, what he loves about the Fest, and expanding his empire.
MSN Movies:  What to you is the most compelling reason to do all of this? Because it's not just a film festival and it's not just "the film festival with the boring parts taken out."
Tim League: Right.

It's film festival, shooting expeditions, barbeque runs, boxing matches, faux game shows. What to you is the number one point of it all?
I think the point of it is ... I think the festival is in service of directors a lot of times. I think there's a lot of things we do as a festival. I think there's, you know, resources for industry to find directors, but then also it's really about the directors that come in to premier their films here. We want to make them fall in love with Austin. We want to provide them with opportunities for press and industry buyers, and we also want to connect them with what we think we're building here, which is an audience for these weirdo oddball films that programming operation staff just absolutely love.
And the barbeque run is just gravy.
Well, that's also just part of making sure that everybody has an awesome time when they come here, you know? It's yeah, I guess literally gravy, but it's…
(Laughs)
I don't know. I had a couple of experiences early on when I was going to festivals just as a fan, going on vacation, and I had some where I was just  ... I never felt like I was integrated at all. I was just going to watch movies, and those were fine. But there were a few experiences I had where I got to attend events with other like-minded people, theater owners, festival directors, press and like little attention to details just made it so much bigger of an experience. And I think that ties back to the idea of event-izing, as people like to say. Some of the things we do at the Drafthouse, it turns watching a movie into an experience you're going to remember for the rest of your life.
                                                             BING: Fantastic Fest l Drafthouse Cinemas
Which, considering you're running movie theaters ... enhancing the movie-going experience in an age where so many people are renting or downloading or streaming or whatever the hell it is, that's got to work out pretty well for a business model too, to get people excited about going to the movies.
... Because ultimately at the end of the day I'm just a crass businessman.
(Laughs)
(Laughs) No, I mean it is our advantage in being something of an independent, you know, in that we can pay attention a lot of the little minutia details about the experience of watching a movie whether nuts and bolts technical things like making sure the presentation is good, making sure people don't talk, but then you know, serving somebody bull-penis sushi when the time is right.
Which is very important.
(Laughs)
You're working on the Drafthouse empire. Some East Coast cities are coming, New York I know, San Francisco, there have been rumors of LA for a while now. Do you feel like Fantastic Fest is something you can replicate once you have Drafthouse New York, even for a weekend, or no? Does it stay here, live and die here?
I think it lives and dies here in Austin, but that said in terms of maybe a weekend, perhaps there's something that could tour around like a Best of Fantastic Fest. If there's the problem with doing that is you're probably going to be limited to movies that have some level of US distribution because I think there's a strategy for people of doing festivals.
A festival or two, but not too many.
I mean, I have an obligation as a festival director, or creative director at this point, to provide press and industry opportunities to the films that come here. If we do it as a touring show that goes around to all these other Alamos, that's not totally in service of the film if it doesn't have distribution. If it does have distribution and there's lots of small US distributors, then it could serve as word of mouth building exercise, and so I could see that happening.
You now operate Drafthouse Films. You've released everything from "The FP" to Academy Award nominee "Bullhead" to the upcoming "The Ambassador." I mean, this fest isn't really part of your distribution/pick up strategy for that (side of the business). By the time it plays here somebody's seen it and made a decision about if you guys want to carry it or not, right?
Not necessarily. I mean there are lots of films here. I saw 67 of the 75 films here and programmed a lot of those. There's seven more that I have to see that might be possible targets. There are also films we might be interested in that I think it's in best service of the film to come here where you see the full range of options. You can also see how it plays with an audience. I mean going back to last year, I'd seen "Klown," I'd seen "Bullhead," I was a big fan of both. I actually wanted to see how they played, and those two films just exploded. And we put in offers, basically, on the last day of the festival for both of those films.
But I mean you've got Drafthouse Films, you're producing things like "The ABC's of Death," you're putting movies out, you're building Drafthouse in other cities, you're about to tear this place down and build it back up. Do you ever think to yourself, "All I ever want to do is have a nice good place to watch a movie"?
You know, it's really funny because I think of a restaurant parallel -- what I look for in a restaurant, I'm adverse to chain restaurants. I like to go to chef-run restaurants, usually one-off restaurants where it's a mom and pop that's this is what they want to do and they want to retire from it. And it's honestly when I came to the business that's what I wanted to do. I opened up the single screen movie theater, and I thought that's all I had in mind. And as the years went on and we did start this expansion path, this idea of now with Drafthouse Films and Fantastic Fest I'm seeing the opportunity out there if we get a little bit larger then we can use that theater infrastructure to support these films in a more meaningful way. And that's why I've had my target set on New York and LA and San Francisco. Those aren't actually the smartest business movies. You know you could get into a theater much cheaper, much quicker, and find a market in a…
Portland, Chicago…
Or even smaller.
Right.
And you can probably make a lot more money doing it. And I'm moving towards those cities because I have a goal to ... it's to kind of spread our influence for crazy, weirdo, fun movies and find a bigger audience for them 'cause I'm a little bit disturbed by the fact that when I was in my early 20s, the cool thing to do was to go to watch independent films and foreign language films and it ain't anymore. It ain't the cool thing to do and I don't know why. And so we're hoping that we can build that back to be a cool thing to do.
So far, Mr. League, I've seen you fight a black belt master of various martial arts, I've seen you go shooting, I've seen you introduce films, I've seen you drink for comedy purposes, I've seen you introduce and perform karaoke ...I mean at a certain point does being an abominable showman just get exhausting?
Yeah, a little bit. I'm neglecting my family just a tad bit this week, but I'm taking most of October off and we're going on vacation. So I love this week, I love being a part of it and just throwing myself into all of this. It's very gratifying to have filmmakers and guests come to the festival and have the time of their life, have a great experience.
Not everyone reading this can make it to Austin right now or necessarily next year, so really quickly out of the films you've seen -- and I'm presuming you don't have any kind of jury duty so you can say stuff like this, out of the films you've seen what are three people should keep their eyes peeled for if they manage to make it to a neighborhood theater or local rental shop near you?
I love this movie that I see picked up called "Berbarian Sound Studio." I think it's truly unique, a great vision. I love "American Scream," which is going…
The new one from the director of "Best Worst Movie."
Mhm. Just had its world premier last night and that's going to be debuting on Chiller and, gosh there's a lot ... there's an Australian movie called "Hail" which I love the central performance, that lead actor, I think it's a really unique film. Those are three.
(For more information on Fantastic Fest, click here; for more on the world of film, look for MSN Movies on Facebook and follow @MSNMovies on Twitter.)