Interview: Seth MacFarlane of 'Ted'
'Secretly, would I love to make a "Raiders of the Lost Ark?" Hell, yeah...'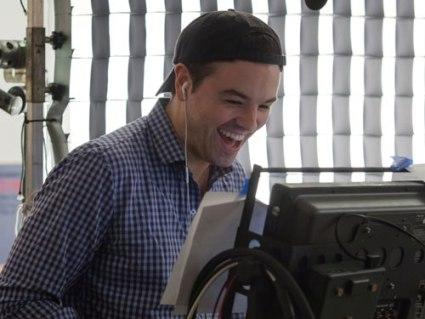 The notorious -- and celebrated -- creator of "Family Guy," Seth MacFarlane makes his first foray into feature-length live-action film making with "Ted." The story of a boy who wishes his teddy bear would come to life - or, rather, of what happens when the boy grows up to be Mark Wahlberg and the bear, brought to life, 'grows up' to be a troublemaker voiced by MacFarlane -- "Ted" works as a charmer with both character-driven humor and weird non-sequiturs but also nicely-structured themes about nostalgia vs. moving forward and growing up without growing old. MacFarlane's freaky fairytale is funny, to be sure, but there's real feeling in it too; Ted manages to both gently tug at your heart while pounding on your funnybone. We spoke with MacFarlane in L.A. about his Grammy-winning love of jazz, his challenges in shaping the material for "Ted" and how it represents a huge step away from his roots in animation.
MSN Movies: The last time we talked I did mention that I didn't like "Family Guy," which first of all I should apologize for, because it's not the most polite thing to say, but people do dig what they dig. Now I'm going to totally wax your car, though: Last night I was listening to "Music is Better Than Words," your album, which is great. I don't know if you call it cocktail jazz or big band ...
Seth MacFarlane: ... I've never been able to classify what that style of music is called. When you listen to Sinatra or a  Dean Martin song, is it jazz? It's not really jazz. Its orchestral big band, I guess ...
... and it borrows songs from the American Musical Theater, but not everything. "Ted" has a great bouncy score and great soundtrack selections. Was that one of the fun things about live action?
Yes. My composer Walter Murphy, who is an enormously talented orchestral composer and arranger, who I've worked with for ten years, this was our chance to sort of have a canvas and do something with a bit of meat on it. He just sank his teeth into it and wrote just a beautiful score. I said to him, "Don't worry about being contemporary. Don't worry about being hip. Just write a great classic movie score that will still work thirty years from now, " and I think that's what he did.
Even the soundtrack selection, the individual songs in there work really well too.
 Yeah, it was a handful of that stuff too.
When you're working on animation where you create everything line by line, is live action filmmaking kind of the same just written a bit larger?
Yeah. The big difference for me between twenty-two minute minutes of television and writing a movie script -- a movie script is the hardest thing I've ever written. It's mainly because whether you're "Family Guy" or "The Simpsons" or "Seinfeld" or what not, we're all shows (where) you can be a little fast and loose with your story if your jokes are great. If you have a really good premise, you can tread water, if you have to, in twenty-two minutes. With a movie, no matter how great your jokes are, that story has to come first, and it has to be something that's warm and sweet and engages the audience in the right way. It also earns you those racy jokes.
And it tells the story about people we like and gets you hooked in that fashion. The whole thing is that Ted is not just this anarchic little tiny fur-covered figure of destruction. He's got a heart. He's got feelings. Was that the most important thing to find in the writing passes?

I keep saying this, and hopefully it won't bite me in the a**, (but) we wanted to do what was essentially an R-rated "E.T." We wanted to do a warm story that had a fantasy element that was harking back to the movies that Alec and Wellesley, the two guys I wrote the script with, loved when we were kids, but give it a glaze of what makes us laugh now.
I was thinking of it like Martin Scorsese's "Pete's Dragon." It has that grittier look with a little mythical character. There's a couple of cameos in the film, and I'm sure as hell not going to spoil them, but you have a great Grammy award winning artist, you have a 1980s action/science fiction icon, you have a great '80s acting icon, and an A-list actor. How ludicrous is your Rolodex? Is it like big as a beer barrel?
Yeah, it's pretty silly.
In your Rolodex, do you have a member of the NHL?
 ... I don't think I don't have any hockey players yet.
Do you have anyone in the Obama administration in your Rolodex?
 ... Oh, probably. One speechwriter.
Seriously, how do you call someone up and say, "I would like you to delicately mock your whole career while being hilarious?"
Well, Sam Jones and the "Flash Gordon" stuff,  the idea came first. I did not know Sam, and we didn't even know if he wanted to do this, but he was completely in. Nora Jones and Ryan Reynolds -- I'll be the one to give it away -- are both people I've worked with before. I'm friendly with both of them, and I knew they would dig it. It was great. Nora wound up singing our main title song, which she did masterfully as she does everything else. Its fun to work with people you know.
When you were playing Ted, you were doing all of the physical movement, you had a system of straps that just went over your clothes; you weren't wearing the ping-pong ball suit.
No; I tried on the ping-pong ball suit. If I'd just been performing Ted and not been directing the movie I probably could've handled it, but that spandex body suit was so hot and stuffy. It was like a hundred degrees in it. I was miserable in it. I thought, "If I'm directing a movie for two months, I can't be in this thing all day. I'll shoot myself." The movement system was not super comfortable as all. I looked like a Borg.
And a series of straps to record your movement? Is footage of you in that going to be on the film's DVD, because if so you are the best sport of all time.
I think there is some on there.
I think that is amazingly sincere of you. TV, by its nature, not a good thing or a bad thing, the characters kind of have to reset at the end of each episode to get set for the new one. Was it nice to do this and go, "We're in, we're out. We can let the characters grow in a natural curve?"
Absolutely, yeah. That's funny, I don't think I thought about that until you said it, but that was something that was very satisfying in every sense. Even right down to the musical score, you could do something big with a sense of finality. Yeah that was nice.
Watching this film, obviously you're going to want to do a live action film, but have you thought about making a pure action film? With your animator's sense of timing, that fight scene in the hotel is great. Are you going to stick in comedy, because that's what you feel you know best?
For now I'm going to stick to comedy. Secretly, would I love to make a "Raiders of the Lost Ark?" Hell, yeah. But for now I will not test the limits and stick to what I seem to be doing okay at.
("Ted" opens this week.)