Videodrone New Release: 'Holy Motors' – For the love of cinema
You've not seen a movie like this before
By 
SeanAx
 Feb 27, 2013 11:35AM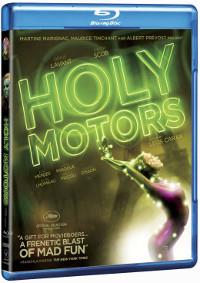 "Holy Motors" (Vivendi) is a film that almost defies description.
From its enigmatic opening scenes, which sends the viewers into a mysterious voyage a la Alice through the looking glass that ends up in a movie theater, "Holy Motors" is a celebration of the magic, imagination, and primal power of the movies.
Director Leos Carax celebrates his love (as well as his criticisms) of cinema in the modern world through an imagined culture of interactive theater that recreates moviemaking as private performance art pieces executed by freelance performers / directors for audiences unknown. Denis Lavant, the ugly/beautiful primal force of "Les amants du Pont-Neuf" and "Beau Travail," is the committed actor, delivered from set to set in a long white limousine dressing room, the arts equivalent to the traveling office of Cronenberg's "Cosmopolis" (I think there is a great double feature to be found here). He transforms from businessman to gnarled old beggar woman to street thug killer to depraved leprechaun troll and beyond, taking on a complete new persona with each costume change.
Behind these unrestrained journeys into all manner of mini-movies is an anxiety over the future of filmmaking and a fear of exhaustion (physical and creative) by the filmmakers, but the determination to keep creating these dreams and the sheer physical commitment to each performance is its own answer. Yet beyond that is the exhilaration of Carax's flights of fantasy, from the visceral beauty of a motion-capture martial arts dance and gymnastic ballet of sexual congress to passionately overwrought melodramas that could have come out of the 1940s (Hollywood or France, take your pick) to hard-edged crime thrillers with wicked twists that call on us to provide our own backstory. There's comedy, music, drama, thrills, tributes to the movies, legendary French actress Edith Scob, American beauty Eva Mendes, and Australian pop star Kylie Minogue, but mostly there is wonder and invention and the sheer thrill of cinematic creation. In the words of Lavant's exhausted creator, it's all about the beauty of the act, and these acts are nothing if not beautiful.
Continue reading at Videodrone
For more releases, see Hot Tips and Top Picks: DVDs, Blu-rays and streaming video for week of February 26