Interview: John Lasseter of Pixar/Disney on 'Brave'
'I want Pixar's ideas to come from the animators and the filmmakers ...'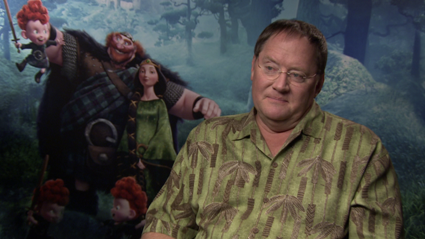 To talk to John Lasseter is to talk to the man -- the Hawaiian shirts, the round glasses, the easy smile -- and to the position -- Chief Creative officer for both Disney Animation and Pixar. We spoke with Lasseter in Edinburgh about the technology of hair, how the studio thinks about story and when -- or if -- Pixar will venture out of G- or PG-rated waters.
MSN Movies: These characters are so stylized, yet photorealistic. Merida's hair is this coruscating corona of redness. Is it safe to say that a lot of technological work went into the creating, the making, of this film?
John Lasseter: Yes. Every Pixar film, when we start developing the story, it takes about four years to make one of our films. Inevitably there's something in the movie we have no idea how to do technically, so then we set out to do research to resolve it. "Brave" was very difficult when we started this film. Looking at the historical setting of Medieval Scotland, the clothing they wear, the layered clothing, but especially Merida's hair was something we had no idea how to do, and we set out to develop it. It is something that was so important for us, because that hair represents her spirit. Everything in a Pixar movie is there to help tell the story, and her hair is so representative of who she is. If you compare that to the mom's hair, which is very straight and bound up, it represents the mom. If you watch the film, you can see how the hair is really a marker for their spirit ...
If it's going to be an emotional barometer, you have to be able to have it look natural and great.
Yeah. You want to make it look believable. Pixar films are not realistic. They are believable for the worlds we are creating. You have that wonderful thing where you look up and the audience goes, "You know, I know this doesn't exist, but boy it sure looks real."
Pixar has a tradition of strong female characters. They just happen to be female fish or female robots or female toys ..
But finally we have our first female main character. Something we've been looking for, for a long time.
Did the priority inspire the story or did the story fit with the priority?
Well, a little bit of both. At Pixar it's a filmmaker-driven studio, and I don't dictate. The studio and myself as chief creative officer doesn't dictate, "Okay, I want to hear pitches about blank." We don't do that. I want the ideas to come from the hearts of the directors and the storytellers. Needless to say though, I have a wonderful wife named Nancy who is very strong, and she has been driving me to add stronger and stronger female characters to the films, and then even looking forward to the day that someone would pitch a story with a female main character. That day came with the movie "Brave." I was so excited -- "This is going to be awesome!" It is great. We're very proud of this film.
"Toy Story" came out in 1995. It's been seventeen years. A generation of moviegoers have grown up with Pixar. Is Pixar thinking about dipping its toes into a world that's beyond PG, into areas of PG-13 or advanced storytelling, or are you guys really happy in the family place you are right now?
We love the movies we make. We make the movies we love. It's as simple as that. You know what, it's like we love making films, because everyone says, "Oh, when are you going to make a film for adults?" I go, "Well we do." every Pixar film is great for adults, for young adults who don't have children, for college students, high school students, teenagers. It's great for everybody and they know it. You know it when you see a Pixar name on a film it's going to entertain you really deeply and show you something you've never seen before. It just so happens our films are great for kids, too. I would always say that our audience ... if you're breathing, you're good for a Pixar film.
("Brave" opens today.)